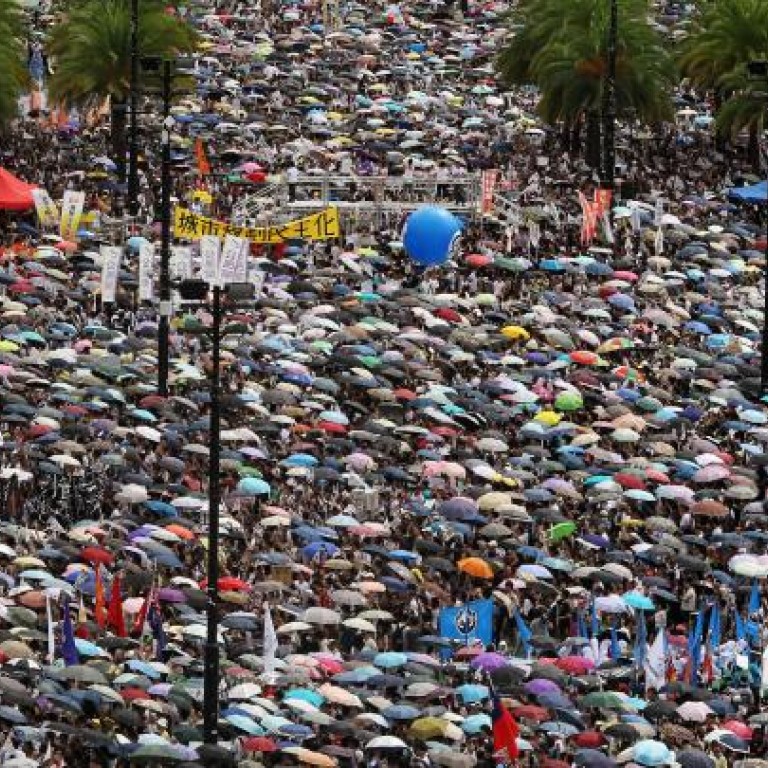 Hong Kong's dependency ratio is even worse than officials are saying
Statistician warns that Hong Kong's latest dependency figures spell trouble, and city isn't acting fast enough against a shrinking workforce and ageing population
When the government gave its population projections last month, social statistics expert Paul Yip Siu-fai had cause to bristle.
He spotted a misleading interpretation of the dependency ratio - the number of dependents, namely children or the elderly, in relation to the total population. The measure may seem trivial to some, but Yip says any inaccuracy in this figure will have dire consequences for Hong Kong's future.
The Census and Statistics Department projected that the dependency ratio would increase from 333 dependents per 1,000 workers in 2011 to 437 dependents per 1,000 workers by 2021.
The department's deputy commissioner, Leslie Tang Wai-kong, seemed to play down any problems associated with the new figures at a news conference on July 31. He compared the latest numbers to 1981 levels, when the dependency ratio was 455:1,000, and said the rate would not get any worse.
High dependency ratios usually set off alarm bells, since they place a burden on governments and workers to provide for the needs or pensions of the economically dependent. Still, Tang stressed that based on the official estimates, "we still have time to prepare".
Yip, a professor at the University of Hong Kong, where he specialises in demographics along with suicide research, says grave social problems are looming.
He says Tang failed to explain the context of the figures and did not give the public an accurate picture of the city's age structure. "The key is to look at the [composition] of the dependents, and not only to look at the total figures," Yip said.
In the 1980s, for instance, while there were 455 dependents for every 1,000 workers, the dependents comprised 358 children aged below 15 and 97 elderly people aged 65 and above. But according to the new figures, in 2021 the dependents will look very different - 165 children and 272 elderly people per 1,000 workers.
The totals may be congruent, yet the problem lies in their differing composition, Yip explains.
"Bear in mind that those children back in the 1980s grew up to join the workforce, which has made the dependency ratio drop since then.
"But elderly people will grow older and will continue to stay out of the job market until they die," he said. "Meanwhile, Hong Kong is expected to continue seeing a low birth rate. We will end up seeing an alarming, ongoing rise in the dependency ratio."
Yip drew parallels with the constant discrepancy between official and unofficial estimates of the participation in the annual July 1 rallies. This year, organisers put the turnout at 400,000, while police said the peak was just 63,000. Yip believes the actual number was about 80,000 people, including 30,000 who joined the march halfway.
Such imprecision in dealing with numbers, the professor says, has deprived the city of an opportunity to deal with one of the most worrying long-term socio-economic problems it faces: an ageing population.
Yip said Hong Kong had already missed its "prime time" to solve the problem, as the government failed to make use of the 1980s projection to adopt better population planning.
"We need figures which carry some meaning. An accurate interpretation of those figures can help us position ourselves to better prepare for our future," Yip said.
In February, a government manpower study found that Hong Kong was facing a labour shortage by 2018. According to official figures, 19 per cent of Hong Kong's population will be 65 and older by 2021, and this figure will jump to 30 per cent by 2041.
The government's Steering Committee on Population Policy said in May that the city would have to consider raising the retirement age, which unofficially tends to be 60 although there is no statutory retirement age.
Aside from this proposal, boosting the working population is normally achieved by raising birth rates and bringing in young migrants.
Seen is the light, the government's plan to ban mainland women from giving birth in Hong Kong, thus preventing the children acquiring permanent residency, was particularly short-sighted.
While he was still chief executive-elect, Leung Chun-ying announced in April that there would be a "zero" quota for mainland women seeking to giving birth in local hospitals starting next year, with exception for women married to Hong Kong men.
The decision proved popular with Hongkongers, who fear that the influx of mainland mothers will tighten competition for health care and education. However, the Census and Statistics Department warned that if the ban were extended for the next three decades, the city would have 330,000 fewer workers than its figures allowed for.
More than 40,000 babies were born to mainland women in Hong Kong last year, with expecting mothers drawn to the city's high-quality medical services the prospect of permanent residency for their children.
Tang, the deputy census chief, has previously cited figures showing that 98 per cent of mainland women who give birth in the city take their child back to the mainland shortly after. Some 49 per cent plan for their child to return to the city, in most cases before the age of six.
Yip said that in the short term, babies born to mainland mothers would mean extra social costs for Hong Kong, as more schools and other social services would be needed. However, those children will help replenish the workforce in 20 years' time.
He blamed politicians for rejecting a worthy palliative just to assuage the community's fears about a flood of mainland immigrants.
"These people who serve Hong Kong don't have the vision for [the] future … Their focus is only on the five or 10 years when they are in office," Yip said.
"After five or 10 years, they will leave, but Hong Kong people will continue to stay. It will be Hong Kong people who bear the consequences [of their lack of long-term policies]," Yip said.
Another way to keep the population sustainable is to improve workers' productivity, which means each worker must be able to earn more to support dependents. Investing in education is also important to produce a skilled workforce.
But Yip warns that talented workers could be lured away by other cities and countries burdened by a rapidly ageing population
"The solution to retain talents is to make Hong Kong a better home for them. This includes a better living environment for people and their families … improving air quality, housing conditions, the education system and so on."
He adds: "This can't be fixed overnight and needs a set of comprehensive policies to complement each other."
Just like Hong Kong, the alarm sounded long ago for many countries confronting an ageing population, but the difference is that many of them quickly implemented policies to mitigate the problem. Yip says Australia even has a minister dedicated to population issues.
While Hong Kong has the numbers - if not the policies - Yip laments that they rarely give an accurate picture. "The population projection only provides numbers. The government should make full use of those figures to hammer out policies … to make Hong Kong a better and sustainable place," he said.