Focus
Get more with myNEWS
A personalised news feed of stories that matter to you
Learn more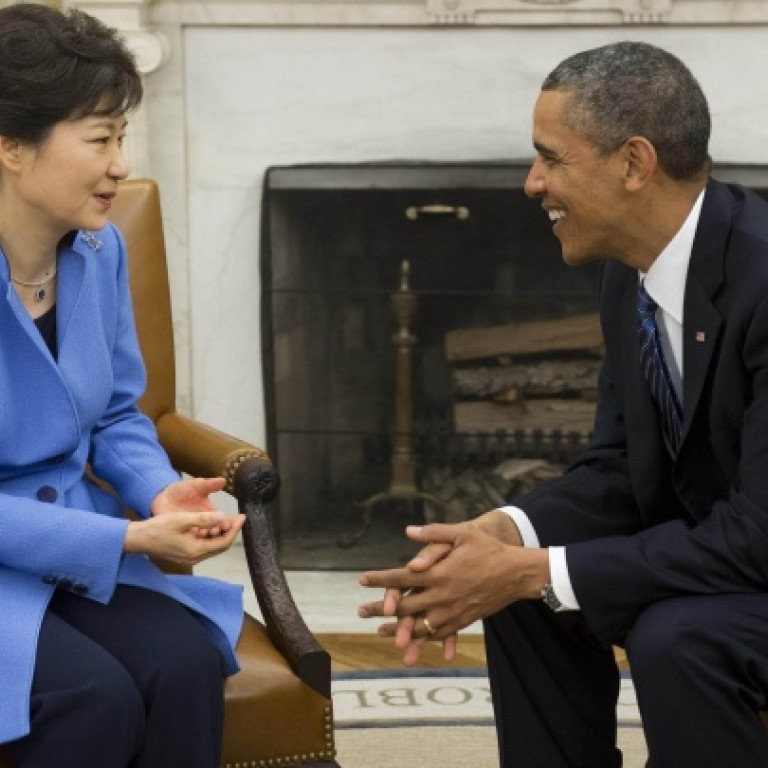 Obama, Park vow no concessions to Pyongyang
In show of unity, US and South Korea say they 'won't reward provocative behaviour'
The leaders of the United States and South Korea vowed no concessions to North Korea after months of high tension, saying it is up to Pyongyang to end the crisis over its nuclear programme.
In a choreographed show of unity, US President Barack Obama and South Korean President Park Geun-hye pledged to bolster defence co-operation and demanded that North Korea change course on its nuclear ambitions before any new talks.
"The days when North Korea could create a crisis and elicit concessions - those days are over," Obama told a White House news conference with Park, who took office in February as Northeast Asia's first woman leader.
Obama said he and Park agreed in talks that "we are not going to reward provocative behaviour" but kept the door open to eventual talks if North Korea's leader Kim Jong-un decides to embrace "a peaceful path".
"If Pyongyang thought its recent threats would drive a wedge between South Korea and the United States or somehow garner the North international respect, today is further evidence that North Korea has failed again," Obama said.
Tensions have appeared to subside since earlier this year when North Korea carried out its third atomic test and vowed to prepare for nuclear war against the US, in remarks shrill even by Pyongyang's standards.
A US defence official said that North Korea has shifted two medium-range Musudan missiles away from a launch site, signalling that - at least for the time being - the regime has no imminent plans to test-fire them.
China, the primary supporter of North Korea, took one of its most concrete measures to date, with the state-owned Bank of China closing the account of a North Korean bank accused by Washington of supporting the nuclear programme.
Park, while not commenting directly on the bank action, credited China and Russia with enforcing sanctions imposed by the UN Security Council. "Such constructive efforts on the part of China and Russia are vital to sending a unified message to North Korea that their nuclear weapons will not stand," she said.
Park insisted that North Korea would feel consequences for a showdown that suspended work at Kaesong - a joint industrial park once an emblem of inter-Korean co-operation.
If North Korea harms citizens of the South, "we will make them pay", she said. "If North Korea engages in provocation, I will fully trust the judgment of our military."
This article appeared in the South China Morning Post print edition as: Days of concessions are over for Pyongyang