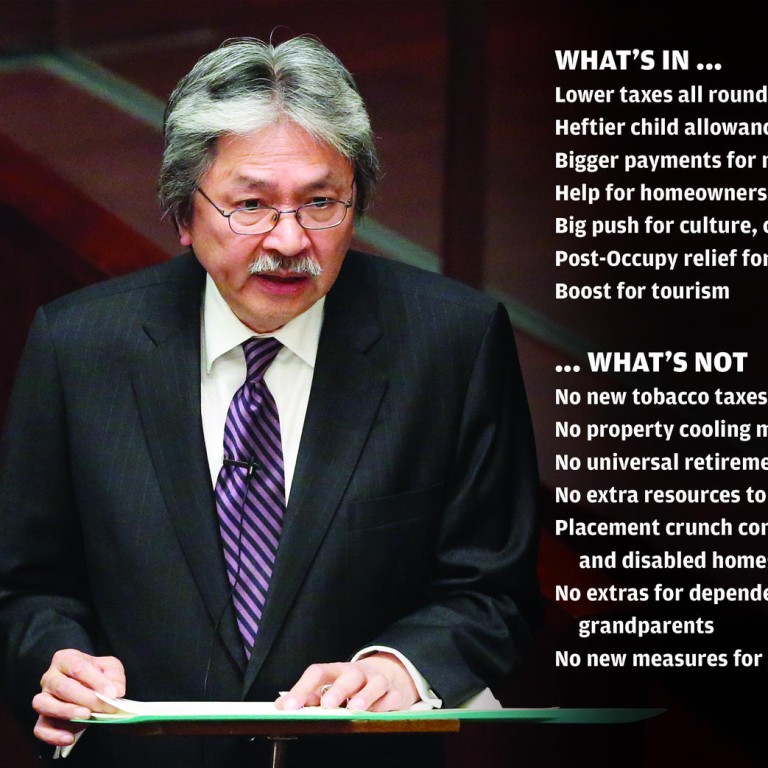 Financial Secretary John Tsang unveils HK$34b sweeteners package, including tax rebates
Relief measures from financial secretary will benefit middle class and lower earners in bid to heal scars of divided society in wake of Occupy
The city's budget for the next fiscal year includes a HK$34 billion economic relief package, in an attempt by the government to heal a society disrupted by political squabbles and challenged by a fast-ageing population.
The sweeteners Financial Secretary John Tsang Chun-wah announced in yesterday's speech were more generous than expected, benefiting both the middle class and lower earners. The relief package's total value is a 60 per cent increase from last year.
The most generous moves include a salary tax rebate capped at HK$20,000, and providing two extra months of social security assistance payment, fruit money, old age living allowance and disability allowance. A total of 1.82 million taxpayers and 1.2 million welfare recipients will benefit.
"The long, drawn-out, unlawful Occupy movement disrupted different facets of the city to varying degrees. The serious divisions in society that emerged ... have not only affected the image of Hong Kong, but also aroused concern about much more radical social conflict," Tsang said.
Watch: Occupy protests blamed as Hong Kong misses growth targets
The generous giveaways were announced a year after Tsang declared his intention to gradually reduce sweeteners, saying tax rebates and one-off relief measures would "soon become history".
However, a source said the government believed there was a need to make Hongkongers feel good in the wake of the 79-day Occupy Central protests.
The finance chief estimated a surplus of HK$63.8 billion for the financial year ending on March 31, over six times higher than his original estimate of HK$9.1 billion.
A government spokesman said the introduction of relief package was a "counter-cyclical measure" to stimulate consumption to counter global economic uncertainty. "The financial secretary still sticks to his belief that one-off measures should be gradually phased out," he said.
The city's economy only recorded a growth rate of 2.3 per cent last year, with a forecast of one to three per cent this year, due to a possible rise in US interest rates.
The government said the one-off relief measures would have a stimulus effect of boosting the city's gross domestic product by one percentage point.
A HK$180 million package of relief measures targeting five industries hit by Occupy was also announced, including waiving licence fees for travel agents, hotels and guest houses, restaurants and hawkers for six months. Another HK$80 million will be injected into the Tourism Board.
A total of HK$500 million, HK$300 million, and HK$130 million will also go to the fashion industry, local art organisations and a social enterprises programme respectively, aimed at diversifying the city's economy.
Addressing grievances about rocketing flat rental rates, Tsang announced a new scheme to give loans to owners of subsidised flats so that they can rent out or sell their flats in the open market.
Under the scheme, those living in public rental units will have one month's rent waived, except high-income tenants - echoing Tsang's pledge to contain expenditure growth as the city's population becomes older and less able to work. On that point, Tsang encouraged his advisers to set up a future fund to cope with a possible structural deficit by 2022. He said they would target a more aggressive investment return, probably with a two-digit growth.
While the growth of recurrent government expenditure in the upcoming budget year will be reduced to six per cent from eight per cent this year, spending on seriously overloaded health care services sees the biggest increase.
The figure rises by 25 per cent, to HK$70.6 billion in the upcoming year from HK$56.7 billion this year. That is thanks to the extra HK$10 billion to be spent on the health care reform, subsidising patients in public hospitals to receive treatment at private clinics.
Child allowances will also be increased to HK$100,000 from HK$70,000 to encourage births.
The Society for Community Organisation, which advocates for low-income people, criticised the government for not "opening its safe" to help the poor, given the massive surplus. "It won't resolve the problem of the widening wealth gap," the society said.
This article appeared in the South China Morning Post print edition as: Tsang unveils his HK$34b package of sweeteners