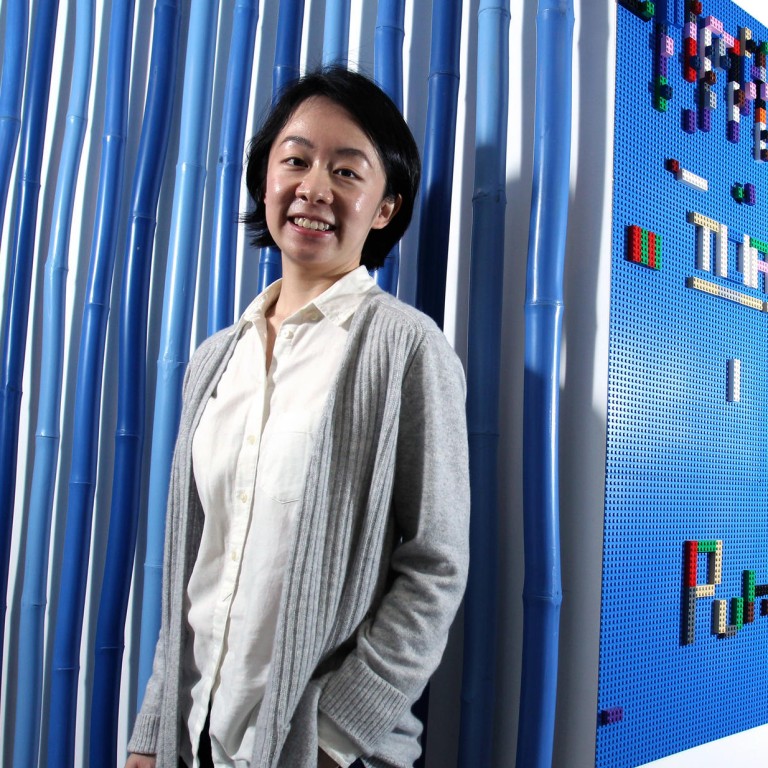 Green Hong Kong business has a blueprint for start-up success
Christina Tang Pik-han thinks the government can help her Blue Sky Energy Technology achieve its dream of cutting through the smog and delivering cleaner air for the city.
Christina Tang Pik-han thinks the government can help her Blue Sky Energy Technology achieve its dream of cutting through the smog and delivering cleaner air for the city.
But she isn't asking for a handout or a free office. Tang believes the best way for the government to help would be to save even a fraction of its procurement budget to buy products and services from companies like hers.
"The private sector may follow … the support would be enormous. Because what any start-up needs is credible clients to build confidence," the 28-year-old says. Ring-fencing just 0.1 per cent of the procurement pie for start-ups, small and medium-sized enterprises would do the trick, she says.
The government has increasingly talked up start-ups as a way to improve social mobility and give the city's discontented young people something to aspire to. Last month's budget included a raft of measures with start-ups in mind, including HK$500 million to develop new players in the fashion industry.
But Tang has turned to an initiative led by the private sector to help build her firm, which works with companies to cut energy use in commercial buildings and has developed a tool that offers real-time information on electricity usage along with tips on cutting waste.
Blue Sky is part of Swire Properties' blueprint programme, an "accelerator" which brings together 11 new technology companies. It offers them backing including shared workspace, tailored mentoring and professional support.
Tang sees many benefits, including working with others who have the same vision and complementary skill sets, as well as receiving advice from mentors.
"Mentors can introduce potential clients to us, or discover where the proper market fit of the product is before it is mature," she says. "And mentors are usually at the level of chief executive or vice-president in a company … We can learn [from them] during high-level introductions like this.
"Once you have the users you don't have to worry about raising funds, as angel [investors] will fight to invest in you if you have clients," she says. "It's really chicken-and-egg. If you don't have the funding, how are you going to scale up?"
Swire launched blueprint last year, bringing in more than 50 mentors from firms within the Swire conglomerate like Cathay Pacific to international names such as Uber and Google. It is based across two floors of Swire's Cornwall House in Tai Koo.
And while Tang says workspace is less important to her than other kinds of support, the city's sky-high rents have also encouraged other organisations to offer heavily discounted space to up-and-coming companies.
It reflects a growing interest in entrepreneurship; a Trade Development Council study last year showed that 15 per cent of people aged 18 to 35 considered themselves entrepreneurs, up from seven per cent in a similar 2011 study.
The Federation of Youth Groups is to offer some 8,000 sq ft of discounted office space to young entrepreneurs at Genesis, a revitalised industrial building in Wong Chuk Hang. Ken Ngai Yuen-keung, who heads the Genesis project, said young people's interest in running businesses reflected changing priorities. "They want to have more control over their time and life ... and want a sense of satisfaction in life … even though it may not be profitable," he says.
Ngai says the government is becoming more open-minded about start-ups and accepts the possibility they could offer an alternative career path. He says the administration could offer tax breaks to new businesses.
But Professor Kevin Au Yuk-fai, director of Chinese University's Centre for Entrepreneurship, says offering tax incentives may not be the best way to support entrepreneurs.
"To show support for start-ups, research and development is the right way to go, but [the government] does not need to do more. Let the ecosystem adjust itself," Au says.
He is concerned that pumping in too much government cash will leave the tail wagging the dog, as entrepreneurs chase grants rather than developing something the market truly needs.
But Hongkongers remain enthusiastic about building a new business - when they can afford the rent.
Another federation initiative, under which a three-year lease on a restaurant in Jordan was offered for a rent of just HK$1, received 114 applications before last week's deadline.
This article appeared in the South China Morning Post print edition as: Green business with blueprint for start-up success