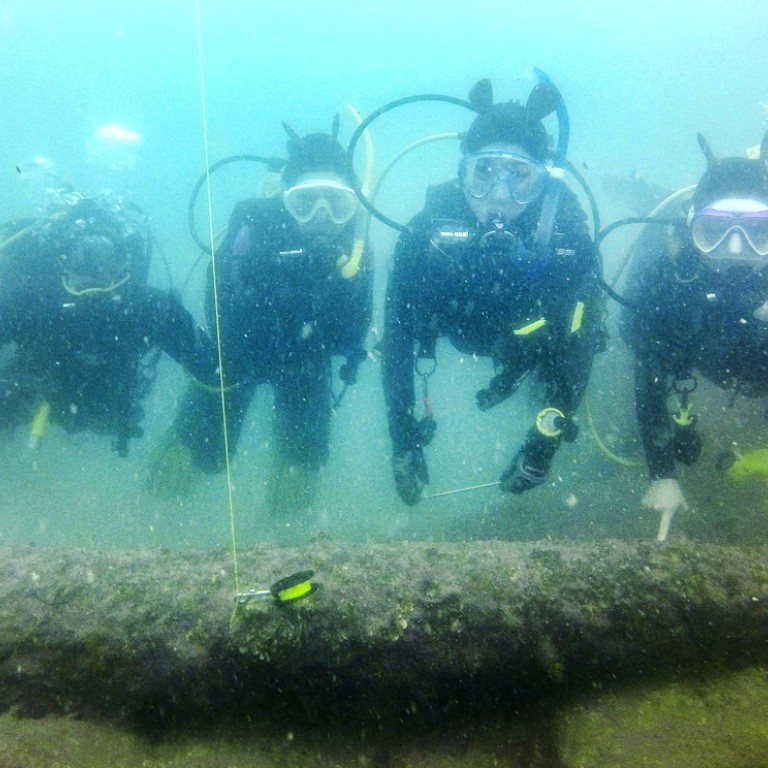 Divers off Hong Kong's southernmost island find cannon and anchors which may be remnants from 1944 shipwreck
Group believe objects may have come from a cargo ship carrying 500 Hong Kong citizens into exile during Japanese occupation
A group of amateur divers believe they might have discovered the remains of a sailing ship which sank off the city's southernmost island in 1944 - killing more than 50 people, according to historical records.
The group of 12 discovered a cannon, two anchors and several iron chains during a diving trip near the southern tip of Po Toi Island on March 29.
They suspect the relics belonged to the only recorded shipwreck in that area - a vessel carrying around 500 Hong Kong citizens exiled by Japanese invaders.
Jack Wu Ming-chuen, chairman of the Hong Kong Underwater Archaeological Association - to which the divers belong - said the two anchors, each about two metres long, appeared to be admiralty pattern anchors which were invented in around 1808 and not popularised until 1815.
He said the anchors were found about 50 metres off the coast in 15-metre-deep water.
The cannon - also about two metres long - was discovered around 100 metres off the coast in 11-metre-deep water. Wu said it was common for cargo ships around that time to be armed because pirate activities were rampant.
"When the ship was about to sink, people on board would want to get rid of some weight," Wu said. "I guess they might have thrown the cannon away first."
He believed other remains might be nearby in around 30- to 40-metre-deep water.
"If we can find the remains of the ship's body, it will [enable] us to tell if the ship was the sunken ship," he said.
Historical records show that Japanese troops rounded up about 1,000 Hong Kong citizens - for reasons unknown - at the Stanley coast in June 1944.
In the same month, these people were crammed onto two sailing ships heading to Nanao in Shenzhen, northeast of Stanley.
When the ships reached Lema Islands - today a part of Zhuhai - south of Po Toi, the weather turned violent. At least one ship sank trying to return to Po Toi and at least 50 people drowned.
On a separate dive on the same day, the group also found an oblong object about one metre long off the coast of Siu Sai Wan - which they suspect might be a bomb.
Wu said the association had not informed the authorities about their discoveries. He said the group might return to the sites at the end of this month if they can raise enough funds for the trip.
This article appeared in the South China Morning Post print edition as: Divers' find may be from 1944 wreck