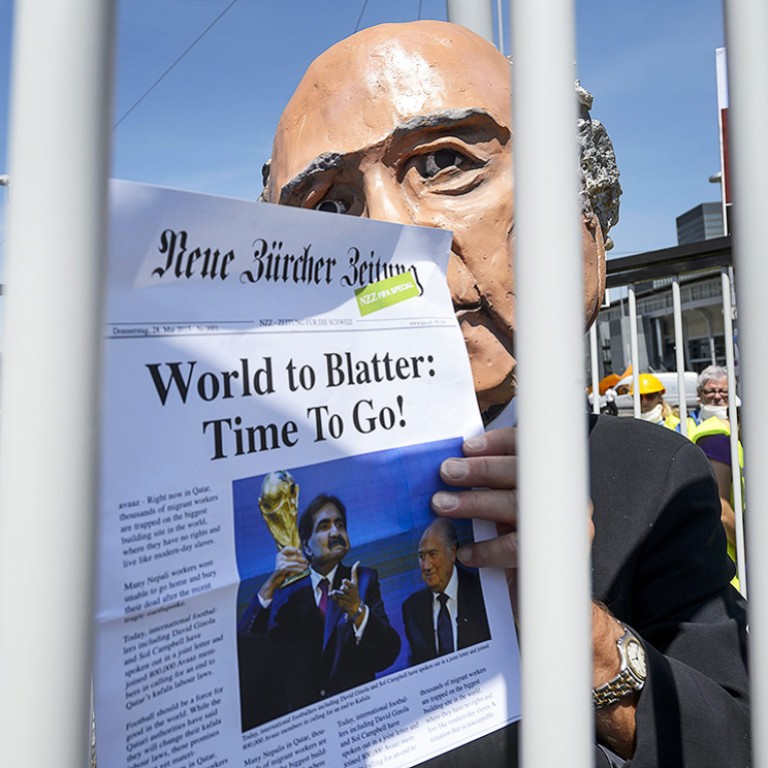 Accused officials brought shame on soccer, says Fifa's Sepp Blatter
Fifa president rejects calls to resign and says he could not 'monitor' all the game's leading figures
Fifa president Sepp Blatter last night broke his silence on the corruption crisis engulfing soccer, saying that accused officials had brought shame and humiliation on the sport's global governing body.
Hours after defying a face-to-face demand from his vice-president Michael Platini to resign, Blatter told the opening of Fifa's annual congress in Zurich that he could not be blamed for the controversy as he could not "monitor" every official.
"The next few months will not be easy for Fifa. I am sure more bad news will follow but it is necessary to begin to restore trust," the 79-year-old Blatter said.
"We cannot allow the reputation of football and Fifa to be dragged through the mud any longer. It has to stop here."
On the eve of a scheduled vote for the Fifa presidency that he is expected to win, Blatter called the scandals "unprecedented" and said the "actions of individuals bring shame and humiliation on football and demand action had change from us all".
Seven Fifa officials were arrested in Zurich on Wednesday and other leading figures charged as both the United States and Switzerland investigated allegations of bribery and money laundering stretching back more than two decades.
Watch: Protesters in Zurich demand FIFA president step down
Thrown under a corruption cloud were the awarding of the 2010, 2018 and 2022 World Cups and the 2001 Fifa presidential election.
US officials also named Hong Kong as one of three key financial centres at the heart of money laundering allegations totalling at least US$150 million.
As key Fifa sponsors Visa, Adidas and Coca-Cola yesterday said they were considering withdrawing their support, global political leaders were also called into the fray. British Prime Minister David Cameron backed calls for Blatter to resign, while Russian President Vladimir Putin, whose country will host the 2018 World Cup, supported the Fifa president.
Mark Sutcliffe, chief executive of the Hong Kong Football Association, yesterday assured Blatter of his backing in today's vote where the Swiss is facing a challenge from Prince Ali of Jordan.
Sutcliffe, who will be joined in the Swiss capital today by Timothy Fok Tsun-ting, president of the Sports Federation and Olympic Committee of Hong Kong, said the city would toe the line of the regional governing body, the Asian Football Confederation, which had reaffirmed its support for Blatter.
However, Sutcliffe believed delegates should discuss the corruption scandals before deciding whether the presidential vote should go ahead.
"I can see both sides of the argument about suspending the elections," Sutcliffe said.
I will be speaking to our president as well as other AFC colleagues about … whether it is prudent to delay the elections."
Blatter can also count on the Chinese Football Association and its president Cai Zhenhua after inking a new agreement yesterday to help in further developing the game on the mainland.
Africa's confederations joined their Asian counterparts in strongly backing Blatter.
Hong Kong was dragged into the scandal on Wednesday when the US tax office cited the city, the Cayman Islands and Switzerland as the focus of "complex" money laundering schemes that shifted at least US$151 million of untaxed income through hidden offshore accounts.
According to US court documents, US$1.2 million was funnelled into the Hong Kong HSBC account of one of the arrested men – Fifa official for the Americas Costas Takkas. A further US$750,000 and US$250,000 was sent from that HSBC account to a company in the Cayman Islands controlled by Takkas, the court documents alleged.
Yesterday, Fletch Chan, press secretary to Hong Kong's financial chief John Tsang Chun-wah, said: "We will of course assist other jurisdictions investigating any kind of crime."
A Monetary Authority spokeswoman said it was aware of the money laundering and corruption allegations against Fifa officials and was "monitoring the implication" for banks.
Reporting by Danny Lee, Bryan Harris, Lana Lam and Alvin Sallay
This article appeared in the South China Morning Post print edition as: Accused officials brought shame on soccer: Blatter