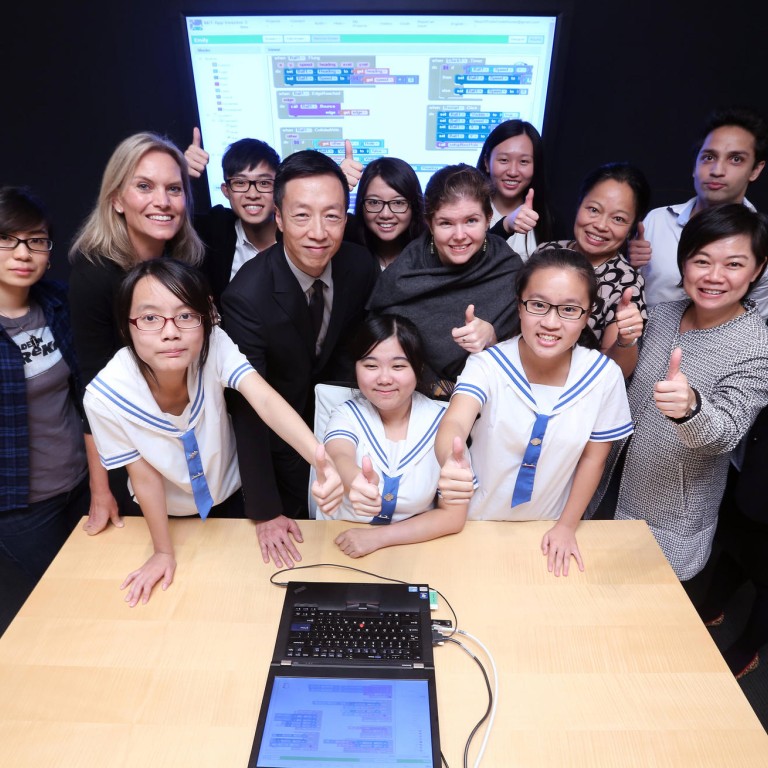 Operation Santa Claus: Credit Suisse and Women's Foundation help to break down IT barriers
Credit Suisse has teamed up with the Women's Foundation to challenge a misconception and prove that science subjects are not just for boys
For the students at Vicky Cheung's girls' school, developing skills in science and technology subjects was considered far less worthwhile than learning about literature and language.
"They told us they wanted us to be well-educated young women, so we learnt about Shakespeare," says the young Credit Suisse employee who works as a software developer and gives classes to fledging coders.
"No one said we could be good developers … they didn't even promote science."
To change this misconception, this year financial services provider Credit Suisse has teamed up with the Women's Foundation and Operation Santa Claus to provide tech classes to underprivileged girls. Operation Santa Claus is the annual fundraiser jointly organised by the and RTHK.
"We want to help provide an ecosystem of support [for aspiring female developers] while providing more opportunities," says Peter Mo, who heads the China branch of Credit Suisse's IT department. He adds that the false conception of IT jobs being "just about fixing computers" also acts as an unhelpful deterrent to bright young women developing digital skills.
Cheung laments the archaic attitudes in Hong Kong that serve as barriers for young women acquiring the skills that could take them far in a society that is becoming increasingly enmeshed in technology.
She is not alone.
"In the US, the government gives more support for getting young people into tech," says Form Five pupil Emily Hung. "In Hong Kong the government falls behind in STEM [science, technology, engineering, and maths] education, especially for girls."
She complains that many of her peers seem to think girls are not "logical" enough to take on science subjects, with those her age being easily put off by the idea of learning to code for fear of it being "too difficult".
The students will follow a curriculum led by coding trainer Nickey Khemchandani, who is passionate about accessibility and enabling tech to be a social equaliser.
"We're really excited to show these girls what they can do. Many people underestimate the ability of these kids, but they're awesome," he says.
The reported in July that women made up only a third of first-year students in science, technology, engineering and maths courses. The dominance of men in the field was said to further discourage women already facing bias at home and in school.
"We're concerned with the underrepresentation of girls studying STEM subjects," says Lisa Moore, research and advocacy manager at the Women's Foundation. "There's also lack of access in less 'research-rich' communities."
This article appeared in the South China Morning Post print edition as: Breaking down the I.T. barrier for girls