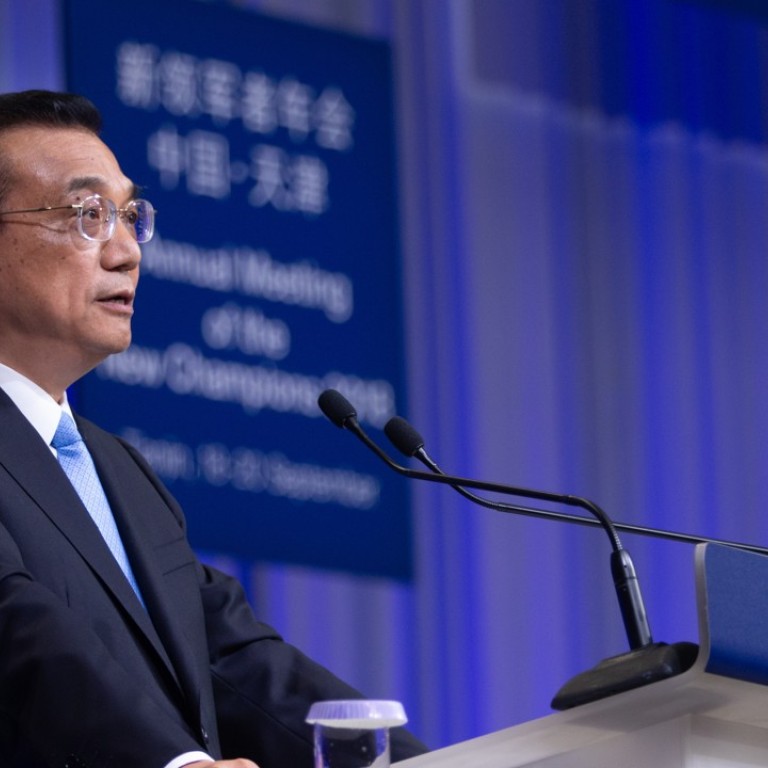 Is China still willing to open its financial sector during trade war?
Premier Li Keqiang makes fresh appeal to multinationals, but six months after foreign ownership changes, applications are still not being approved
Beijing has again told global financial executives it will open its financial sector wider, under pressure from Western businesses for unrestricted access and despite signs of existing opening-up measures stalling.
But foreign financial firms retain strong doubts about how opening it up will proceed, and under what conditions, with the trade war with the United States complicating matters by putting pressure on China to do more – which China is loath to be seen to be responding to.
"We are making preparations, hoping that a few qualified foreign players can have their fully owned and fully licensed financial subsidiaries in China in three years," Premier Li Keqiang told a small group of multinational company executives during the World Economic Forum (WEF) meetings in Tianjin last week.
In April, the Chinese government released a timetable for allowing full foreign ownership of financial firms. The restriction limiting foreign ownership of Chinese banks to stakes of less than 50 per cent was scrapped straight away, with promises that ownership limits on Chinese securities and insurance operations would get the same treatment in three years, although there were still many technical issues to solve.
But nearly six months after the bank ownership limit was lifted, none of the foreign applications to open fully owned banks in China have been approved.
Li's own words at the WEF last week may signal reluctance on the part of the government, or at least some elements of it, to give foreign players a greater role in the domestic financial system any time soon.
Finance is a "relatively special sector" and its opening-up should "proceed in an orderly fashion", Li cautioned. "It's necessary for a big economy like China to maintain financial stability."
The financial system is the foundation of the Chinese economy and the ruling Communist Party desperately wants to maintain tight control of it. The trade war has complicated the entire reform process.
Liu Shengjun, president of the China Financial Reform Institute, a Shanghai-based research group, attributed Beijing's slow progress on financial reforms to its fear of losing face in the middle of the trade conflict.
"China had hoped to complete more reforms and opening-up in exchange for US recognition, but now it feels it would be awkward to do so because the trade war has escalated," Liu said.
"It has tried to deliver the message that it will actively pursue [reforms] for its own benefit, not because it is being forced to open up its market."
Liu said he believed communication channels between China and the US remained open. However, he added: "Trump wants no more 'I promise' [on reforms], but rather actions to change policies right now."
Unlike 15 years ago, when foreign companies were warmly welcomed as strategic investors to help restructure ailing state-owned banks, the country now has four huge commercial banks that are deemed by international authorities to be critical elements of the global financial system.
All four are state-owned, with the Industrial and Commercial Bank of China the world's largest financial institution.
In contrast to foreign manufacturers, who struggle against rising labour costs, cancellations of preferential tax policies and forced technology transfer, some foreign banks are still keen to expand their China presence, especially with ventures that they control.
Morgan Stanley, UBS, Nomura and J.P. Morgan have all expressed interest in gaining controlling stakes in securities joint ventures, though none of their applications have been finally approved.
Until recently, Chinese officials viewed certain top Wall Street executives as friends who could be counted on to convey their message to Washington.
Now, many senior Wall Street executives are less willing to support Beijing's positions, partly because of the more assertive Donald Trump administration and partly due to their own dissatisfaction with the lack of reform progress.
The combined market share of foreign banks in China is less than 5 per cent, and on-the-ground restrictions are highly visible.
Last week, Li used large sections of his speech to address foreign concerns about market access, the uneven playing field and forced technology transfer, all key complaints of Trump's administration.
He was interrupted by bursts of warm applause each time he mentioned "expanding the market entry of foreign investors" and "equal treatment for all China-registered firms".
"When Chinese enterprises become more internationalised, there will be more growth room [for foreign banks in China]," said Joe Ngai, managing director in China for consulting firm McKinsey, who advises foreign financial institutions on their China-related businesses.
Peter Reynolds, a partner at management consultancy Oliver Wyman, said Beijing's sense of timing is very different from that of European and American businesspeople, cautioning that full financial opening-up could be a "multi-decade process".
"They have a time frame which is very different – a long time frame," Reynolds said. "We've passed a couple of milestones recently, accelerating along that journey, but [it's] a very long journey."
Reynolds suggested that foreign financial businesses focus on refining their China business strategy. A decade ago, the common strategy was "we just want to enter", whereas today foreign financial institutions need a specific strategy for how to grow in China after the ownership issue is finally tackled, taking careful consideration of their target clients, their products and their competitive advantages in China, he said.