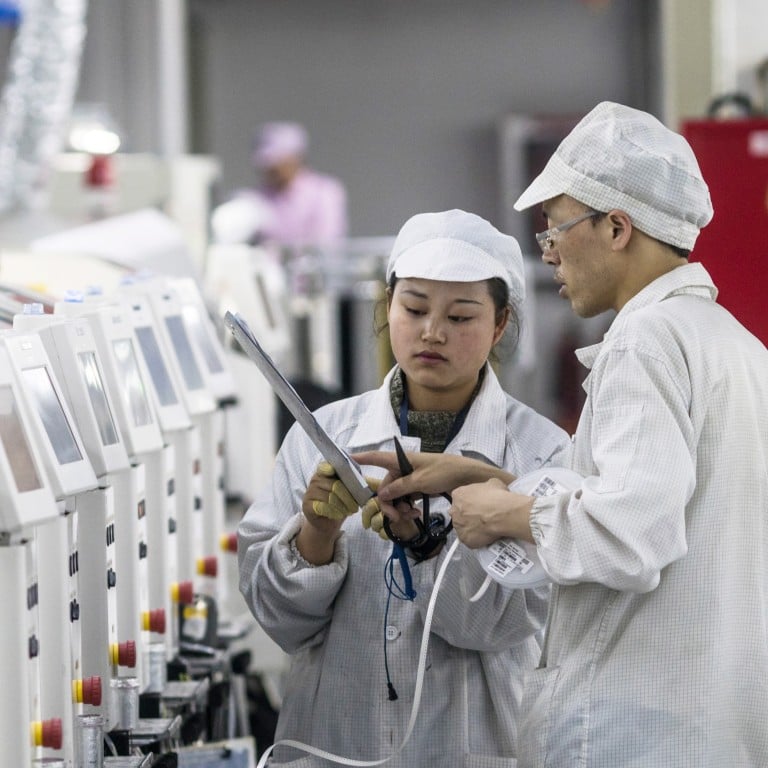 Trade war: why next US tariffs on China could halve Taiwan's growth
Next tariffs, which could take effect in July, include up to 25 per cent on electronic products assembled in China
Taiwanese firms supply 90 per cent of components for laptop PCs made for the three biggest American PC brands, and assemble most PCs in China
The next round of trade tariffs that the US may impose this summer as part of the escalation of its trade war with China threatens to hurt Taiwan more than other Asian countries because computers and consumer electronics will be targeted for the first time.
The new tariffs, which could be implemented as soon as July, could cut Taiwanese growth this year in half to just over 1 per cent, analysts said.
The tariffs of up to 25 per cent on electronic products assembled in China – including PCs and smartphones – will reduce orders from top brand vendors in the US and so cut demand for products and components from Taiwanese firms in Taiwan and mainland China.
The top three American PC brands depend on Taiwanese firms for 90 per cent of their parts and for assembly on the mainland of the finished product.
On May 10, the United States raised tariffs on
US$200 billion worth of imports
from China from 10 per cent to 25 per cent after President Donald Trump said that Beijing had tried to "renege" on provisions in a proposed trade deal it had already agreed to. China responded Monday with tariffs of 5 to 25 per cent on US$60 billion worth of imports from the United States.
Trump also threatened to impose tariffs of up to 25 per cent on about US$300 billion in made-in-China products – virtually all remaining Chinese imports not subject to tariffs.
"I think the next wave of tariffs will have a huge impact on computers and the supply chain, including notebooks, desktop assembly and their components," said Brady Wang, associate director with market analysis firm Counterpoint Research in Taipei. "This is different from the first wave in 2018."
The fourth list of US tariffs would hit Taiwan hardest because it covers notebook PCs, Taipei-based market research firm TrendForce said.
"If tariffs are imposed on notebook PCs, American brands will begin to lose competitive power due to elevated costs from the tariffs, impacting both business and profits," TrendForce said in a research note on Tuesday.
Taiwanese contractors Compal Electronics, Quanta Computer and Wistron "may become another centre of impact in this disaster", the note says.
Quanta, a 31-year-old company with market capital of US$6.9 billion, builds notebook computers for Apple and Hewlett-Packard in China. Compal, launched in 1984, with a market capitalisation of about US$3 billion, makes PCs for Dell and Chinese brand Lenovo. The smaller Wistron also assembles PCs in China.
The US tariff list covering notebooks also includes mobile phones, tablet PCs, video monitors and television equipment. Taiwan-based Hon Hai Precision (Foxconn Technology) and Pegatron would brace for those because they assemble phones in China for export.
Suppliers such as Largan Precision and TDK Holding sell parts to phone developers with China production operations. Developers hit by higher tariffs could scale back orders.
If the fourth list takes full effect within a year and tariffs reach 25 per cent on its items, Taiwan's GDP growth could lose one percentage point this year and next, DBS Bank economist Ma Tieying said in a May 14 research note. "Trade disruption risks could be significant," she said.
The new US tariffs could therefore cut Taiwanese growth this year in half, since the government's latest forecast sees the island growth at 2.27 per cent this year.
If the sanctions are imposed and Taiwan's growth is halved, it could harm Tsai Ing-wen's chances of
being re-elected as president
in January's elections. Foreign affairs, cross-Strait matters, jobs and wages will also heavily influence the presidential race.
Taiwanese companies with mainland China bases and clients "now face a very harsh reality", said Tony Phoo, senior East Asia economist with Standard Chartered Bank in Taipei. "The US has started to raise its tariffs and, with it, has raised urgency."
The Taiwan-sourced share of total value-added of US-bound Chinese exports equals about 1.8 per cent of Taiwan's GDP, London-based Capital Economics said on Monday in its own research note. That makes Taiwan slightly more exposed to the trade dispute than fellow Asian exporters such as Malaysia, Singapore and South Korea, the note said.
Even before the third round of US tariffs
implemented last September
, Capital Economics called Taiwan the "economy with the most to lose" because the 25 per cent tariffs on US$50 billion of Chinese products announced up to that point affected 0.9 per cent of Taiwan's GDP.
Some Taiwanese firms with production in China had moved to insulate themselves for the trade dispute last year, so the recent hikes are not expected to affect them. For example, they made plans to move production back home or offshore it to Vietnam, a booming Asian factory base with no US trade dispute.
From January until the first week of May, 47 local companies with offshore businesses committed to invest a combined US$7.7 billion at home, Taiwan's Ministry of Economic Affairs said.
"Investment relocation and supply chain reshuffling will involve costs in the short term," DBS Bank's Ma said in her research note. "But companies may still want to pursue a diversification strategy, to manage the trade war uncertainties and sustain competitiveness in the long run."
Giant Manufacturing, to name one case, moved an undisclosed amount of its bicycle and e-bike production back to Taiwan from mainland China at the end of 2018 to avoid paying more for US-bound exports, said a company publicist, who did not wish to be identified. "We won't be affected now, because we already made the move back," she said.
The manufacturer is maintaining capacity for 3.6 million bikes per year in mainland China for domestic sales and export to non-US locations. Its Taiwan capacity comes to 800,000 units and its plant in the Netherlands can produce 600,000.
Offshoring outside mainland China can add extra costs for notebook makers, since many suppliers "have long been situated in China," TrendForce warned.
Compal and Quanta have already acted to shift some mainland Chinese production offshore, with Quanta one of the 47 companies that have applied this year for reinvestment in Taiwan. Wistron, with its smaller margins, has found it harder to afford a move, Wang said. "If they make the wrong decision, they will lose money," he said.
Taiwan's deputy economic affairs minister Tseng Wen-sheng told a news conference on Thursday that the self-ruled island's government needed more "specifics" to make a "detailed evaluation" of the full impact of the recent trade war escalation.