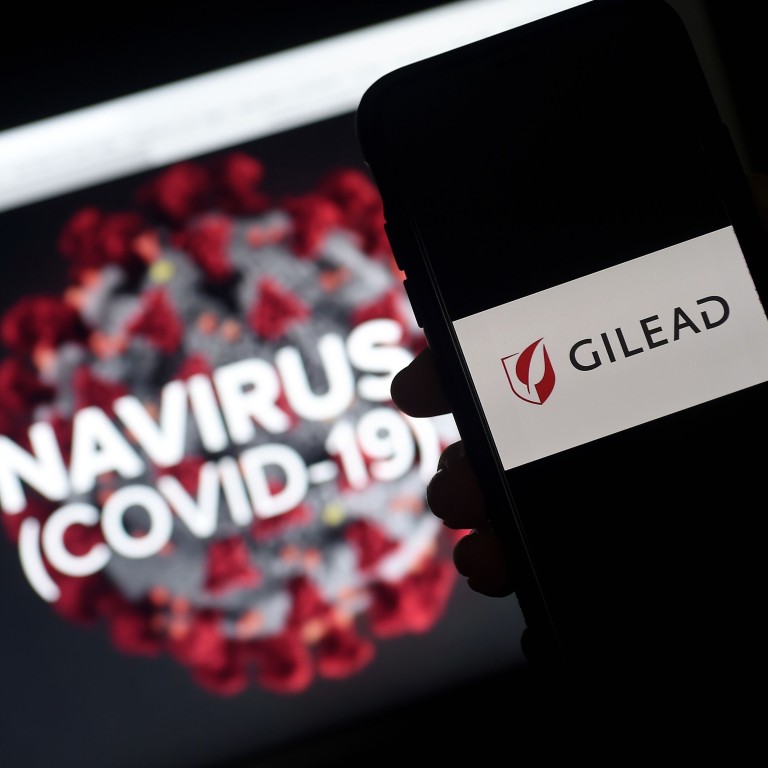 Coronavirus: drugs including remdesivir may prove effective before vaccine is available, South Korean expert says
Effectiveness of Gilead's remdesivir and other repurposed drugs may be proven in 3 to 4 months, a leading coronavirus expert says
'Not very optimistic' about seeing a vaccine within 18 months
South Korea's top coronavirus expert said the time frame for effective Covid-19 treatment may be much shorter than what is needed to develop a vaccine, and singled out Gilead Sciences' remdesivir as a hopeful candidate.
Dr Kim Woo Joo, who led South Korea's response to Covid-19 and the outbreak of Mers in 2015, said he was "not very optimistic" about the availability of a Covid-19 vaccine in the next 18 months, but said evidence about the effectiveness of remdesivir, an experimental antiviral developed to treat Ebola; AbbVie's Kaletra, an anti-HIV drug; or other medicines might be possible sooner.
"If everything goes well, I am hoping that the effectiveness of these drugs will be scientifically proven within three to four months," Kim, a professor of infectious diseases at Korea University Guro Hospital, said in an interview on Wednesday with the president of the Korea Society, Thomas Byrne.
Kim added that Seoul National University Hospital and the US National Institute of Allergy and Infectious Diseases, headed by Dr Anthony Fauci – a key player in the US government's effort to control the coronavirus spread – were collaborating to test remdesivir, which emerged this week as possible treatment option.
The health and medical news website
Stat reported on Thursday
that a Chicago hospital using remdesivir to treat severe Covid-19 patients saw rapid recoveries in fever and respiratory symptoms, with most patients discharged within a week.
The University of Chicago Medicine recruited 125 people with Covid-19 into Gilead's two phase-3 clinical trials and gave them daily remdesivir infusions, according to Stat. Of those patients, 113 had severe symptoms, the report said.
Gilead's share price shot up by nearly 15 per cent in after-hours trading after the Stat report and closed 9.7 per cent higher on Friday. The company is based in Foster City, California.
Kim said he was personally involved in the repurposing of Covis Pharma's ciclesonide and other drugs to treat Covid-19, adding that there were several clinical trials under way for these therapies. He also mentioned chlorophene, a malaria treatment, as another hopeful candidate.
The South Korean Covid-19 response that Kim oversees has been one of the world's most successful, prompting health authorities from many countries to learn from its experience.
The nation, with a population of about 50 million, has recorded 230 coronavirus deaths. That compares with more than 22,700 fatalities in Italy, whose population is slightly more than 60 million, and about 14,000 deaths in New York state, with a population of nearly 20 million.
Kim attributed his country's successful response to systems put in place after the Mers outbreak in 2015 and the influenza contagion of 2009.
"We had the novel influenza outbreak in 2009 and the Mers coronavirus outbreak in 2015, and in the early phase of the Mers outbreak Korea was also caught off guard like the United States is now, and the initial response did not go well and there was a lot of damage," Kim said.
A group of volunteers has translated the Korea Centre for Disease Control's
Covid-19 handbook
into English and made it available online.
The 90-page document from the Covid Translate Project contains "detailed, updated protocols for health care providers, government officials and ordinary citizens regarding quarantine, treatment, disinfection, funeral arrangements and more from both a policy and a patient care perspective".