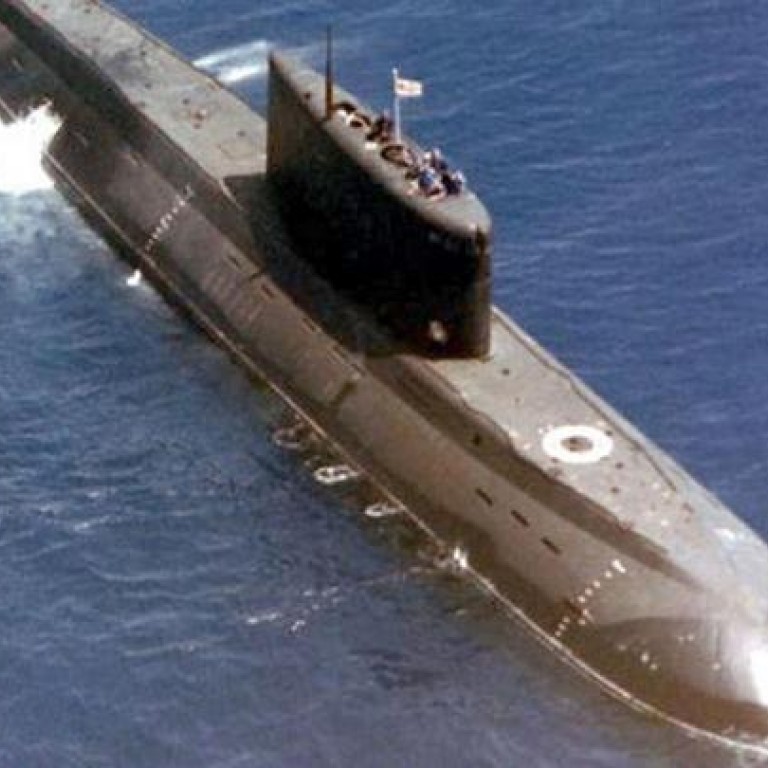 South China Sea strategic complexities sharpen into focus
Correction: In the 11th paragraph, the story referred to the US Navy's Submarine Group Seven as "Hawaii-based", according to an Indonesian online report. The group is in fact based in Yokosuka, Japan.
The mounting strategic complexities across China's maritime backyard are swinging into sharp relief this week, as Russian shipbuilders launch Vietnam's first state-of-the-art Kilo submarine and US naval officials confirm talks with Indonesia over training its submariners.
Sea-trials of the Vietnamese submarine - the first of six to be delivered over the next five years in a deal believed to be worth more than US$3.2 billion - are due to start this week off St Petersburg's Admiralty Shipyard ahead of a delivery to new facilities in Cam Ranh Bay within six months, Russian defence officials say.
It will complete a chain started in the late 1980s when Hanoi began preparing to acquire a Russian submarine - only for Soviet leader Mikhail Gorbachev to kill the deal to avoid annoying Beijing.
This time, however, Carl Thayer, an Australia-based scholar on Vietnam's military, said the Russians were selling Vietnam their crack Project 636 vessels - submarines so stealthy that they have been dubbed "black holes" by the United States Navy.
Not only will they be able to track foreign naval and paramilitary ships around the Vietnamese coasts, "the Kilo submarines will provide a deterrent against the contingency that China might attempt to quickly seize an island or feature occupied by Vietnam in the South China Sea," Thayer wrote in a recent commentary.
He warned that Vietnam still had to integrate the vessels into its forces and fund an adequate maintenance and ongoing training programme - a factor that India, which has vast experience of running Russian Kilos, is helping with.
The Kilos are able to perform a wide range of tasks, including gathering intelligence.
The US Navy, meanwhile, has offered to train Indonesian submariners as part of a deepening defence relationship centred on some of the region's most strategic submarine choke-points.
The developing ties are being closely watched by military attachés and analysts across the region, with the deep but narrow straits through the archipelago expected to get increasingly crowded with submarines, potentially from China and Russia as well as possibly Singapore and Malaysia, in the coming years. The US and Australia have long been frequent visitors.
It comes as Indonesia prepares to receive three diesel-electric Type 209 submarines from South Korea as part of plans to expand its current fleet of two ageing vessels to 10 submarines within 12 years.
Commenting on an Indonesian online report this month that the commander of the Hawaii-based Submarine Group Seven travelled to Surabaya and told Indonesian counterparts that he had prepared a training programme for Indonesian submariners, a US naval official confirmed the visit, saying Rear Admiral Phillip Sawyer "discussed shared interests and continued open dialogue between submarine forces".
"Bilateral and multilateral training in submarine operations improves our collective ability to respond," Lieutenant Lara Bollinger, a spokeswoman for Sawyer, told the .
The scope of the training is not known and Indonesian military officials, who are also boosting ties with China, have yet to confirm the extent of their participation.
Collin Koh Swee Lean of the S. Rajaratnam School of International Studies said he believed the US could be keen to use the training to further boost Indonesia's so-called "maritime domain awareness" - its ability to locate, identify and track foreign naval ships and submarines passing through its vital straits that link the Pacific to the Indian Ocean.
"This is something they have been working on already, and it is my speculation that the push to develop training programmes could be to enhance that effort over the long term," he said.
This article appeared in the South China Morning Post print edition as: Stakes are raised in sensitive waters