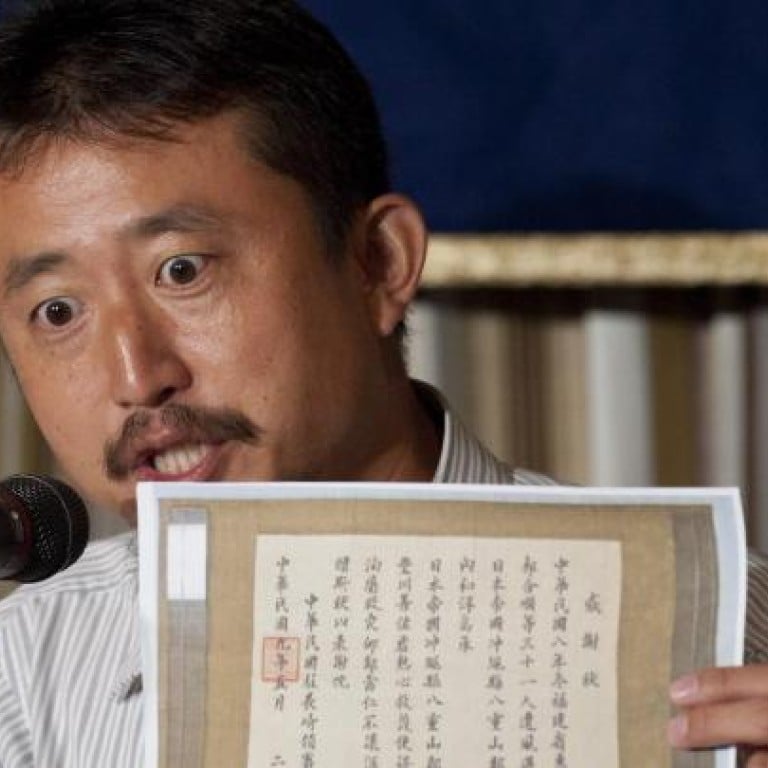 Activist says 'thief' China's attitude only strengthens Japanese resolve
A Japanese politician who recently landed on one of the disputed Diaoyu Islands in the East China Sea - known as the Senkakus in Japan - accused China yesterday of being "a thief".
He warned that its "insolent and arrogant attitude" will only serve to inspire a new generation of Japanese determined to protect the nation's sovereignty.
Eiji Kosaka, a member of the Arakawa Ward Assembly in Tokyo, was one of 10 Japanese activists who landed on Diaoyu Island - the largest island in the group and known as Uotsuri Island in Japan - on August 19, just days after a group of Hong Kong-based protesters had swum ashore to underline China's claim to the islands.
At a press conference in Tokyo, Kosaka said he hoped his actions would be seen as "a strong statement to the world that this is Japanese territory that was defended by our ancestors' blood, sweat and tears".
He also showed a map produced by the Peking City Map Publishing Company in 1960 that has the islands marked as Japanese territory, a letter from the Chinese government of the 1920s identifying the islands as part of Japan's Okinawa prefecture, and an article in the newspaper of January 8, 1953, that similarly states that the islands are Japanese.
"Since the discovery of oil and gas resources under the seabed, China has taken an unreasonable attitude on the basis of fabricated evidence," Kosaka said.
"These actions on the part of China are understandable. They take the attitude that history is a tool that can be used to further the aims of the nation, that untruths can be used and spread at home and abroad.
"A thief with the name China has made repeated claims to Japanese territory."
He criticised Tokyo for failing to punish the activists and instead flying them back to Hong Kong on business-class seats.
"Japanese governments have shown they are not willing to act to protect Japanese territory," he said. "Their lack of action is almost criminal because Japan's sovereignty in this area is virtually dead."
This article appeared in the South China Morning Post print edition as: Activist says 'thief' China's attitude only strengthens Japanese resolve