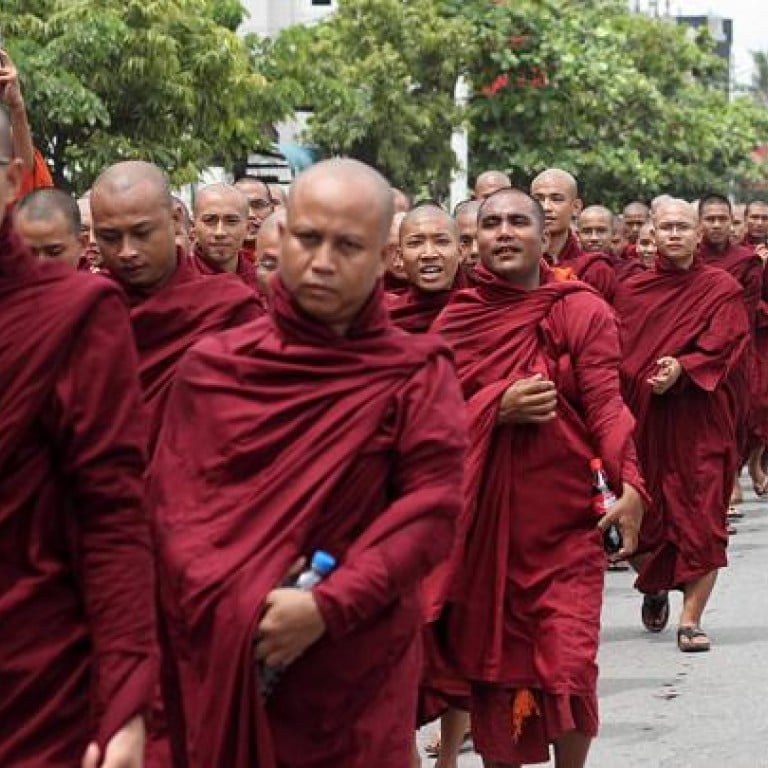 Monks join anti-Rohingya marches, adding to pressure on minority
Buddhist monks have joined protest marches in Myanmar in support of a controversial presidential call to deport the minority Muslims
The involvement of Buddhist monks in protests in Myanmar this week in support of a controversial presidential call to deport Rohingya Muslims adds a new dimension to the intensifying persecution of the minority.
The image of hundreds of monks joining protests in Mandalay is politically potent. No group in the predominantly Buddhist country has the moral suasion of Buddhist monks when they take to the streets.
It was a bloody crackdown on monks protesting against the former military junta in late 2007 - a so-called saffron revolution - that is now seen as one of several turning points that pushed the regime towards the creation of its nominally civilian democracy. For the more moderate of the ruling generals, this was a low point and something they did not wish to see happen again.
Sunday's protests were the biggest since the 2007 rallies.
"This is really bad news for the Rohingya," said one foreign diplomat in Yangon, who fears they could have regional implications if the Rohingya are forced to flee the country en masse.
"It might make the president feel he has to take an even tougher line and therefore embolden him to do just that. The tragic reality of politics here is that no one weeps over the Rohingya."
President Thein Sein, a former general, has previously criticised Buddhists for stirring up trouble against Rohingya but has also insisted they must be deported - despite concerns from the United Nations.
Hundreds of red-robed monks joined several thousand ordinary people marching through Mandalay on Sunday, with hundreds continuing yesterday. Further marches are expected today.
The march leader, 45-year-old monk U Wirathu, said they were protesting against Rohingya claims to Myanmese citizenship and to condemn "terrorism of Rohingya Bengalis who cruelly killed ethnic Rakhines".
Fighting erupted in June between Rohingya Muslims and Buddhists across Rakhine province in Myanmar's northwest, deepening the concerns of the UN and other international observers. Official accounts put the death toll at 90, but rights groups say it could be much higher. There are reports, denied by the government, that its own fired on Rohingya during the violence.
The clashes sparked a flood of anti-Rohingya commentary online and in Myanmar's increasingly free press. Some in the opposition National League for Democracy also insisted that the Rohingya were not Myanmese. Opposition leader and Nobel Peace Prize laureate Aung San Suu Kyi has drawn criticism for not speaking out more strongly.
Despite scholars tracing the Rohingya roots in Rakhine back to the ninth century after Arab and Persian migrations, the conservative Muslims have struggled to win nationality rights in modern times, despite being granted citizenship under British rule.
Several hundred thousand Rohingya languish in border camps in Bangladesh, and a further 800,000 are believed to still live in Rakhine - a group that officials of the UN High Commissioner for Refugees have described as the most persecuted people anywhere.
Unwelcome in both Bangladesh and Myanmar, they are effectively stateless - and those in Myanmar have long lacked the papers to be able to work legally or even marry.
Some Myanmese fear the Rohingya crisis could point to broader ethnic unrest as reform and change expose long-suppressed racial tensions in what is one of East Asia's most ethnically and religiously diverse nations.
This article appeared in the South China Morning Post print edition as: Pressure builds on persecuted Rohingya