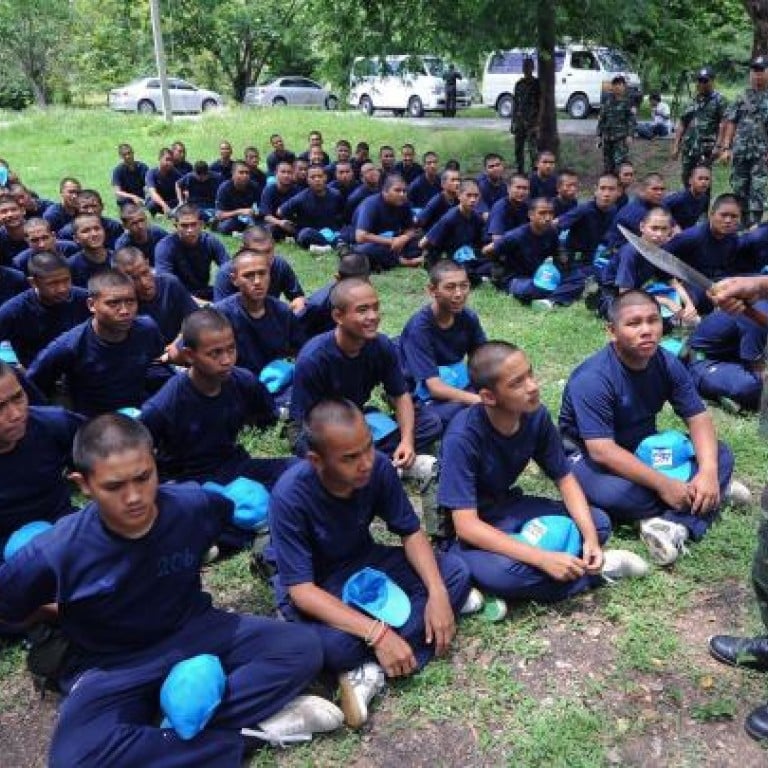 Thai boot camp tries to end enmity of vocational-school gangs
With murder common during the new school year as vocational college factions fight each other, officials try to rehabilitate the hard cases
Sweat dripping from their foreheads as they complete a set of press-ups, students at a Thai army boot camp are momentary allies, but a spate of gang shootings suggests it is an uneasy peace.
Deadly rivalries between student gangs have seen several teenagers gunned down in Bangkok since the start of the school year in May, leaving the kingdom's authorities scrambling for answers to a decades-old violent tradition.
The 150 students doing fitness drills at the army camp north of the capital come from vocational colleges - schools notorious for incubating ruthless gangs who fight for the perceived pride of their institution.
"I stabbed a student in the head," says Pond, a pimply 18-year-old who escaped prosecution for the assault but was fined a few dollars for carrying a knife.
"Sometimes I feel bad about it, but it's what happens. We do it because it's a legend, passed down from the seniors in our school. We do it for pride."
The colleges prepare teenagers for a life of manual work, rather than going on to university, and the students are often viewed as low status by a society with a keen sense of hierarchy.
A wave of violence strikes at the start of every new school year, leaving ordinary Thais on guard for the appearance of students in public spaces, where disputes can lead to tragedy.
A bystander died after she was hit by a stray bullet in June as a group of students opened fire on a Bangkok bus in an attack that killed a rival gang member.
Guns, machetes and even improvised grenades were among an arsenal seized in a subsequent police crackdown, but the death toll has risen unabated with at least three more students killed and several others wounded.
Bangkok police recorded more than 1,000 cases of students fighting between January and July this year, and the nationwide tally is likely to be much higher.
Desperate for a solution, Thai authorities established the boot camp, where the worst offenders are sent after consultation between their colleges and parents.
Once there, they are forced to follow orders from no-nonsense army trainers and must live cheek-by-jowl with their sworn enemies.
Dressed in a blue jump suit and plimsolls, his hair cropped close like his peers, Pond - a nickname - explains that he was blacklisted by his school for persistent fighting and sent to the camp to reform.
He says the 5am wake-up calls, regular meal times and fitness drills have brought some discipline to his chaotic life, but is frank about his prospects of following a new path.
"At the moment I don't want to fight anymore but when I am back out there I will protect myself," he says, fidgeting with the catch on his army baseball cap.
For Zoom, a scrawny, jittery 18-year-old, fighting for school pride delivers a sense of power, belonging and respect from younger pupils.
He says trivial insults about each other's school are enough to spark confrontation and chillingly recalls a fight last year which started after rivals swore at him from a motorcycle.
As the students passed by he reached for his knife "and slashed one of them across the head", he says, betraying no hint of remorse.
Their instructors have 10 weeks to break down resentment between the students and hope team-building exercises and group discussions will foster friendships that last once the camp ends in September.
But after decades of brawling between the colleges, the instructors are realistic.
"Ten per cent of the students are not good when they come to the camp," explains Lieutenant Colonel Wanchana Sawasdeem, an army spokesman.
"When they leave they still won't be good - they don't accept the system at all. But for 90 per cent it will work, even if it just means they hesitate before fighting. At least the camp will have made them think."
While the vocational colleges churn out many success stories, a hard core among them each year gravitate towards the hyper-violence of the gangs, impressed by the tales of older pupils and even former students whose influence lingers.
"Winning fights is their way of life," says Montree Sintawichai, a former senator and now an expert on young people's issues who works for a charity called the Child Protection Foundation.
"The students think their victims are weak. They have little respect and little forgiveness," Montree says.
This article appeared in the South China Morning Post print edition as: Boot camp seeks to end Thai school gangs' enmity