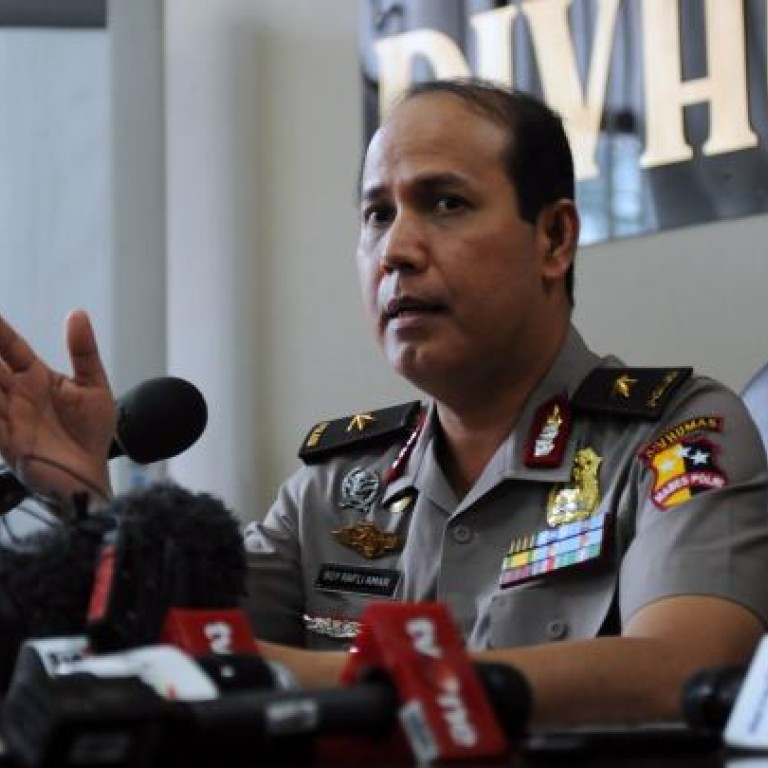 Arrested Indonesian describes plot on police video
Six men associated with an Islamic school founded by a radical cleric plotted to set off bombs and shoot police to wage "holy war" in an Indonesian town, one of the suspects said in an interrogation video released by police on Thursday.
Two suspected militants and a member of an elite anti-terrorism squad were killed last Friday when police raided the group in Central Java. Bayu Setiono, 22, was arrested during the raid, another man was arrested on Wednesday and two suspects are at large.
The group is accused of killing a police officer last week and attacking two police posts in mid-August as part of the plot in the town of Solo.
In the 10-minute video released at police headquarters, Setiono described their group as an "underground group without amir (leader), without baiat (pledging of allegiance).
"We planned to kill policemen and create a situation like Ambon and Poso, for the sake of upholding Islamic sharia and the establishment of a caliphate in Indonesia," Setiono said, referring to the Muslim-Christian conflict that killed thousands from 1999 into the 2000s.
"Our targets, since 2007 until now, are infidels and policemen," he said.
One plan for him, Farhan Mujahidin and Mukhsin Sanny Permadi to finance their plot by robbing a gold shop failed due to the presence of a police officer. "We cancelled the plan, and Farhan was angry and said such police has to be killed," Setiono said. The two other men were killed in last week's raid.
Another suspect, Firman Firmansyah, who allegedly drove a motorbike used in the storming of the police post in Solo on August 30, was arrested on Wednesday in the West Java town of Depok.
Setiono had worked at Al-Mukmin Islamic school in the Central Java town of Ngruki, while the five others were alumni of the school, co-founded by convicted radical Muslim cleric Abu Bakar Bashir.
Farhan returned to Indonesia early this year after studying the military and fighting in the Philippines for two years, Setiono said in the video.
"My role was to survey the targets set by Farhan," said Setiono who once joined with Sigit Qurdowi, a leader of a little-known militant group called Hisbah, who was killed along with his bodyguard, Hendro Yulianto by an anti-terror squad in May last year.
He added that Qurdowi, who led attacks in Central Java and West Java in 2010 and last year, had smuggled firearms from the Philippines and sold them in Jakarta, Solo and West Java towns of Cirebon and Bekasi.
In the video, Setiono who was moved on Wednesday from Central Java to Jakarta, also apologised to Solo residents for causing restlessness among them.
Police are still investigating whether the suspects are connected to Jemaah Anshorut Tauhid, an organisation founded by Bashir and designated a terrorist group by the US in February.
Recent terror attacks in the world's most populous Muslim nation have been by individuals or small groups and have targeted local "infidels" instead of Westerners, with less deadly results.