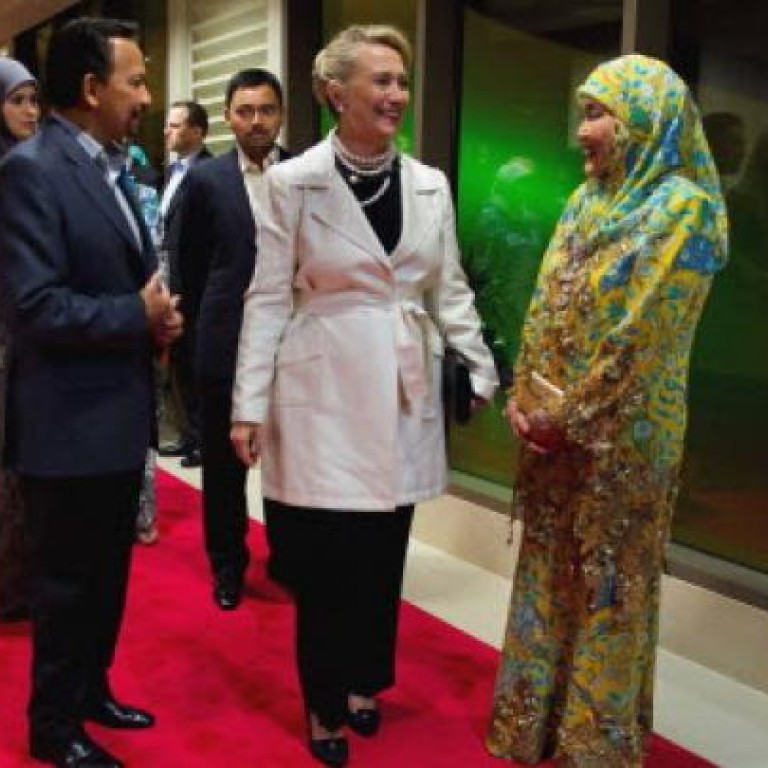 Clinton in Brunei deterimined to heal territorial disputes
US Secretary of State Hillary Clinton began a visit to the tiny sultanate of Brunei on Thursday in her latest stop on a tour seeking to cool tensions in the South China Sea.
Clinton's one-night stop in the US-friendly petro-state makes her the first US secretary of state to visit all 10 members of the Association of Southeast Asian Nations (Asean), whose unity she has been keen to strengthen.
Tensions have escalated in the South China Sea with the Philippines and Vietnam accusing China of stepping up harassment of their fishermen and ships in a bid to exert Beijing's claims to virtually all of the strategic waterway.
Brunei next year will serve as the chair of Asean and the East Asia Summit, the latter of which includes Asean and a handful of other countries including China and the United States.
Brunei succeeds Cambodia, whose tenure has been marred by rising friction between Southeast Asian nations and China over the maritime disputes.
"I think they're somewhat nervous about next year," a US official aboard Clinton's plane said on condition of anonymity.
Asean foreign ministers in July failed for the first time in the bloc's 45-year history to produce a joint communique at annual talks amid divisions over whether to stand up to China.
"They would like to avoid the kinds of public tensions that we just witnessed when we were in Cambodia," the official said on condition of anonymity.
"Like many Asean countries, they want very much to have a good relationship between the United States and China. They don't want to have to choose."
Brunei is one of six nations with various claims – some of them overlapping – over the South China Sea, through which around half of the world's commercial cargo is transported.
Clinton, whose latest trip has taken her to Beijing and Jakarta, has pushed for Asean and China to agree on a code of conduct that would manage disputes and prevent incidents at sea from escalating into full-blown conflicts.
She will meet with Sultan Hassanal Bolkiah for dinner Thursday and then take part in an event on Friday to highlight an initiative between Brunei and the United States to teach English in less prosperous parts of Asean.