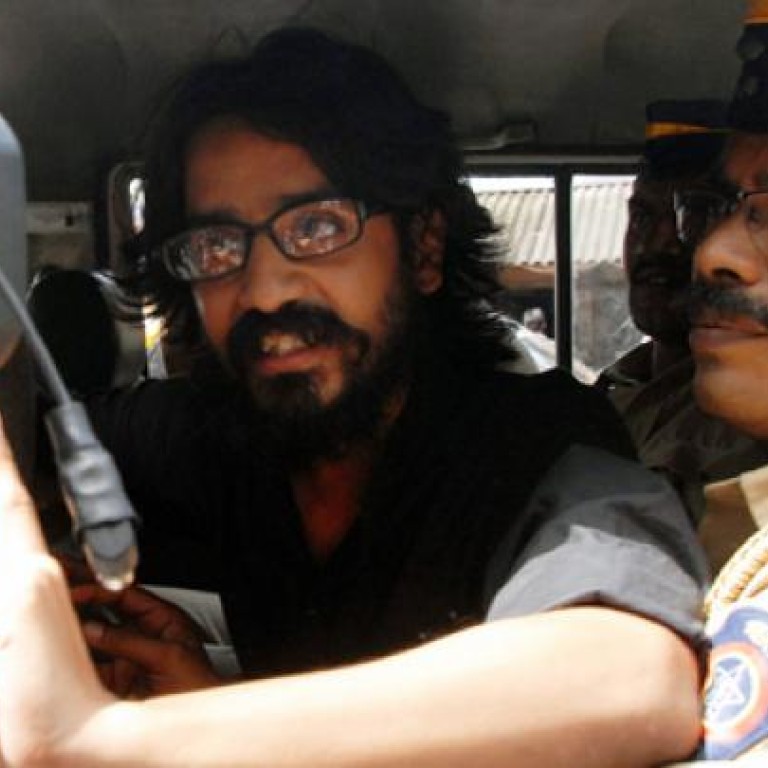 Indian cartoonist charged with sedition leaves jail
An Indian cartoonist jailed on sedition charges was released from a Mumbai prison on bail on Wednesday, four days after being arrested in a case that has outraged freedom of expression campaigners.
"Although I'm free, the battle will continue. Whenever there is an infringement of legal rights, our fight will continue," Aseem Trivedi told a crowd of reporters outside Arthur Road jail.
Trivedi, whose sketches often mock the government for corruption, accepted bail after the city's High Court said on Tuesday that he could be released on a bond of 5,000 rupees (HK$700).
His lawyer Vijay Hiremath said earlier that they were hopeful all the charges would be dropped.
The arrest of Trivedi, a freelance cartoonist and anti-graft campaigner, sparked a backlash against the government, which has been accused of using colonial-era sedition laws to crush dissent.
Human Rights Watch joined the chorus of protest on Wednesday, calling for the "politically motivated" charges to be dismissed immediately.
"Arresting cartoonists for their stinging satire is a hallmark of a dictatorship, not a democracy," Meenakshi Ganguly, the group's South Asia director, said.
Trivedi was arrested in Mumbai under laws governing sedition, information technology and protecting India's national flag and constitution, after a private complaint from a young lawyer.
Cartoons on Trivedi's website include one of the national emblem with lions replaced by blood-thirsty wolves and another depicting the parliament in New Delhi as a huge toilet bowl.
One sketch titled "Gang Rape of Mother India" shows a woman draped in the Indian flag being held down by a politician and a bureaucrat as a horned animal depicting corruption appears ready to attack her.
A court on Monday had ordered the cartoonist to be held in custody until September 24.
Media rights groups Reporters Without Borders and the Committee to Protect Journalists (CPJ) have also called for Trivedi to be freed and all charges dropped.
His arrest came after India ordered more than 300 websites, social networking pages, Twitter accounts and other online content to be blocked last month in an attempt to halt the spread of rumours about ethnic violence.
In the most famous recent sedition case, Indian doctor and human rights activist Binayak Sen was jailed for life in 2010 for allegedly helping Maoist rebels.
He was freed on bail last year on the instructions of the Supreme Court.
India has lately shown sensitivity to criticism of its leaders, with the government responding angrily to a Washington Post article on the struggling Prime Minister Manmohan Singh, who has been hit by a string of graft scandals.
Cartoons have also come under fire before. In May, lawmakers reacted in fury over an old cartoon being used in school textbooks lampooning B.R. Ambedkar, author of India's constitution.