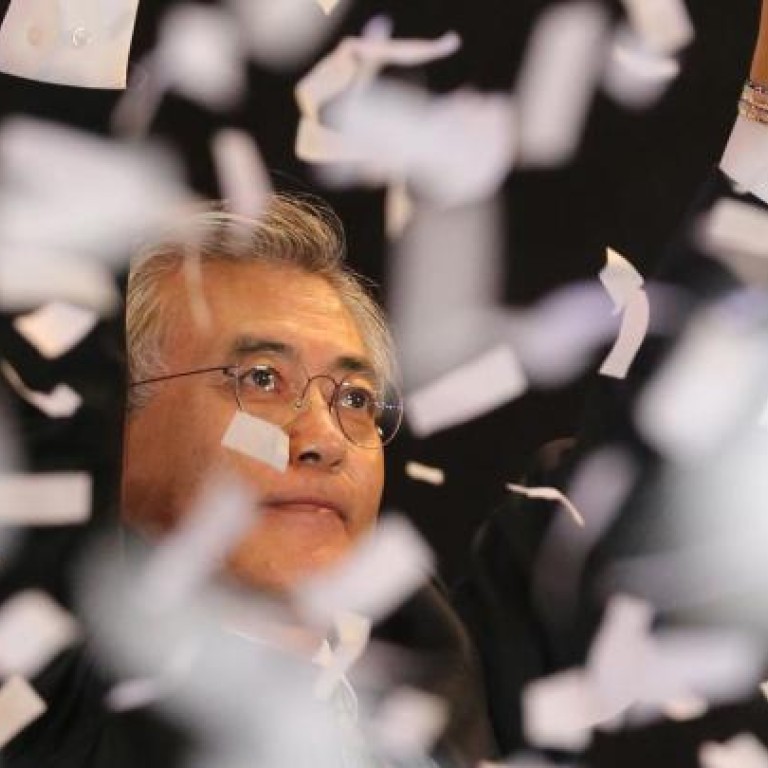 Top aide of South Korean ex-leader Roh Moo-hyun to run for president
Moon Jae-in declared presidential nominee by main opposition Democratic United Party
A former human rights lawyer and close ally of late president Roh Moo-hyun has vowed to push for a summit with North Korea if he becomes South Korea's next president in the December polls.
Moon Jae-in, who won the main opposition Democratic United Party's (DUP) nomination for presidential candidate yesterday, is best known as a top aide to ex-president Roh, who committed suicide in 2009 amid a graft probe.
Formerly a pro-democracy activist who was jailed in the 1970s for protesting against military rule, Moon, 59, has impeccable liberal credentials that helped him unify disparate opposition groups into the DUP last year.
A popular public figure, he had previously steered clear of electoral politics despite having served in the top echelons of government. He was one of the most influential figures in Roh's administration, rising to become his chief of staff.
Political observers and chief of the Institute of Presidential Leadership, Choi Jin, said: "[Moon] is projected as a nice guy with a soft look. But the question is whether he is able to emerge from Roh's shadow and convince voters that he could become a strong leader."
Moon has made it clear that he favours closer ties with North Korea and would reverse incumbent President Lee Myung-Bak's policy of linking economic assistance to progress in discussions on Pyongyang's nuclear programme.
In June, he told of his desire for "regular summits" with North Korea's new young leader, Kim Jong-un.
Moon was born in the southern island of Geojae in 1952 during the Korean war after his North Korean parents fled to the South. His father was a menial worker at a Geojae prisoner-of-war camp, while his mother peddled eggs in the nearby port city of Busan with the baby Moon strapped to her back, according to his autobiography.
In 1972, he entered law school in Seoul, but was arrested and expelled for leading a student protest against then president Park Chung-hee's authoritarian rule. He returned to school in 1980 only to be arrested again.
His close friendship with ex-president Roh began in 1982 when they opened a law partnership in Busan focusing on human and civil rights issues. Both became leading figures in pro- democracy protests that swept the country in 1987 and led to South Korea's first direct presidential elections the same year.
Despite the scandal that led to Roh's suicide, Moon "always remained untainted by corruption allegations and abuse of power", said Kang Won-taek, a political science professor at the Seoul National University.
This article appeared in the South China Morning Post print edition as: S Korean leader's ex-aide to contest presidential poll