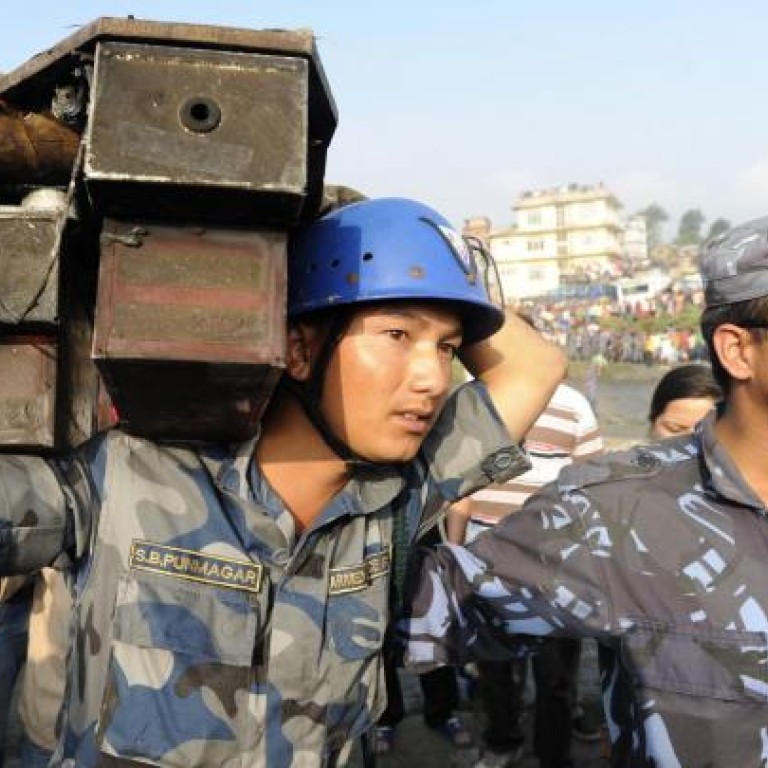 Pilot of Nepal crash plane likely panicked, aviation official Suresh Acharya says
Nepal said yesterday an error by a "panic-stricken" pilot was likely to have caused the crash of an Everest-bound plane that killed all 19 on board.
The twin-propeller Sita Air plane had just taken off on Friday from Kathmandu and was headed to the town of Lukla, gateway to Mount Everest, when it plunged into the banks of a river near the city's airport around daybreak.
"The pilot's failure to maintain the required radius is a likely cause of the accident," said aviation ministry official Suresh Acharya, adding the plane turned too sharply because it had not gained enough altitude.
The Dornier aircraft, which crashed minutes after take-off, was headed for Mount Everest, the world's tallest mountain. The victims included British and Chinese Everest-bound trekkers.
The plane's right engine burst into flames after being hit by a bird, causing the aircraft to plummet into the river bank and explode into a huge fireball.
"The preliminary finding of the Civil Aviation Authority notices unusual manoeuvring during the take-off and the pilot communicated to air traffic control the aircraft was hit by a bird," said Acharya.
"But a plane crash does not occur simply just because its engine was hit by a bird," he said, noting incidents when one engine of a twin-engine aircraft has failed and the plane is still able to land safely.
"The pilot may have been panic-stricken [and] made a steep narrow turn instead of forming a wider radius required to bring the malfunctioning aircraft back to the runway."
Acharya, a member of a government commission due to report on the cause of the crash within three months, said the pilot should have gained more altitude before trying to return to the airport.
The foreigners arrived in Nepal on Wednesday and had been slated to begin trekking towards Everest base camp yesterday, accompanied by several local guides on an expedition organised by English company Explore Worldwide.
Police said the victims were piled up at the cockpit end of the wreckage, the reported, indicating they had either failed to fasten their safety belts or took them off before hitting the ground.
"We have taken out the data recorder and handed it over to the civil aviation authorities. The rescue work at the site has ended," national police spokesman Binod Singh said.
"It has been difficult to identify the bodies and DNA tests may be carried out before they are handed over to the relatives."
The youngest British victim was Ben Ogden, a 27-year-old Oxford University graduate who recently qualified as a solicitor and was a rising star at a London law firm.
His father, Andrew, was quoted in Britain's as saying his son wanted the trip to be "his big adventure" before he "knuckled down to some serious work" and life with his girlfriend of eight years.
This article appeared in the South China Morning Post print edition as: 'Pilot likely panicked in Nepal crash'