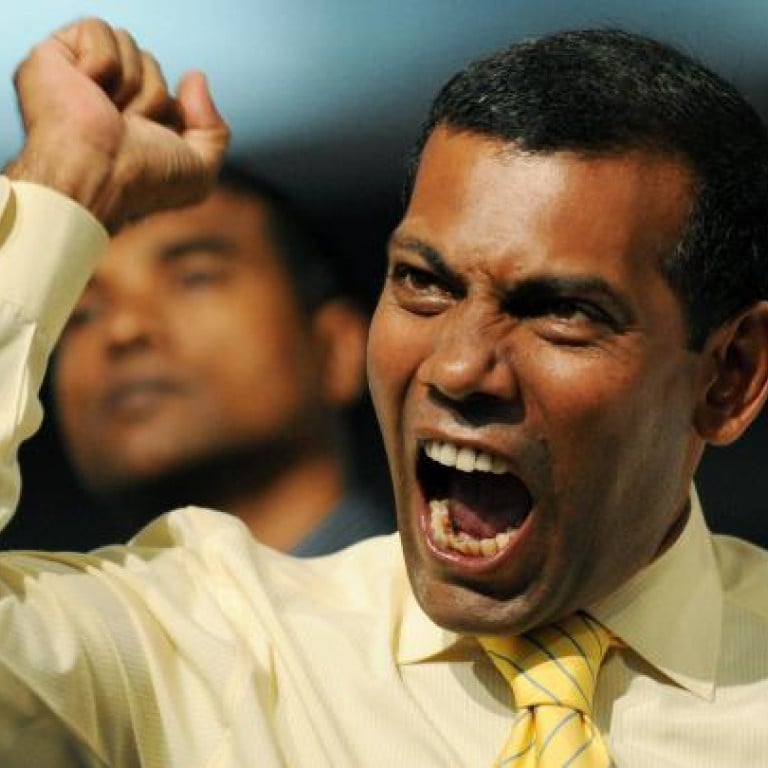 Former Maldives president Mohamed Nasheed snubs his trial and violates a travel ban
The first elected president of the Maldives risks arrest after boycotting the scheduled start of his criminal trial and violating a travel ban, the government said yesterday.
Mohamed Nasheed had been due to go on trial on Monday on abuse of power charges in connection with the events that led to his toppling in February.
But his case was adjourned, without a new date being set, after Nasheed failed to turn up at court. He was then seen sailing out of the archipelago's main island in defiance of an order to stay in the capital.
"The court will issue him another summons," presidential media secretary, Masood Imad, said. "After the second summons, if he does not comply, the standard procedure is they [the court] will instruct the police to bring him in."
Nasheed, who won the Maldives' first democratic election in 2008, had been ordered to appear before a three-judge bench in Male at an early evening sitting on Monday.
But he was seen leaving the capital by boat to meet with supporters of his Maldivian Democratic Party in the south of the Maldives, an atoll nation of 1,192 coral islets scattered across the equator.
"I don't think the charges are correct," said Nasheed, 45, who said he does not expect a fair trial.
The case centres on Nasheed's decision, while president, to arrest a senior judge. This fuelled already simmering anti-government protests and culminated in a police mutiny in February and his ultimate downfall.
Nasheed justified the arrest by saying the judicial service commission failed to act on a string of allegations against the judge.
Nasheed says he was threatened by rebel officers and forced to resign, allegations rejected by President Mohamed Waheed.
This article appeared in the South China Morning Post print edition as: Ex-president risks arrest for boycotting trial