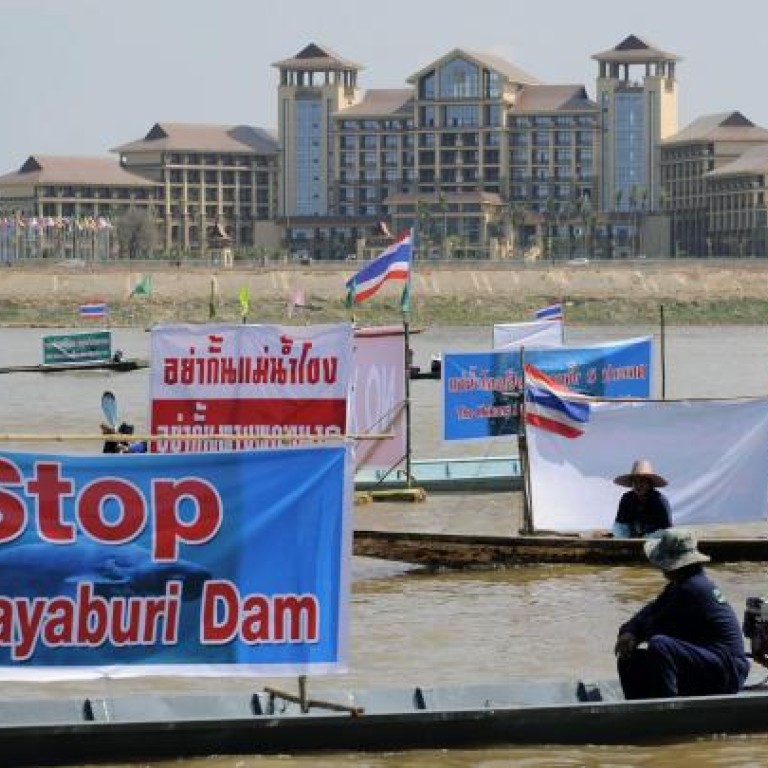 Laos to begin construction of US$3.6b hydropower project on Mekong River
Vientiane says it has addressed concerns over impact on rice farming and fisheries
Laos will start construction this week on a US$3.6-billion hydropower dam on the Mekong River that was delayed for 18 months amid opposition from downstream countries and activists.
The groundbreaking ceremony will take place tomorrow at the site of the dam, according to Viraphonh Viravong, deputy minister of energy and mining.
"It has been assessed, it has been discussed the last two years," Viraphonh said. "We have addressed most of the concerns."
The hydropower plant is the first among eight that Laos plans to build to expand Southeast Asia's smallest economy by selling electricity to neighbouring countries. Vietnam last year recommended a 10-year delay for all dam projects on the Mekong, which also runs through Myanmar, Thailand and Cambodia from its source in China's Tibetan plateau.
Thai opponents of the dam held a protest yesterday on the Mekong across from Laos' capital Vientiane, where Asian and European leaders from about 50 countries are meeting for a summit. In August, they filed a lawsuit in Thailand's Administrative Court to cancel an agreement for the Electricity Generating Authority to buy almost all the power from the 1,285MW project.
"The Mekong River has reached a crisis point with plans to construct the Xayaburi Dam and a cascade of 11 dams rapidly moving forward," International Rivers, a US- based non-profit group that aims to protect rivers and human rights, said.
Viraphonh dismissed those concerns, saying measures have been taken to ensure a limited impact on the environment. Cambodian officials who had opposed the dam are now "very happy" with its design, he said.
"The lesson of Xayaburi is that we have raised the standard of dam projects," he added. "We are taking care more of the environment and other concerns."
About 60 million people depend on the Mekong and its tributaries for food, water and transportation, the inter-governmental Mekong River Commission says. Neighbouring nations are concerned the dam will disrupt fisheries and rice production.
This article appeared in the South China Morning Post print edition as: Laos to start construction of US$3.6b dam project