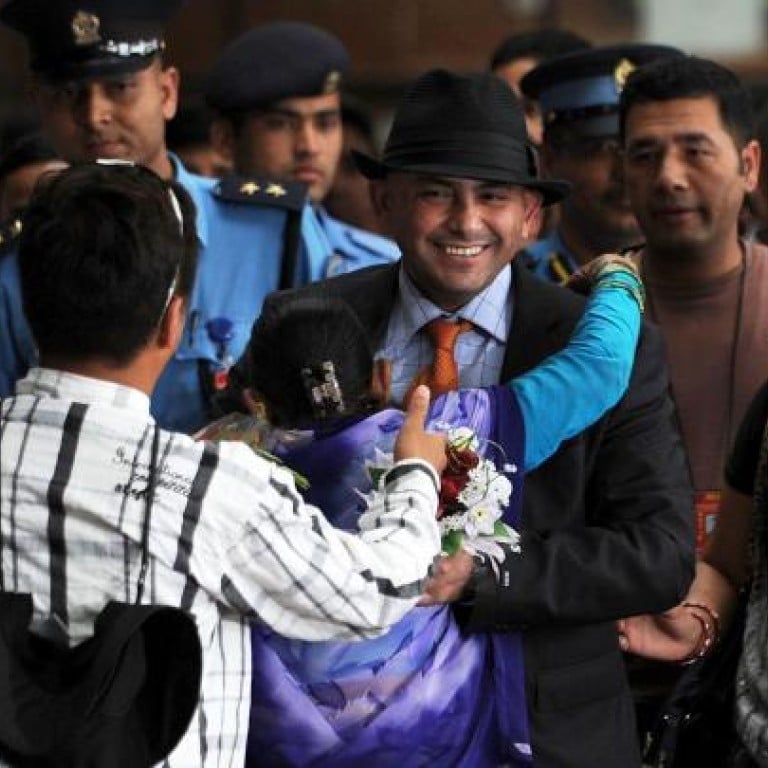 Nepali jailed in Japan for murder he did not commit urges prison reforms
Nepali acquitted after spending 15 years in prison for murder he did not commit calls for Tokyo to reform its police and prison system
A Nepali migrant worker who spent 15 years in a Japanese jail for a murder he did not commit claims he was tortured in prison and has urged Tokyo to reform its police and prison system.
Govinda Prasad Mainali was working at a restaurant in the Japanese capital when he was arrested on suspicion of strangling Yasuko Watanabe in 1997.
Watanabe had been an up-and-coming economist earning a comfortable salary, yet was reportedly living a double life as a sex worker who walked Tokyo's streets at night.
When her body was found in a sleazy downtown apartment, Mainali was charged with her murder and given a life sentence. He was acquitted in a retrial on Wednesday after DNA evidence proved he could not have committed the crime.
"I was forced to undergo 15 years of horrible and torturous time in jail despite being innocent," Mainali said in Kathmandu. "Had the DNA test not been conducted, I would have been languishing in jail and probably would have died there."
Mainali, 46, was deported to Nepal in June after his conviction was quashed, before he was finally declared not guilty by the Tokyo High Court this week.
The case has attracted lurid headlines and exposed Japan's justice system to heavy criticism by human-rights campaigners. Watanabe, who was 39 when she died, grew up in an affluent Tokyo neighbourhood, majored in economics and followed in her late father's footsteps into the Tokyo Electric Power company. She was a high-flyer but became frustrated after being passed over for promotions, author Shinichi Sano said in a bestseller on the case.
She began to work in a hostess bar, before turning to high-class prostitution. But she would also walk the streets, soliciting for as little as US$20, and this is how she met Mainali, his trial was told.
Mainali was charged after traces of his sperm were found in a condom at the murder scene and he was found guilty in 2000. The Supreme Court upheld his life sentence in 2003.
Mainali was released and granted a retrial after fresh DNA evidence proved the original investigation had overlooked the fact that semen found inside Watanabe was not his. The semen in the condom was also dated to well before her death.
Leading rights groups and the UN have criticised Japan's - or substitute prison - system, which allows suspects to be detained for up to 23 days without charge and with limited access to lawyers. Almost all murder cases in Japan result in guilty verdicts because so many are based on confessions.
Amnesty International says Mainali was denied access to lawyers after his arrest and was beaten, kicked and pinned against a wall by police officers. "Mainali's acquittal shines a spotlight not only on the injustice he has suffered but on a system which, unless reformed, will perpetuate violations of international fair trial standards," its Japan spokesman, Rajiv Narayan, said.
Mainali said he had not yet decided whether to seek compensation. "The details on torture and my experience of jail life will come out in a book very soon. It's a weakness of Japan's legal system. The police failed to conduct a proper investigation."
Mainali has missed out on his daughters, now 20 and 19, growing up, and has been unable to look after his 80-year-old mother or celebrate wedding anniversaries with his wife. His family say he is anxious about venturing out of his home after so long in jail.
"The DNA tests should have been conducted 15 years ago, not this late. My brother lost the prime time of his life behind the bars," Indra Prasad said.
This article appeared in the South China Morning Post print edition as: Innocent man jailed in Japan speaks out