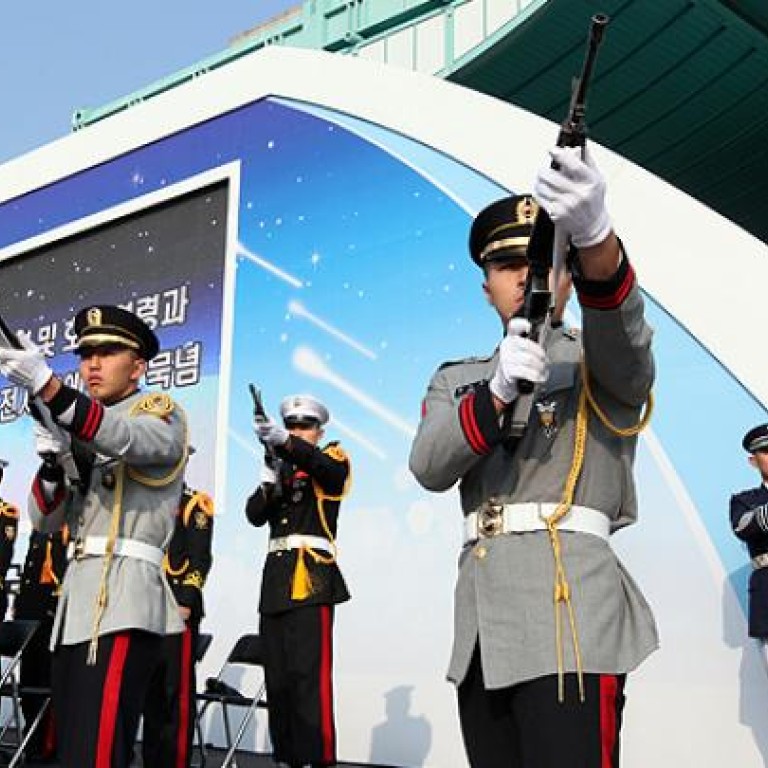 South Korea marks shelling of border island by North
South Korea marked on Friday the anniversary of North Korea's 2010 shelling of a border island with memorials, amid threats of a fresh attack from Pyongyang.
South Korea marked on Friday the anniversary of North Korea's 2010 shelling of a border island with a military drill and memorials, clouded by the threat of a fresh attack from Pyongyang.
The November 23 attack on Yeonpyeong island killed two South Korean marines and two civilians in one of the most serious border incidents since the 1950-1953 Korean war.
In the intervening two years, most of the islanders who fled with the intention of resettling on the mainland have returned.
But their home has changed dramatically and now bristles with new fortifications, a three-fold increase in troop numbers and the regular wail of sirens signalling another attack warning drill.
"Some say they still can't sleep well at night, can't breath well or their heartbeat gets faster when the sirens go off," local doctor Park Kil-Soon told reporters.
On Friday, the South Korean military conducted simulated and field exercises in and around the island involving the Marine Corps, Navy and Air Force, under various North Korea attack scenarios.
Defence officials stressed that no live artillery rounds were used in an apparent effort to avoid provoking Pyongyang.
A new museum was inaugurated in Yeonpyeong, featuring photos, 3D images and videos detailing the 2010 attack, and incorporating the wreckage of two shelled homes, with charred children's bicycles and other items.
In Seoul, Prime Minister Kim Hwang-Sik led a service at the city's war memorial, during which he spoke of the "reckless brutality" displayed by the shelling.
North Korea has ridiculed the memorial activities, and its military on Thursday threatened another attack on the island, saying its only regret was not sending Yeonpyeong "to the bottom of the sea" two years ago.
"It is our steadfast will ... not to miss the opportunity to do so if the warmongers perpetrate another provocation," an army spokesman said.
Choi Ok-Sun, a 30-year resident who owns an inn on the island, initially moved to the mainland port city of Incheon after the shelling with the intention of starting a fresh life.
But within a year she was back on Yeonpyeong.
"Where else can you go after spending nearly all your life here?" she said.
Many were lured back by a mini-boom in the local economy, as the authorities rushed to reconstruct shattered homes and build new ones for workers, troops and their families.
"It was really scary back then and everyone was so worried about their livelihood, but now things have improved in that sense," Choi said.
The population has actually increased from 1,700 to 2,000, while the number of troops has reportedly grown from 500 to 1,500.
New buildings display patriotic murals painted by visiting artists and slogans like "Peace" and "We love Yeonpyeong," while street banners remind residents of "The unpardonable provocation! We will never forget!"
Cho Kwang-Wook, a governing county official, sees unlikely tourism potential in promoting Yeonpyeong's experience as a target of North Korean aggression.
"We hope the island will become a popular destination for those wishing to see one of the worst tragedies of our history," Cho told reporters.
"Peace cannot be achieved without strong national defence ... no other place can teach that lesson better than this island," he said.
On Thursday evening, an entertainment troupe made up of North Korean defectors gave a song and dance performance on a stage erected at a new underground bunker built after the 2010 attack.
"If the North drops the bomb on you again ... we will stay with you to defend the island. I hope that our performance will comfort you," one of the performers told the audience.
Yeonpyeong lies just 1.5 kilometres from the disputed Yellow Sea border between the two Koreas.
The maritime boundary – scene of bloody clashes in 1999, 2002 and 2009 – is not recognised by Pyongyang, which argues it was unilaterally drawn by the US-led United Nations forces after the Korean war.
There are widespread concerns in Seoul that North Korea will seek to provoke a confrontation ahead of the South's presidential election on December 19.