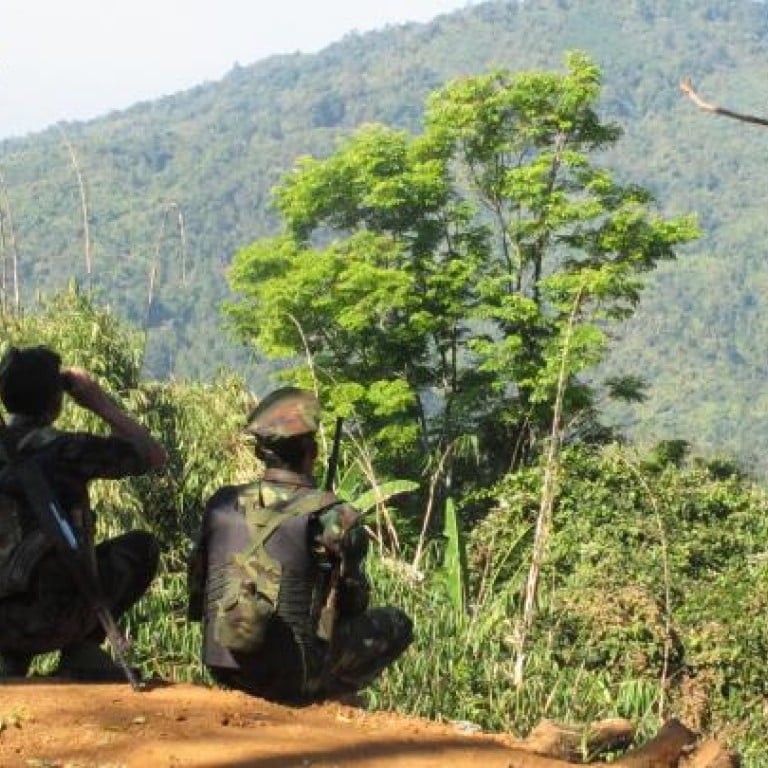 Kachin rebels retreat in Myanmar as government troops close in
Government troops close in on fighters' last foothold amid talks to end a half-century of struggle
The town of Laiza, nestled inside Myanmar's border with China, used to be known for its nightlife.
It was a "little Macau" in which Chinese citizens could escape their country's gambling laws for a flutter at the baccarat tables and perhaps finish the night in a mafia-run brothel.
But in the past fortnight, the streets have grown quiet. The gambling dens are closed, and half the stores shuttered.
The reason is the presence of Myanmese soldiers 6 kilometres away on the jungle-covered mountains overlooking the town.
They aren't there for the nightlife - they are there because Laiza is also the headquarters of the Kachin Independence Army (KIA), the last of Myanmar's rebel groups still at war with the government.
Since a 17-year ceasefire broke down in June 2011, an estimated 60,000 Kachin civilians have fled to rebel-controlled camps, hoping to escape the government troops' advance.
They held out for 18 months, but in mid-December, the government forces started Operation Thunderbolt, a daily barrage of artillery and mortar shells on the poorly equipped rebels.
At the local hospital this week, KIA troops described the bombardments. "They were hitting us non-stop, every second. It was coming like rain," said Sin Wa, whose arm was broken in a mortar blast two weeks ago.
The KIA estimate over 1,200 shells hit his position that day.
In the next room, 21-year-old Mung San is having the stump of his left leg cleaned by nurses.
He remembers seeing the bomb fall from one of the jet fighters overhead. "I woke up buried to my chest. I thought I was all alone. I could hear nothing. Suddenly my friends were there and pulling me out."
President Thein Sein, lauded internationally for his efforts to reform the former military regime since taking office in 2011, has said his army would not attack the town.
But his promises ring hollow in these parts - his announcement of a ceasefire on January 19 was immediately followed by the fiercest bombardments yet.
The Kachin leadership have retreated to an undisclosed mountain location. Their representatives have been in talks with the government in the Chinese border region of Ruili , and Myanmese state TV yesterday announced that progress had been made.
But 50 years of struggle for greater autonomy and less discrimination against its Christian population has left the Kachin people deeply pessimistic.
Every night, a procession of candle-bearers walks through Laiza's deserted streets, praying for peace. Others pray for something more tangible.
"I pray for Western countries to give us anti-aircraft rockets and accurate heavy artillery, and to train us to become powerful soldiers," said Father Joseph, the town's Catholic priest.
His prayers are likely to go unheeded. The US and EU have criticised the "extremely troubling" escalation in the conflict. But their priority is weaning Myanmar away from ties with countries like North Korea, with whom it was at one time rumoured to be dealing in nuclear technology.
"Their [the government forces'] ultimate goal is to annihilate the Kachin," said Father Joseph.
"They say we are not accepting peace talks, but we tried for 17 years to talk with them and they refused to give us even basic rights. They tear down our churches, they give no opportunities in schools and jobs to Kachin people. We cannot accept the kind of peace they want."
China is pressuring all sides to stabilise the situation, fearing for the multibillion-dollar investment it has poured into Myanmar's timber, gold, jade and hydropower resources.
Particularly worrisome is the fact that fighting has approached its new oil and gas pipelines, due to start operations in May, which cut across the length of Myanmar from Yunnan province to the Bay of Bengal.
"China wants [Myanmar] to be stable and ruled by an autocratic regime capable of keeping dissent in check," said Bertil Lintner, author of several books on the country. "Turmoil is bad for business, and that's what China is mainly interested in."
This article appeared in the South China Morning Post print edition as: Kachin rebels' backs to the wall