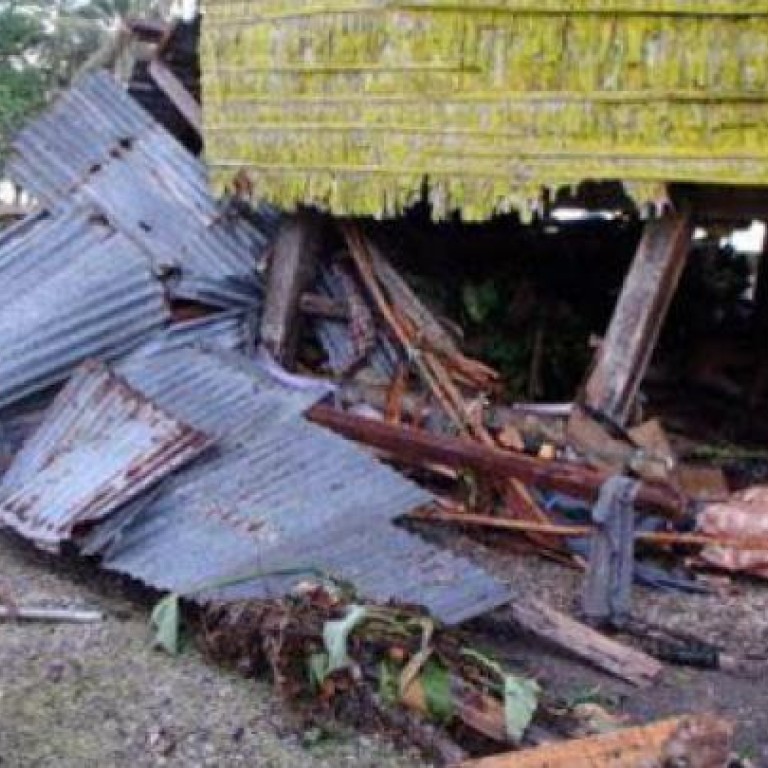 Aftershocks hamper relief in tsunami-hit Solomons
A strong aftershock rattled the Solomon Islands on Friday, hampering relief efforts to tsunami-ravaged villages and forcing the South Pacific nation's prime minister to forgo a visit to the stricken area where nine deaths have been confirmed.
Prime Minister Gordon Darcy Lilo was on a plane to Santa Cruz Island in the eastern Solomons to assess damage when the aftershock hit, said Silas Lilo, a spokesman for his office. The plane was forced to return to the capital Honiara.
Also aboard the 32-seater plane - the first to attempt to reach the island since the disaster - were shelter kits, water carriers, medical supplies and medical staff, said Andrew Catford, the Solomons country director for relief agency World Vision. The plane will try again to land on the island Friday afternoon, he said.
The 6.6-magnitude aftershock damaged roads on the island's main town of Lata and prevented aid workers already stationed there from reaching people on the coast, Catford said.
The aftershock, the most significant since the 8.0 earthquake that sparked Wednesday's tsunami, didn't produce any tsunami warnings itself.
"My staff said it felt stronger than the initial earthquake and people are very concerned. Most of Lata town was evacuated. It's like a ghost town," Catford said. "We've had over 115 aftershocks, but unlike all the others, this one moved vertically up and down. For the first time, it's created cracks in the roads."
Wednesday's earthquake triggered waves 1.5-metres tall that roared inland on Santa Cruz, damaging or destroying around 100 homes.
Catford said his agency now believes that 15 villages and about 6,000 people have been affected, many of them losing homes. Those estimates have risen from initial assessments, he said.
Five elderly villagers and a child who couldn't outrun the rushing water were killed, said George Herming, a spokesman for the prime minister. Three more bodies were found Thursday, but Herming said details of how those victims died were not immediately available.
A boat carrying relief officials was expected to reach Santa Cruz by Friday evening, Herming said.
The relentless aftershocks were forcing thousands of villagers who fled inland after the original quake to stay away from the coastline.
"Many of them have lost their homes and they have no shelter at the moment," Herming said. "They are still residing on high ground because of the fear of the aftershocks."
The Solomons comprise more than 200 islands with a population of about 552,000 people. They lie on the "Ring of Fire" - an arc of earthquake and volcanic zones that stretches around the Pacific Rim and where about 90 per cent of the world's quakes occur.
More than 50 people were killed and thousands lost their homes in April 2007 when a magnitude-8.1 quake hit the western Solomon Islands and a tsunami crashed into coastal villages.