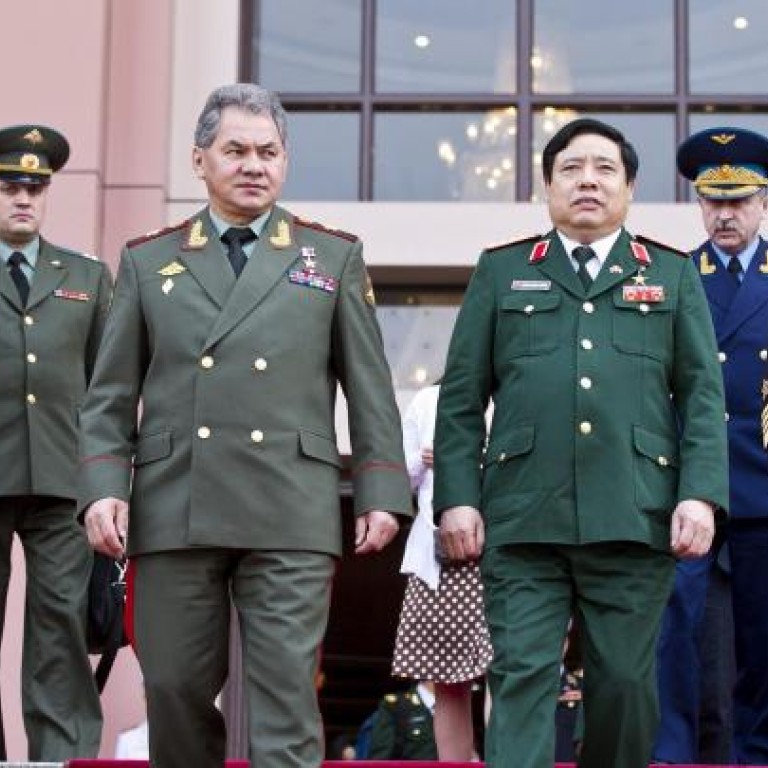 Russia gets cosy again in cold war port
Moscow military chief proves '5-star' general - that's the quality of the 'resort' for his troops he secured near Vietnam's strategic Cam Ranh Bay
The Russians, it seems, are once again getting themselves nice and cosy in Vietnam's Cam Ranh Bay - the prized South China Sea port - as naval relations between the two countries deepen.
Hanoi may never allow Moscow the major naval base and listening post it developed during the cold war, but the visit of the Russian defence minister this week confirmed expanding plans for a significant military presence for some time to come.
Russian technicians will soon be helping Vietnam prepare the base on the south-central coast for the first of six state-of-the-art Kilo diesel-electric submarines it is acquiring from Russia.
Two of the subs have been built and are undergoing sea trials in the North Sea, with the first due to arrive in August - significantly boosting Vietnam's efforts to create a deterrent against China's naval rise, according to military analysts.
The talks between Vietnamese Defence Minister Phung Quang Thanh and his Russian counterpart Sergei Shoigu confirmed a series of fresh moves beyond the sub base.
Training and technology transfer related to the submarines would be expanded while the Vietnamese-Russian oil joint venture Vietsovpetro would have a stake in a commercial repair facility - which will be built by a Vietnamese naval company and will be open to international navies.
Shoigu also pushed Thanh to approve a "five-star" resort near Cam Ranh Bay to house both Russian and Vietnamese troops, according to diplomats and state-press reports - a facility raising eyebrows among foreign military attaches wondering just how large the Russian presence will be.
Vietnam stresses its noforeign-bases policy and broad military diplomacy means it is not beholden to any one power, yet Shoigu was actively talking up the strategic importance of Cam Ranh, with its sheltered deep water harbour and proximity to the vital sea lanes of the disputed South China Sea.
"As you know, Japan, France, the US and the former Soviet Union had bases here," he said after talks. "Thus the Russians know well about the strategic location of Cam Ranh Bay."
Chinese envoys are eyeing developments closely, in part because of Moscow's previous use of Cam Ranh to tap Chinese military communications from a facility shut down in 2002.
The talks between Shoigu and Thanh in the Vietnamese capital of Hanoi also covered on-going weapons acquisitions, including some 24 Su-30 Mark II jet fighters, extra S-300 air defence missiles, military helicopters and a further two Gepard stealth frigates - which may be built in Vietnam for the first time.
"While the Russians won't technically be having a base given Vietnamese sensibilities, they do look as though they will be creating a significant presence for some time to come - and a presence that will require possible ship and aircraft visits to be sustained," said Professor Carl Thayer, of the Australian Defence Force Academy, who has studied the Vietnamese military for four decades.
Whether the Russians will ever attempt to keep offensive weapons at Cam Ranh will be a key point, Thayer said - and something expected to be closely watched in China.
And while Vietnam's growing list of hardware will not be enough to shift the balance of naval power away from China, "it will complicate things".
One key element to watch would be whether the Vietnamese subs will be equipped with land attack missiles. "In an extreme situation, that would give the Vietnamese the ability to pepper strikes on targets such as the Sanya naval base on Hainan Island - and cause China problems in its rear area," Thayer said.
This article appeared in the South China Morning Post print edition as: Russia gets comfy in cold war port