Kaesong
Get more with myNEWS
A personalised news feed of stories that matter to you
Learn more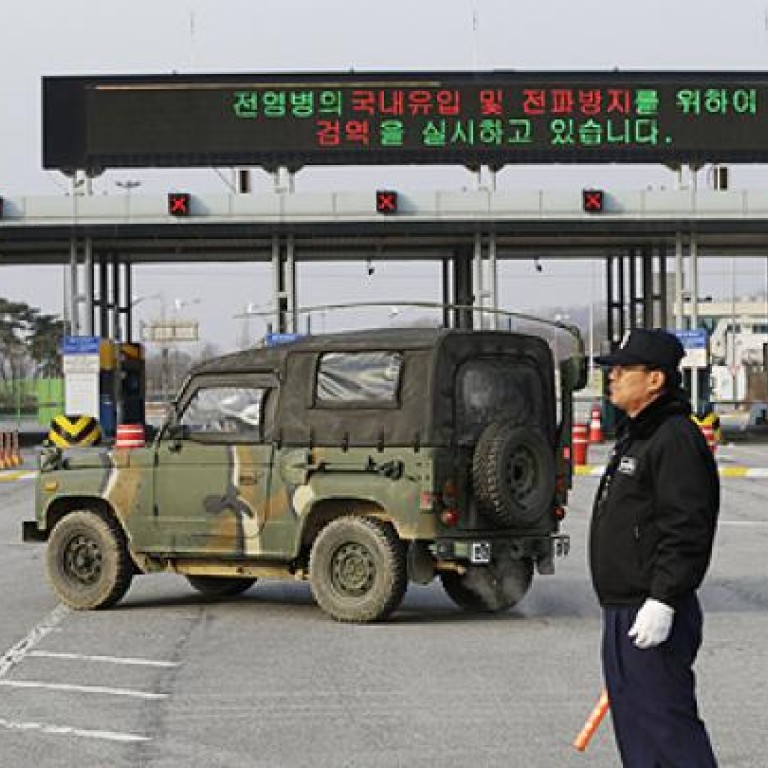 South Korea slams 'unjustifiable' North action on Kaesong
North Korea's decision to pull its workers out of the Kaesong joint industrial zone and suspend all commercial operations at the complex "cannot be justified," South Korea said on Monday.
North Korea's decision to pull its workers out of the Kaesong joint industrial zone and suspend all commercial operations at the complex "cannot be justified," South Korea said on Monday.
"North Korea's unilateral decision to push ahead with this measure cannot be justified in any way and North Korea will be held responsible for all the consequences," the Unification Ministry's spokesman said in a statement.
"The Korean government will calmly but firmly handle North Korea's indiscreet action and we will do our best to secure the safety of our people and the protection of our property," the spokesman said.
More than 300 South Koreans have left Kaesong and returned to the South since North Korea banned South Korea access to the complex last Wednesday.
The Unification Ministry said 475 South citizens were still staying at the complex as of Monday.
North Korea said on earlier on Monday it was withdrawing all workers and suspending operations at its joint industrial zone with South Korea – the only surviving symbol of inter-Korean co-operation.
The announcement came amid reports of heightened activity at the North's nuclear test site, although the South Korean Defence Ministry denied suggestions that a fourth nuclear test was imminent.
North Korea "will withdraw all its employees from the zone", Kim Yang-gon, a senior ruling party official, said in a statement carried by the official Korean Central News Agency.
At the same time, Pyongyang "will temporarily suspend the operations in the zone and examine the issue of whether it will allow its existence or close it", Kim added.
The UN atomic watchdog chief on Monday called North Korea's drive to restart a nuclear site "troubling" and said his team could not detect whether the regime planned a new nuclear test due to a lack of access.
Yukiya Amano, director general of the International Atomic Energy Agency, said the watchdog had observed Pyongyang's efforts to rebuild parts of its Yongbyon nuclear site amid a showdown with South Korea and the United States.
"That is very troubling because they are against United Nations Security Council resolutions," Amano told reporters at a conference on nuclear policy held by the Carnegie Endowment for International Peace in Washington.
Amano said the IAEA had little knowledge of North Korean activities and relied largely on satellites since Pyongyang kicked out the agency's staff in 2009.
"Our knowledge on the activities of North Korea is rather limited. I cannot speculate when and if North Korea will conduct another nuclear test," Amano said.
South Korea said earlier that North Korea appeared to be preparing its fourth nuclear test, as well as a missile launch. But South Korean officials later backtracked, saying activities at the North's Punggye-ri test site were routine.
Tensions have soared in recent weeks over North Korea, which has responded furiously to United Nations condemnation of its nuclear test in February and its launch of a long-range rocket that put a small satellite into orbit.
North Korea said last week that it would restart all facilities at Yongbyon, where it had knocked down a cooling tower in 2008 to show it was serious about US-supported talks on denuclearisation.
Kaesong was built in 2004 as a rare symbol of cross-border economic cooperation.
Neither side has allowed previous crises to significantly affect the complex, a crucial hard currency source for the impoverished North and seen as a bellwether for stability on the Korean peninsula.
But Pyongyang has blocked South Korean access to Kaesong since last Wednesday, forcing 13 of the 123 South Korean firms operating to halt production.
Monday's announcement came just hours after South Korean Finance Minister Hyun Oh-seok denounced the access ban as "ridiculous".
Pyongyang had threatened to withdraw its 53,000 workers last week after the South's defence minister said there was a "military" contingency plan in place to ensure the safety of South Koreans in the complex.
"How the situation will develop in the days ahead will entirely depend on the attitude of the South Korean authorities," said Kim, who blamed the pull-out on "military warmongers" who had affronted the North's "dignity".