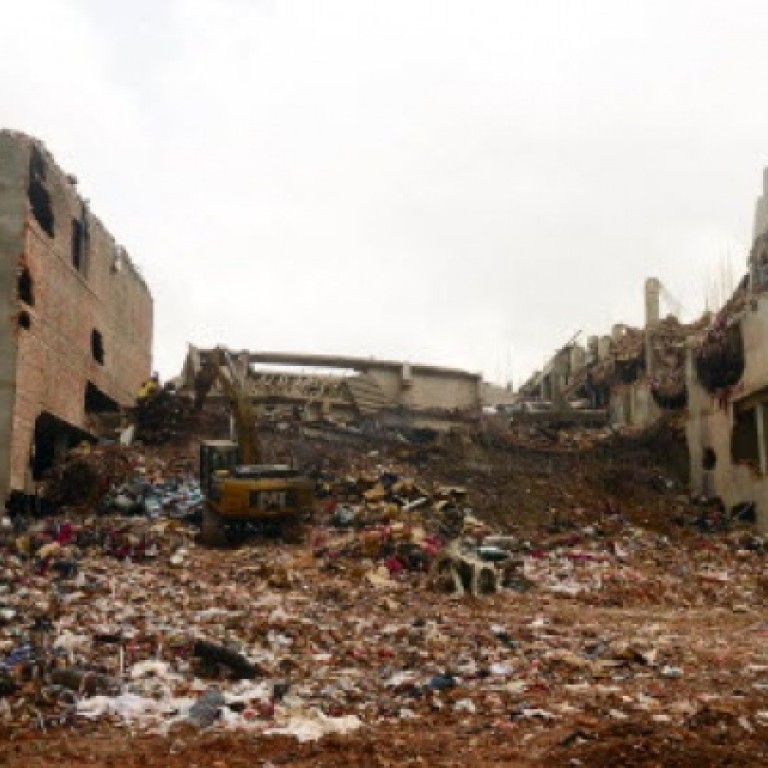 Bangladesh building collapse death toll hits 540
The death toll from Bangladesh's worst industrial disaster rose to 540 on Saturday after 15 bodies were overnight pulled from the wreckage of an eight-storey building housing garment factories, the army said.
Major Sazzad Hossain of the army control room, which was set up to coordinate the rescue operation following the disaster last month, said that recovery efforts had gathered pace and the "death toll now stands at 540".
The building housing five garment factories collapsed near the capital Dhaka on April 24, trapping more than 3,000 people. Some 2,437 people have been rescued, Hossain said.
Clutching photographs of their missing loved ones, scores of distraught relatives gathered at the disaster site for an eleventh day, as cranes and bulldozers cut through a mountain of concrete and mangled steel.
Preliminary findings of a government probe has blamed vibrations by four giant generators set up in the factory compound's upper floors for triggering the collapse.
"When these generators were started after a power cut they created vibrations, and together with the vibration of thousands of sewing machines, they triggered the collapse," Main Uddin Khandaker, head of the probe body, said on Friday night.
"Within five minutes the building caved in and sandwiched into one floor like a pack of cards," he said, adding a final probe report would be submitted after the recovery operation ends.
Khandaker said that the building, Rana Plaza, was built "for commercial use" and not for factories, adding it failed to withstand the vibrations because the owner used sub-standard rods, bricks and other materials to construct it.
Police have arrested twelve people including the plaza's owner and four garment factory owners for forcing people to work April 24, despite cracks appearing in the structure the previous day.
The tragedy came just five months after a fire killed 111 people in a nearby garment factory.
UK retailer Primark, Italy's Benetton and Spanish firm Mango have admitted that they had placed orders in the factories based in the compound, triggering an angry response in many Western countries.
Bangladesh is the world's second-largest garment exporter after China. The industry accounts for 80 per cent of the country's exports and more than 40 per cent of its industrial workforce.