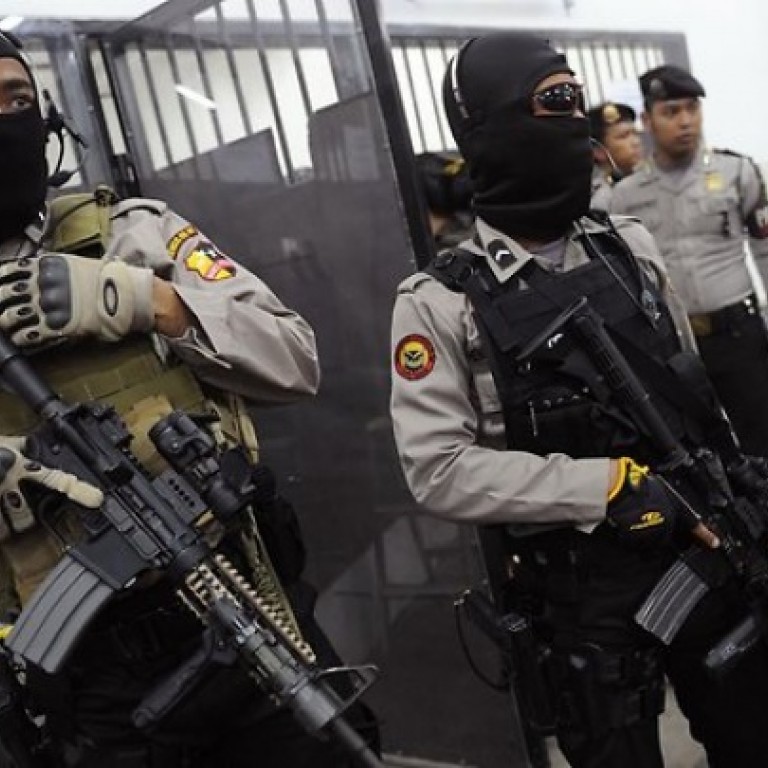 Indonesia anti-terror squad kills 7 militants
Indonesia's elite anti-terrorism unit went on a busy 24-hour spree to root out suspected Islamic militants, killing seven and arresting six others in three separate operations that may have links to a foiled plot to bomb the Myanmar Embassy.
In the latest raid, police shot and killed three suspected militants early on Thursday after an all-night standoff at a house in the Central Java town of Kebumen. Four others were arrested, said National Police spokesman Brigadier-General Boy Rafli Amar.
He said the three dead suspects refused to surrender and resisted by firing guns and lobbing homemade bombs at security forces.
A similar showdown occurred hours earlier in the West Java village of Cigondewah, where three suspected terrorists were fatally shot after holing up for hours inside a house, said National Police chief General Timur Pradopo. They also engaged in a shootout and hurled bombs, but no officers were hurt in either incident.
One other suspect was taken into custody in that raid, he said. However, earlier National Police chief General Timur Pradopo said two were arrested there.
Police also confiscated three pistols and four pipe bombs at the house located about 120km southeast of the capital, Jakarta, where the men had been living for the past four months, Pradopo said. They were believed to have been involved in several robberies.
"We have tried everything to prevent fatalities," Pradopo told reporters at the scene. "But during three and a half hours of negotiations, they resisted using gunshots and explosions."
Police were tipped about their whereabouts after interrogating an alleged gun maker arrested on Tuesday in the West Java village of Cipacing. Intelligence gathered from subsequent arrests allowed police to quickly move in and storm hideouts in the three separate areas, Amar said.
In the third operation, police in Central Java's Batang town fatally shot another suspected militant and arrested one more Wednesday for their alleged connection to a March jewelry shop robbery in Jakarta, Amar said in a text message. A semi-automatic pistol and ammunition were also seized.
They were suspected of being part of a larger group involved in robberies to fund terrorist activities, mainly aimed at police.
Investigators are trying to whether any of the three groups were connected to an alleged plot to bomb the Myanmar Embassy in Jakarta to retaliate against that country for recent attacks on Muslims. Last week, two suspects were arrested in the capital with five homemade bombs in a backpack. Other explosive materials were later recovered from a house they rented in the city.
Sectarian violence in Buddhist-majority Myanmar has killed scores of people, and tens of thousands of Muslims have been driven from their homes. Angry hardline Muslims protested outside the embassy last week, calling for jihad to fight against the persecution.
Indonesia, the world's most populous Muslim nation, has been battling terrorists since bombings on the resort island of Bali in 2002 killed 202 people, mostly foreign tourists.
Terrorist attacks aimed at foreigners have been largely replaced in recent years by smaller, less deadly strikes targeting the government, mainly police and anti-terrorism forces.