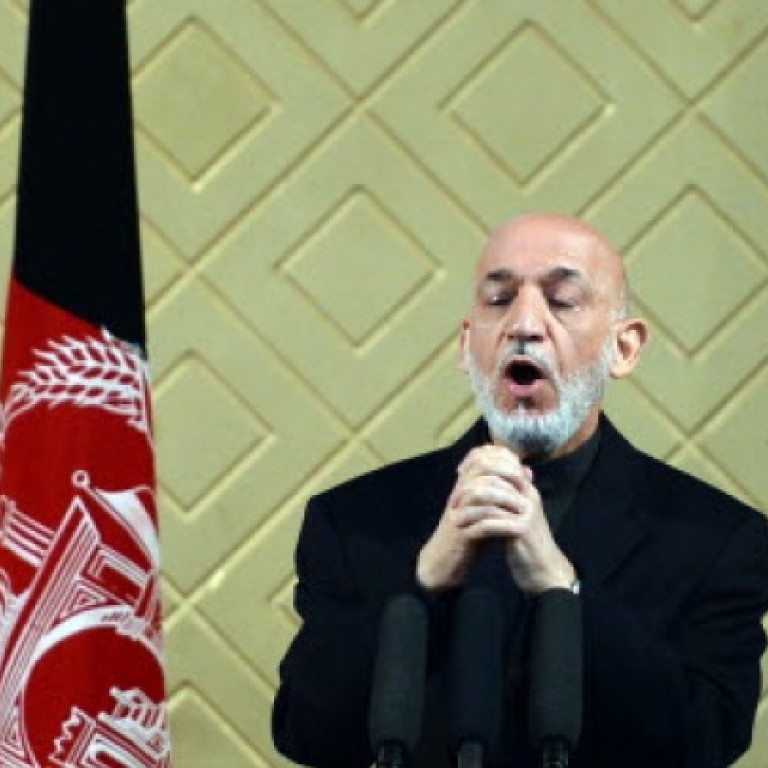 US wants to keep nine bases in Afghanistan, says Karzai
Afghan President Hamid Karzai vowed on Thursday to wring concessions from the United States in negotiations to sign a security pact, saying Washington wanted to retain nine military bases in the country.
After more than 11 years of US-led military intervention in Afghanistan, the two countries are hammering out a deal to allow a limited US troop presence to remain after the international coalition leaves next year.
The size of the "residual" force has not been agreed, with numbers ranging from 2,500 to 12,000, according to US officials, as Washington winds down a war that has become deeply unpopular at home.
Soldiers kept in Afghanistan would target Al-Qaeda militants and help train the local army and police – but a hasty withdrawal could also threaten fragile gains secured since the Taliban were ousted in 2001.
"We are in very serious and delicate negotiations with America," Karzai said. "America has got its demands, Afghanistan too has its own demands, and its own interests... They want nine bases across Afghanistan.
"Our conditions are that the US intensify efforts in the peace process, strengthen Afghanistan's security forces, provide concrete support to the economy - power, roads and dams - and provide assistance in governance.
"If these are met, we are ready to sign the security pact," he told the audience during a speech at Kabul University.
US officials have reportedly said that if 6,000 troops were kept in Afghanistan after next year, only two bases, in the capital Kabul and at Bagram airfield, would be maintained.
Relations between the US and Afghanistan have been rocky this year as a testing transition phase begins with 100,000 NATO coalition troops pulling back from the fight against the Taliban.
Afghan security forces are taking over responsibility, but doubts remain whether they will be able to control insurgent violence that increasingly focuses on local soldiers and government officials.
Karzai caused outrage in Washington in March when he accused the US of colluding the Taliban to justify its presence in Afghanistan, and he has also regularly criticised US forces over their treatment of civilians.
The US has avoided revealing details about its plans in Afghanistan after next year and Karzai's claim that a total of nine US bases may be kept open are likely to intensify pressure on President Barack Obama.
Immunity from Afghan law for the remaining US troops is likely to be a key demand from Obama, and Karzai has previously said the issue may have to be decided by a gathering of tribal elders.
Karzai said he would allow bases in Kabul, Bagram, Mazar-i-Sharif, Jalalabad, Gardez, Kandahar, Helmand, Shindand and Herat if Afghanistan's security and economic conditions were met.
"We agree to give you the bases. We see their staying in Afghanistan beyond next year in the interests of Afghanistan as well as NATO," he said.