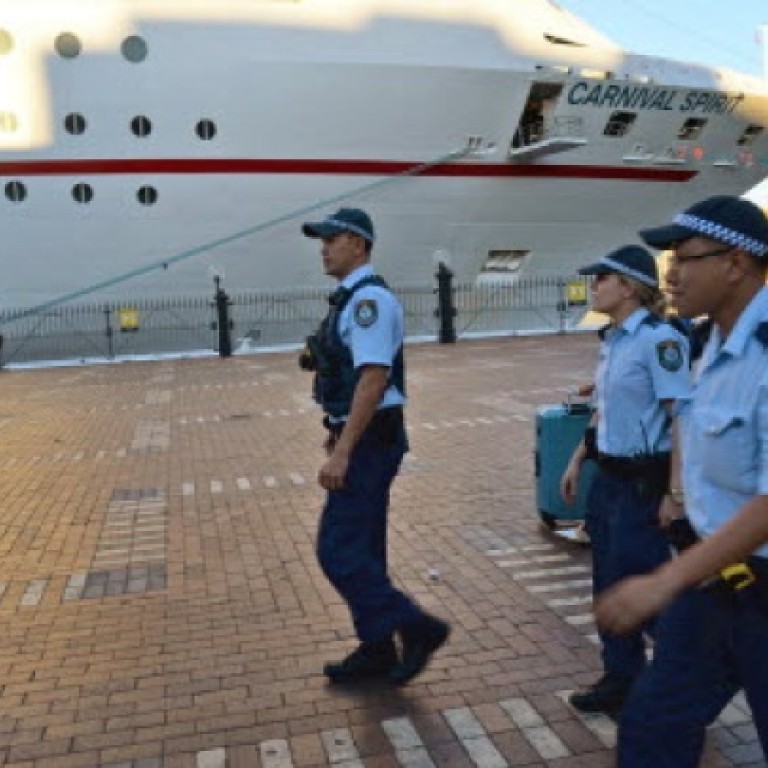 Police fear for 2 Australian cruise passengers who fell overboard
No trace of an Australian couple believed to have fallen off a cruise ship has been found despite an intense, day-long search, officials said on Friday.
Paul Rossington, a 30-year-old paramedic, and his 26-year-old girlfriend Kristen Schroder, both from the town of Barraba in New South Wales state, were discovered missing on Thursday morning after the Carnival Spirit docked at Sydney's Circular Quay at the end of a 10-day journey, said New South Wales Police Superintendent Mark Hutchings.
Surveillance camera footage showed the couple fell more than 20 metres from the ship's mid deck on Wednesday night, Hutchings said, when the ship was about 120km off the coast of Forster, a city 300km north of Sydney.
They were discovered missing more than 12 hours after police believe they fell overboard.
Rescue officials searched through the night with heat-seeking infrared equipment, but had not found the couple as of Friday morning, police said.
"We're going to be going hard today - we've got a lot of assets we're throwing at this," Hutchings said on Friday.
Andrea Hayward-Maher, spokeswoman for the Australian Maritime Safety Authority, which is coordinating the search, said Friday that five airplanes and a helicopter were searching a 700-square-kilometre area of sea 110km east of Forster. She said search conditions were good.
Investigators were having the surveillance video enhanced in a bid to determine whether Rossington and Schroder had jumped or had fallen by accident.
The ship has around 600 surveillance cameras that are constantly monitored, although no one reported seeing the fall at the time.
Hutchings said the pair fell a few moments apart. It was not clear from the video who fell first.
No life preservers were missing from the ship, Hutchings said. A missing life preserver might have indicated that one of the missing passengers had attempted a rescue.
Carnival Spirit is owned by Miami-based Carnival Corp., the world's largest cruise operator. The company has been plagued by a series of high-profile problems in recent years.
Carnival Corp.'s representative in the South Pacific region, Ann Sherry, chief executive of Carnival Australia, defended the company's record, saying safety was paramount.
The railing over which the couple fell outside their cabin was 5cm higher than industry safety regulations require, she said.
"It's designed really to prevent accidental tripping" overboard, she told reporters.
Sherry defended the level of monitoring of passengers aboard the ship that allowed the couple's fall to go unnoticed. At least four people were monitoring the ship's surveillance cameras at any time, she said.
"Everyone was on the last night of a fantastic holiday. We record people as they come on and off ships," Sherry said.
"The cameras are monitored and we tend to monitor the spaces where most people are," she added. "There is also a balance, of course, around privacy. We don't watch what people are doing in their private spaces."
Searchers maintained Friday that there was still a chance that the couple would be found alive.
Stephen Leahy, chief executive of Westpac Life Saver Rescue Helicopters, said the search area was calm and the sea temperature was around 20 degrees Celsius.
Leahy described Rossington, a paramedic for the New South Wales state ambulance service, as being "very fit."
"He has a very good understanding ... of survival techniques and his level of fitness will help him," Leahy told ABC. "He'll also be able to help his partner."
"The chances of two young people surviving are very, very good, and certainly from our perspective, we haven't given up hope," he added.
The couple and seven of their family and friends were among 2,680 passengers on a South Pacific cruise. The ship's last stop was Mare Island in New Caledonia, which it left on Monday, bound for Sydney.
The emergency is the latest high-profile problem for Carnival Corp.
Last year, the Costa Concordia ran aground off the coast of Italy, killing 32 people. Also last year, the Costa Allegra caught fire and lost power in the Indian Ocean, leaving passengers without working toilets, running water or air conditioning for three days. Costa is a division of Carnival Corp.
In February, passengers aboard the Carnival Triumph spent five days without power in the Gulf of Mexico after an engine-room fire disabled the vessel. Those on board complained of squalid conditions, including overflowing toilets and food shortages.