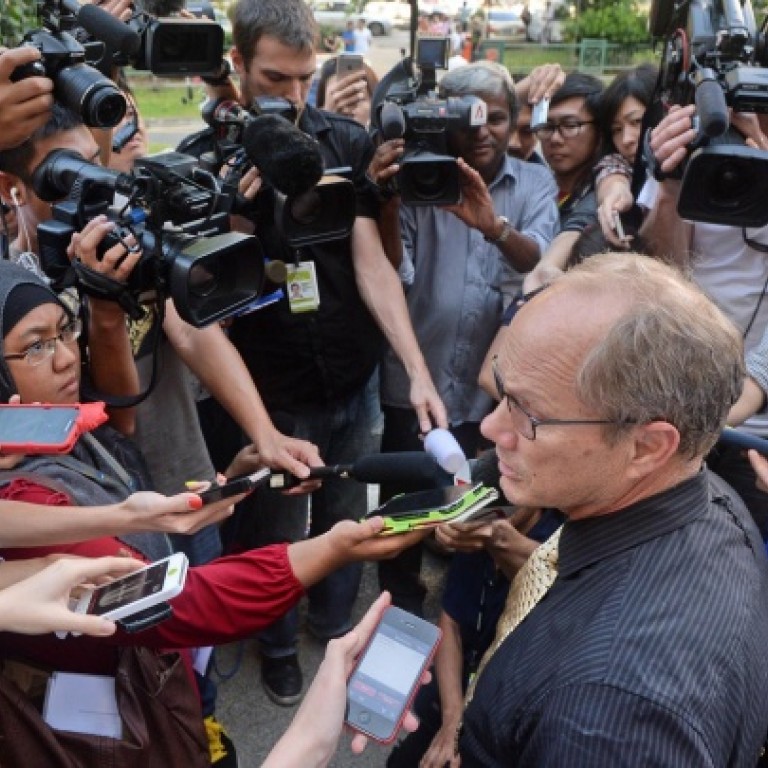 Researcher left suicide notes, Singapore inquest told
Researcher's family maintains he was murdered in Singapore in connection with his work at company with alleged espionage links
A US hi-tech researcher whose family claims he was murdered in Singapore was under treatment for depression and left suicide notes before he was found hanged, a public inquiry was told yesterday.
Senior state counsel Tai Wei Shyong, opening a coroner's inquest into the death of electronics engineer Shane Todd, said there were no signs of foul play when his body was found in his apartment last year.
Todd's parents, who are taking part in the inquiry, believe he was killed in connection with his work for a Singapore research institute with alleged links to a Chinese firm accused of involvement in international espionage.
Huawei Technologies, a Chinese telecom giant, and Todd's former employer, the state-linked Institute of Microelectronics (IME), have denied collaborating on any project involving Todd, who was 31 when he died.
Todd's body was found by his girlfriend, Shirley Sarmiento, on June 24, 2012, setting off a saga that reached the highest levels of US and Singapore governments.
Police found the body hanging from an improvised noose attached to the top of a bathroom door. Tai said: "They did not observe any signs of foul play."
Investigators found a handwritten note with a password to Todd's laptop computer, which revealed messages to his family, friends and girlfriend, Tai said.
He showed one note addressed to "Mom and Dad" saying: "I hope that you understand that I am sorry for the pain this causes. I just know how much of a burden I will be to you in the future so I feel it is better to do this now rather than wait until I have caused more damage."
Todd's parents, Rick and Mary, sat calmly as the packed courtroom was told of forensic tests of Todd's laptop which revealed a search history of repeated visits to suicide and depression-related websites. Sarmiento told police that Todd was "behaving coldly" in his last weeks, often complaining about his job, but she said "he did not display any suicidal tendencies".
Todd's neighbour Michael Goodwin agreed, testifying that "he did not seem like a person at all who would take his own life".
A verdict in the inquiry, which has more than 60 potential witnesses, is expected late next month.
Tai said that three months before his death, Todd sought medical help and was prescribed anti-depressant pills by a Singaporean psychiatrist after stating that he was struggling with "stress, anxiety and depression due to work and life-related issues".
Todd arrived in Singapore in November 2010 to work for the IME and resigned in May 2012. His last day of work was June 22 and he was preparing to return to the US when he was found dead.
Todd's family said in media interviews that their son in telephone calls expressed fears for his life because he was afraid he was being asked to compromise US security in his job.
After strong lobbying by the Todd family in Washington, the Singapore police invited the US Federal Bureau of Investigation (FBI) to help probe his death.
State counsel Tai said after yesterday's session that the FBI has "provided a report which I think will be important to deciding the issues at hand". He gave no details.
Huawei and the IME have both said they held preliminary talks on collaboration but did not proceed with any joint project.
Todd was part of an IME team working on gallium nitride, a tough semiconductor material that can be used in radar and satellite communications.
A US congressional committee last year labelled Huawei and ZTE, another Chinese telecom firm, as potential security threats that should be excluded from US government contracts and barred from acquiring US companies.
This article appeared in the South China Morning Post print edition as: Inquiry told suicide notes found in home