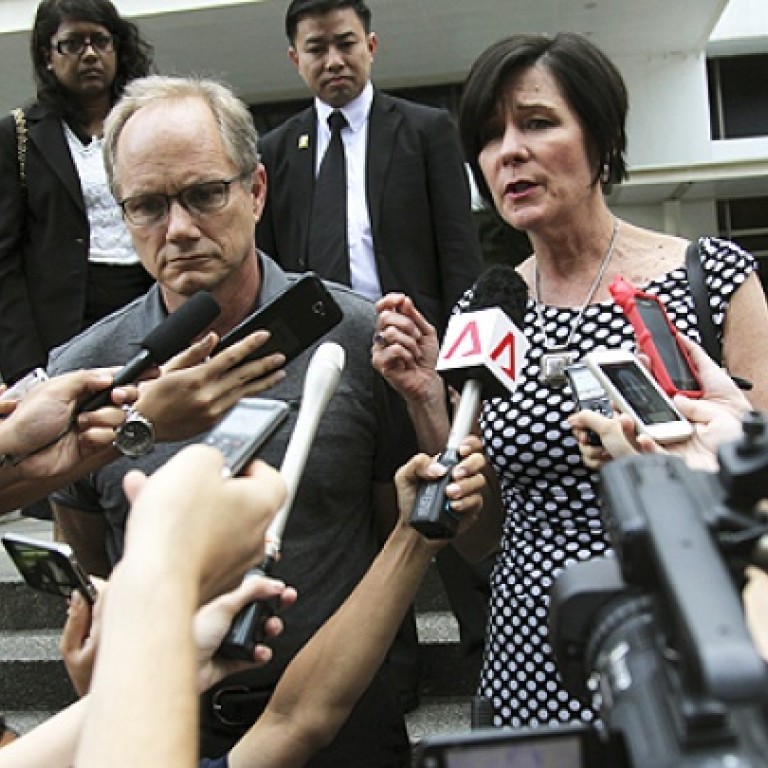 Parents of US scientist Shane Todd hit out at Singapore police
The parents of a US high-tech researcher found hanged last year in Singapore accused local police on Wednesday of failing to preserve evidence and insisted their son was murdered.
The inquest into the death last year of electronics engineer Shane Todd took an emotional turn on its third day after police staged a detailed re-enactment of his apparent suicide using an improvised noose in his own bedroom.
"What we have been discovering is evidence that we cannot rely on. It has been moved, it has not been preserved," his father Rick Todd, 58, an airline pilot, told reporters.
The session was abruptly halted for the day after the late scientist's mother Mary Todd, 57, broke down at the end of two hours of testimony by a Singapore forensic scientist who did extensive simulations of the hanging.
The couple are in Singapore to testify at the inquest. They allege their 31-year-old son was murdered because of his work for a Singapore institute with alleged links to a Chinese telecom firm accused of involvement in espionage.
Mary Todd, a Christian pastor, told reporters that Singapore authorities were neglecting evidence the family had gathered to show that there were multiple DNA strains on a towel and strap found around Shane's neck.
"Why are they not looking into the fact that all these things add up to murder and not suicide?" she said, sobbing outside a courthouse.
She also took issue with the fact that the noose suspending her son's body from a bathroom door was cut and the body laid out on the floor before forensic experts arrived. Police said it was standard procedure.
"I am very, very disappointed in the process and I want the truth to be known here in Singapore," the mother said.
"We came to Singapore to find out the truth and we were told that the (government) and our team would work as a team to find the truth, that they are not adversarial. Yet they are only looking at suicide."
Singapore police officers who inspected the apartment where the researcher was found hanged on June 24, last year told the inquiry on Tuesday they saw no signs of a struggle.
On Wednesday a technology forensic expert rejected a Todd family lawyer's suggestion that the researcher's mobile phone and laptop could have been hacked into before his death.
Todd's former employer, Singapore's state-linked Institute of Microelectronics, and Chinese telecoms giant Huawei Technologies, have denied the family's claims that they worked together on a project involving Todd.
At the time of his death Todd had just finished a stint with the institute, where he was part of a team working on gallium nitride, a tough semiconductor material that can be used in radar and satellite communications.
A US congressional committee last year labelled Huawei and ZTE, another Chinese telecom firm, as potential security threats that should be excluded from US government contracts and barred from acquiring US firms.
The coroner's inquest – set to last until May 28 – will only determine the cause of Todd's death. A verdict is expected by late June.
Todd's parents have obtained an opinion from a US medical examiner who concluded that he was first killed by garrotting before being hanged to conceal the crime.
But two other US medical examiners described as independent experts have affirmed the Singapore autopsy report that Todd hanged himself, according to a summary of evidence to be presented at the inquest.