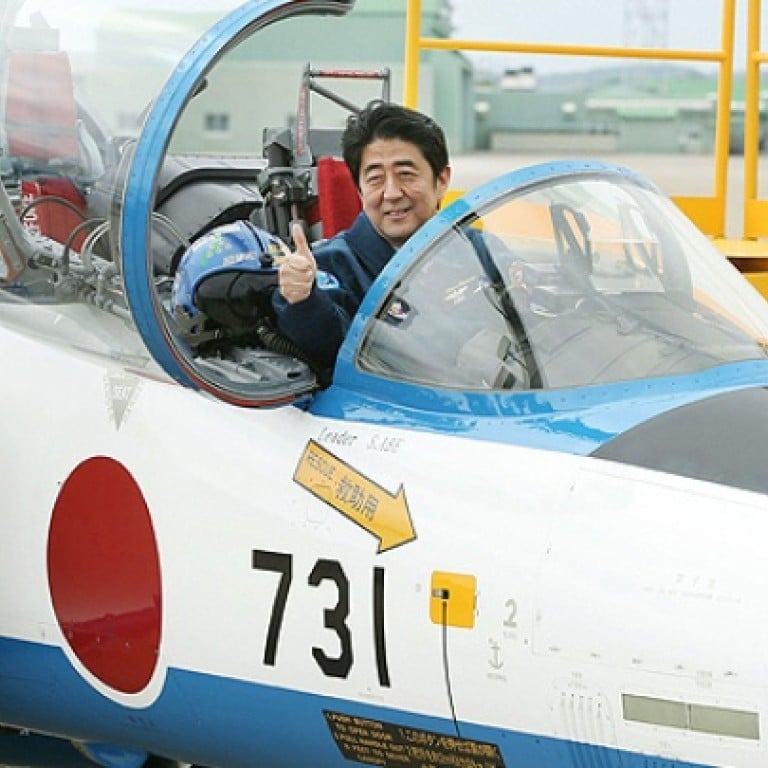 Abe training jet photo sparks outrage in South Korean media
Tokyo accused of provocation as associations with wartime butchery stir painful memories
Major South Korean newspapers splashed a photo of Japanese Prime Minister Shinzo Abe in a military trainer jet on their front pages yesterday, saying it was a reminder of Japan's colonial-era atrocities.
The picture showed a smiling Abe giving a thumbs-up from the cockpit of an air force T-4 training jet numbered 731.
The number evoked memories of Unit 731 - a Japanese biological and chemical warfare research facility that carried out lethal human experiments during the 1937-45 Sino-Japanese War and the second world war.
The unit was based in Harbin, and held prisoners from China, Korea and the Soviet Union.
The press in Seoul suggested the Abe picture was an intended affront to countries like China and South Korea, which suffered under Japanese occupation and colonisation.
"Abe's endless provocation!" said the picture caption on the front page of the country's largest daily, the .
"Abe's pose resurrects horrors of Unit 731," ran the headline in the English-language .
The picture was shot on Sunday at an air force base in Japan's Miyagi Prefecture. Abe was visiting the base as part of a tour of areas affected by the 2011 tsunami.
Abe's 731 photo went largely unnoticed on the Chinese mainland, but Foreign Ministry spokesman Hong Lei said on Tuesday that China hoped "Japan will face and contemplate their history of aggression and treat it correctly".
Only Shenzhen TV had a small piece on Tuesday night saying, "the number 731 has a much broader meaning than the number itself has, given the background of 731 Unit."
The website of the nationalistic also carried a translated piece from South Korea's Yonhap Television News.
On Sina Weibo, the most popular microblogging site on the mainland, there was not much discussion of the photo, although some users re-posted the news from South Korean media.
The Japanese Defence Ministry suggested the number on the trainer was simply coincidental.
"There was no particular meaning in the number of the training aeroplane the prime minister was in on Sunday. Other than that there is nothing we can say," a ministry spokesman said.
South Korean ambassador to Japan Shin Kak-Soo said he knew of nothing that indicated there was any intent behind the use of a plane numbered 731, but that Japan needed to pay attention to other countries' perceptions.
This article appeared in the South China Morning Post print edition as: Abe photo sparks media firestorm in South Korea