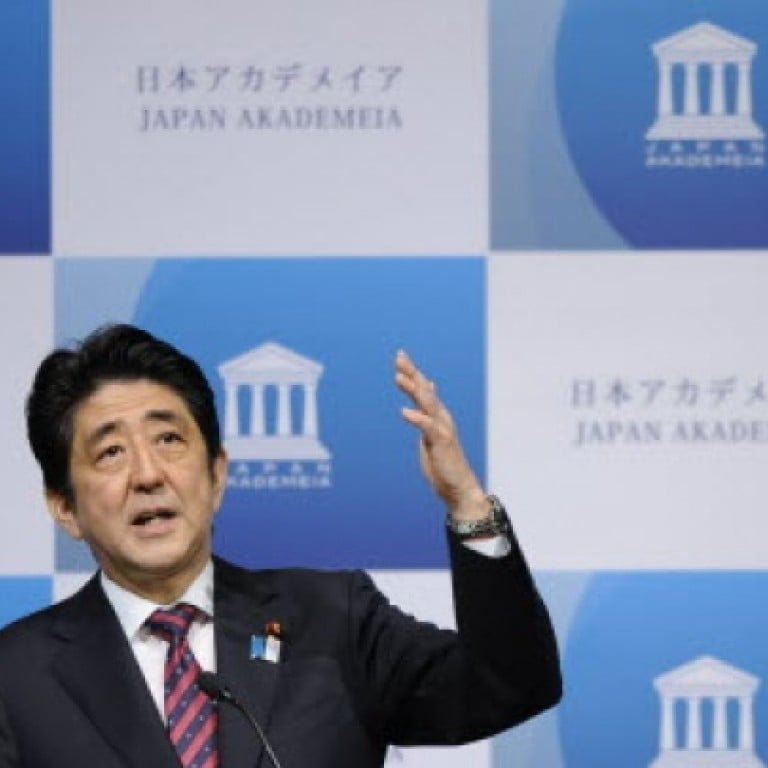 Japan PM says shrine visits 'natural'
Prime Minister Shinzo Abe defended in an interview on Friday the right of Japan's leaders to visit a controversial shrine to war dead but hit back at critics who accuse him of revisionism.
Amid the latest flare-up with China and South Korea over history, Abe quoted a US scholar as comparing the Yasukuni shrine to Arlington National Cemetery near Washington, which has a section for Confederate Civil War dead.
"I am of a view that we can make a similar argument about Yasukuni, which enshrines the souls of those who lost their lives in the service of their country," Abe told the policy magazine Foreign Affairs.
"I think it's quite natural for a Japanese leader to offer prayer for those who sacrificed their lives for their country, and I think this is no different from what other world leaders do," he said.
Abe, who was also prime minister from 2006 to 2007, has stayed away from the shrine after China and South Korea angrily denounced predecessor Junichiro Koizumi's annual pilgrimage. But a growing number of Abe's ministers visit it.
The Yasukuni shrine honors some 2.5 million Japanese who died in World War II and other conflicts. In 1978, the Shinto priests enshrined 14 top or "Class A" war criminals convicted in Allied trials.
Unlike Arlington National Cemetery, the Yasukuni shrine's caretakers promote a view of history that is controversial even at home, with the accompanying Yushukan museum staunchly defending much of Japan's wartime record.
Abe, whose grandfather was arrested but not prosecuted as a Class A war criminal, hit back at criticism of his views on history, accusing the media of not fully reporting his remarks.
"I have expressed a number of times the deep remorse that I share for the tremendous damage and suffering Japan caused in the past to the people of many countries, particularly in Asia," he said.
"I have never said that Japan has not committed aggression. Yet at the same time, how best, or not, to define 'aggression' is none of my business."
Abe is riding high in the polls after setting out plans to revive the long-moribund Japanese economy. He has vowed to boost officially pacifist Japan's defense and not to yield to China over contested islets.