ZTE
Get more with myNEWS
A personalised news feed of stories that matter to you
Learn more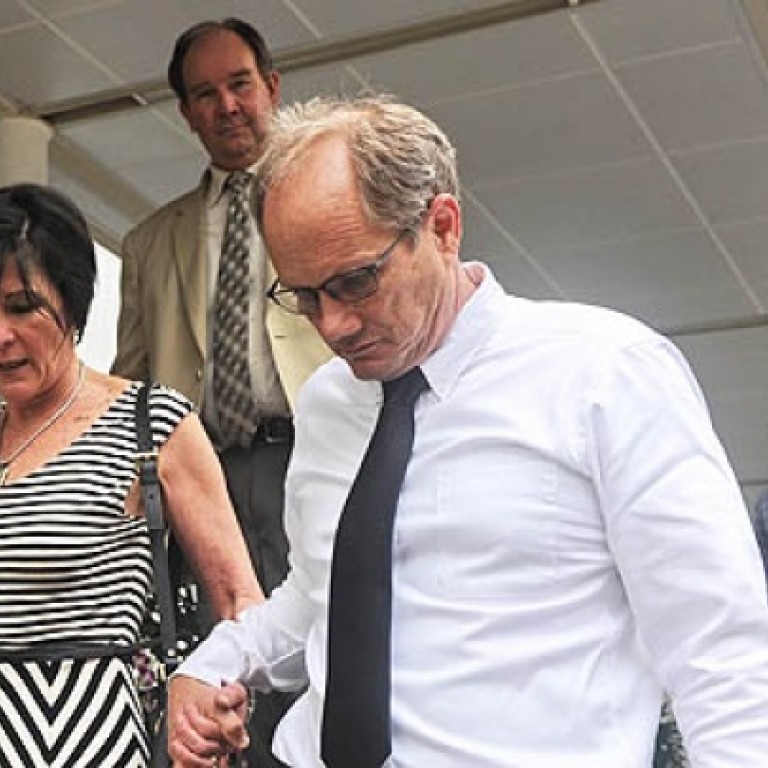 US scientist Shane Todd's family walks out of Singapore inquest
Parents 'lose faith' in hearing after prosecutors begin to question their belief that their son was murdered in an espionage conspiracy
The family of a US scientist found hanged in Singapore last year walked out of a coroner's inquiry into their son's death on Tuesday, saying they had "lost faith" in the proceedings.
The move came after their star witness, a US pathologist who never examined the body, came under intense questioning for saying Shane Todd may have been killed by assassins after quitting a high-tech project for two Asian firms.
Singapore authorities believe he committed suicide.
"The prosecution brings forth witnesses at the last minute and we have no chance to question it. Basically we actually have lost faith in the process," the late researcher's father Rick Todd told reporters outside a courthouse.
"We were told from the beginning that this will be honest and open. We were just chastised this morning for bringing forth evidence," he said, referring to an email the family's lawyers had introduced.
The family stood up and left the court after learning that a Frenchman who knew Todd, Luis Alejandro Andro Montes, was going to testify that the American was still alive the day before his body was found on June 24, last year.
Earlier on Tuesday Edward Adelstein, 75, a deputy medical examiner in Missouri engaged by the family, had testified that Todd was murdered in his Singapore apartment and his death made to look like a suicide as part of a conspiracy.
Adelstein, testifying by live video link from the United States, admitted his conclusions were based only on pictures of the body and second-hand information.
Todd's parents say their son was killed because of his work for a Singapore electronics research institute with alleged links to a Chinese firm accused of involvement in espionage.
Singapore's state-linked Institute of Microelectronics (IME) and China's Huawei Technologies have denied working on a project involving Todd, but confirmed they held preliminary talks on a potential research venture.
Adelstein said Shane Todd was "a very dangerous person" to the two Asian companies, and asserted without offering any evidence that "they had him killed" and well-trained assassins may have been involved.
Two other US medical examiners acting as independent experts support the suicide findings and were set to testify at the inquest, which was scheduled to end on May 28. A verdict is expected by late June and will only address the cause of death.
A US congressional committee last year labelled Huawei and ZTE, another Chinese telecom firm, as potential security threats that should be excluded from US government contracts and barred from acquiring US firms.
Medical examiner Adelstein, under questioning during the live video link, said Todd could have been disabled with a taser – an electronic device designed to stun – and killed with an arm lock before being hanged.
District Judge Chay Yuen Fatt, who is overseeing the inquest, chided Adelstein for speculating and reminded him he was being asked to present forensic evidence.
In an October last year report Adelstein had said that Todd, a well-built 31-year-old, was killed by "garroting" but on Tuesday the doctor said he was speculating at the time.
Todd was part of an IME research team working on gallium nitride, a semiconductor that can be used in radar and satellite communications.
Adelstein said photographs of Todd's remains at his US funeral showed knuckle injuries and a forehead bruise that could have resulted from a fight.
Singapore police investigators earlier testified that there were no signs of a struggle in the apartment where Todd's body was found hanging from the top of a locked bathroom door by his girlfriend.
A Singaporean psychiatrist told the inquiry that Todd was prescribed anti-depressants three months before his death in June last year.
Former colleagues of the researcher have rejected the Todd family's claim that he worked on a secret project that could harm US security.
Todd's parents said in media interviews that he expressed fears for his life before resigning from the Singapore institute and had been looking forward to returning to the United States.