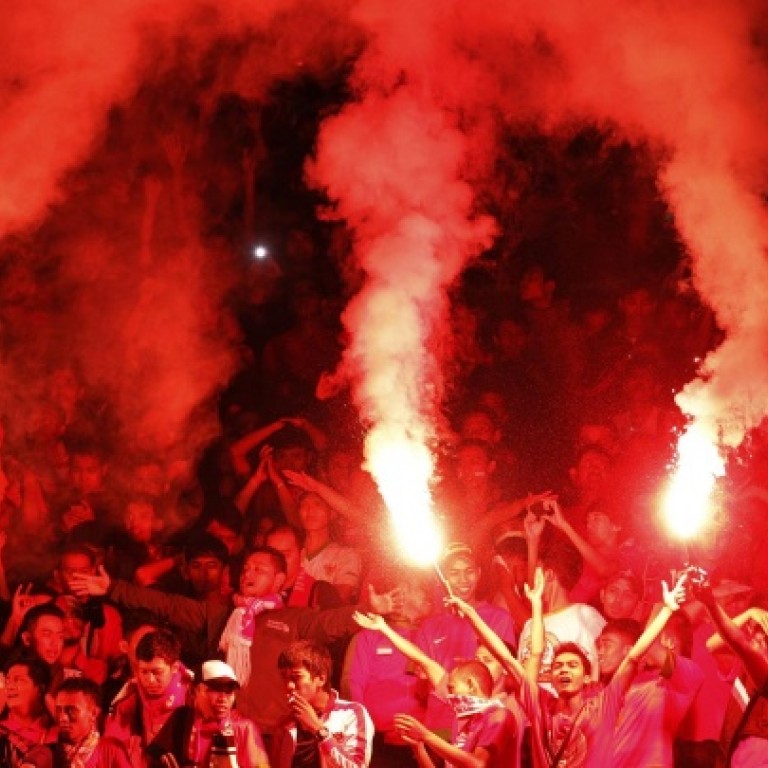 Parties vie to control Indonesian soccer, seeing it as key to election victory
Control of Indonesian soccer and winning over its fans may prove to be a game-changer at polls
As monsoon rains swept the stadium, the chanting grew louder: "Indonesia! Indonesia!"
More than 60,000 people packed into Gelora Bung Karno Stadium in Jakarta on a recent Saturday night to see the national soccer team play.
Another 100 million tuned in to television to watch the match, underlining the appeal of soccer in Indonesia where attendance rivals the top English and German soccer leagues.
Among the supporters were two of Indonesia's most powerful people - President Susilo Bambang Yudhoyono and the politically ambitious businessman Aburizal Bakrie. Their parties have long been battling for control over the sport and its huge audience, hoping this could be a factor in elections next year.
Bakrie, who leads the Golkar party and has said he will be a presidential candidate, seems to have wrested control of a unified soccer association formed in March with the announcement of the merger of two rival leagues.
The association in charge of the sport controls marketing in the stadiums and on television.
"If you can control football, you are half way to controlling Indonesia," said a senior official at the Indonesian national soccer association, or PSSI. "No political party campaign can get such a huge, devoted and noisy crowd. No wonder they [politicians] are dying to get hold of this."
Bakrie owns TV channels to both show matches and advertise his presidential ambitions.
While he has announced his candidacy, Yudhoyono's Democrats have yet to announce their front runner for next year's presidential polls, to be preceded by parliamentary elections.
Controlling soccer will provide an edge in the country of 240 million people. Weekend games are watched by 52 million television viewers, while about 12 million attend games each year, said Widjajanto, chief executive of PT Liga Prima Indonesia Sportindo, the operator of the Indonesian Premier League.
The league will merge with the rival Indonesian Super League by next year, according to the agreement thrashed out in March.
"It's very clear that it's a proxy battle between the Democratic Party and Golkar for the 2014 elections," said Tjipta Lesmana, former head of a PSSI committee.
"The association has been used for political purposes and both parties' executives realised that soccer has the influence to help them gather support."
The soccer battle between Bakrie and the government stretches back to three years.
Before that, the Bakrie Group held sway over the soccer association, with Bakrie's nephew Nirwan serving as its vice-chairman since 2003.
In 2010, the government stepped in. Yudhoyono sent his sports minister to wrest back control of the PSSI, which resulted in Nirwan Bakrie and the PSSI chairman being kicked off the association board.
Bakrie's backers set up their own association and the rival Indonesian Super League was born.
The dispute scared off sponsors and ravaged club finances. The government also withdrew state financing that some clubs received each year, causing many to shut down.
This year, Yudhoyono sent Democratic Party executive Roy Suryo to sort out the mess. He convened a congress in March attended by both sides.
By the end of the meeting, a deal was brokered and Indonesian soccer was again left with one controlling body and the promise of a single league, although the outcome seemed skewed in favour of the Bakries.
Nirwan, although no longer affiliated with the association, is still considered an influential figure in it.
He dismissed suggestions that the battle for control of the PSSI was all about politics and money, calling it a dispute among people who loved the game but simply had different ideas how to run it.
"If you fall in love with your girlfriend, you give your heart. But if you fall in love with football, you'll give your heart and your soul," he said.
This article appeared in the South China Morning Post print edition as: Political players target election goals