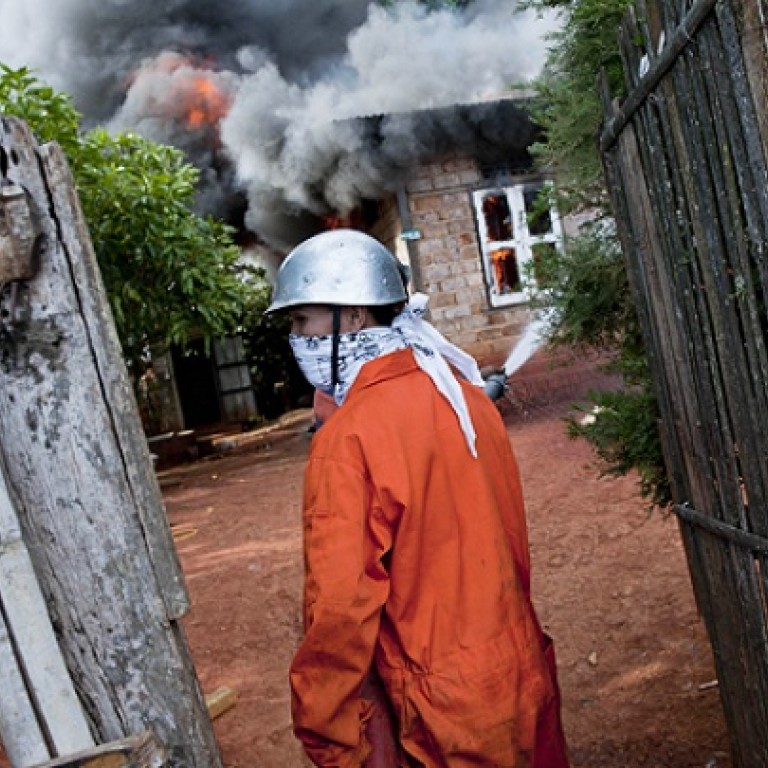 Anti-Muslim violence explodes onto streets in northern Myanmar
Tension high in northeast Myanmar after arson attacks following assault on Buddhist woman
Buddhist mobs armed with sticks and machetes burned Muslim homes on Wednesday for a second day in the northern Myanmar city of Lashio, contradicting claims in state media that soldiers and police had restored calm.
A Reuters reporter saw scores of young men and boys on motorbikes and on foot marauding through the city of 130,000 people in a mountainous region about 700 km from the commercial capital Yangon.
One person was killed and four were wounded in fighting that began at about 2pm, Ye Htut, spokesman for President Thein Sein, said in a Facebook post. Police fired their guns to disperse the crowd, he said.
By early evening, Muslims shops and homes were still burning in one quarter, underlining the difficulty the president faces in containing mounting religious violence in an era of historic reforms since military rule ended in March 2011.
"I don't know where the Muslims are. They all ran away," said Kyaw Soe Win, a Buddhist resident of a mixed neighbourhood where motorbikes and household possessions lay burning in the streets. Nearby, a man with a sword and a stick combed through the remains of one burned-out shop.
State television said a mosque, a Muslim religious school and a number of shops were gutted by fires started on Tuesday by Buddhists who rampaged after hearing reports of a Muslim man setting a Buddhist woman on fire and badly wounding her. State media said calm had returned by Wednesday.
Myanmar has struggled with religious unrest since June last year when fighting between ethnic Rakhine Buddhists and Muslim Rohingya erupted in western Rakhine state.
That was followed by organised Rakhine attacks on Rohingya communities in October that New York-based Human Rights Watch said amounted to ethnic cleansing. The government calls the stateless Rohingya illegal "Bengali" immigrants from neighbouring Bangladesh.
British tourist Stephen Barker, 46, said he saw a group of about 100 machete and stick-carrying youths rallying around his hotel in the early afternoon, including four or five monks. Police and military moved them on and arrested half a dozen people.
"I got a light for my cigarette from one and he told me to kill all Bengalis while waving this 18-inch blade around."
Muslims appeared to have fled a mixed Lashio neighbourhood known as Quarter Number 17.
Tuesday's unrest in Lashio was sparked by a quarrel between two people, named by state media as Aye Aye Win, 24, a Buddhist woman who sold petrol, and Ne Win, a Muslim man aged 48.
MRTV television said Ne Win poured petrol over Aye Aye Win and set her on fire. She was in hospital, it said.
After police detained Ne Win, Buddhists surrounded the police station and demanded he be handed over. When they refused, the crowd went on the rampage, attacking Myoma Mosque near Lashio market, residents said.
The authorities attempted to restore order late on Tuesday by banning unlawful assembly under a state of emergency in the city, which is about 190 km from the Chinese border.
In March, at least 44 people, most of them Muslims, died in the central city of Meikhtila after a rampage by Buddhist mobs incensed by the killing of a monk by Muslims, shortly after a violent row between a Buddhist couple and Muslim shop owners.
Muslims make up about 5 per cent of Myanmar's 60 million people.