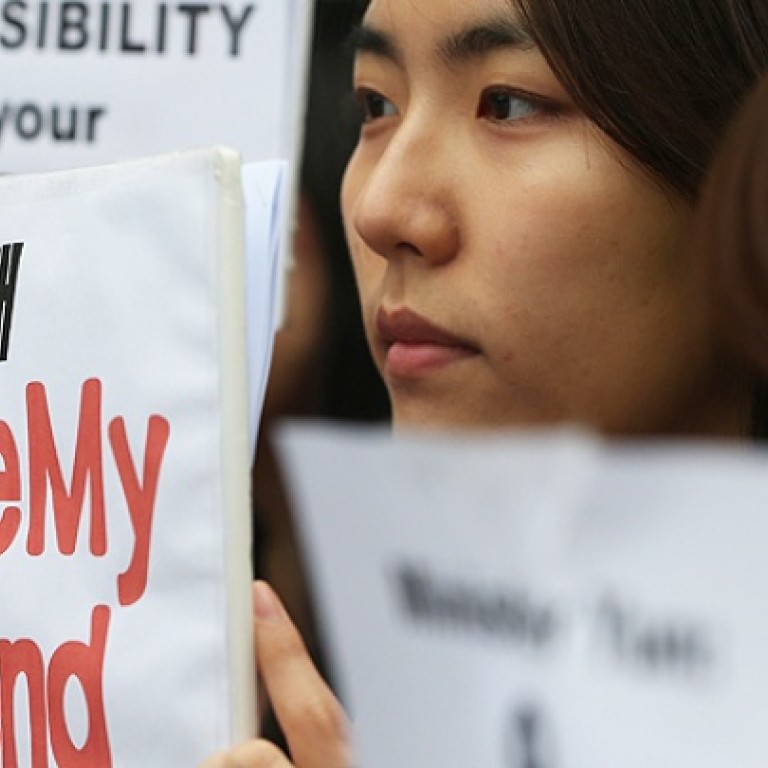 Repatriation row over nine North Korean refugees captured in Laos
South Korean embassy accused of standing by and failing to stop group, aged 15 to 23, from being sent back to Pyongyang after capture in Laos
Human rights monitors and North Korean defector groups voiced anger and concern yesterday over the forced repatriation to Pyongyang of nine young refugees captured in Laos.
The case has aroused strong public feeling in South Korea.
Some have accused the South Korean foreign ministry, which has refused to comment, of failing in its duty to protect the refugees once they got to Laos.
Most North Korean refugees begin their escape by crossing into China and then try to make it to third countries - often in Southeast Asia - where they seek permission to resettle in South Korea. If they are caught and then returned to the North they can face severe punishment.
The nine arrested in Laos around three weeks ago were returned to China on Monday and then flown back to Pyongyang the next day.
Laos had previously been seen as a relatively safe and popular transit point, and its decision in this case to return the nine refugees - aged between 15 and 23 - prompted strong expressions of concern. "Laos and China demonstrated their disregard for human rights by allowing the North Korean government to forcibly return these nine people without fulfilling their obligations to allow refugee status determination," said Phil Robertson, deputy Asia director for Human Rights Watch.
"These three governments will share the blame if further harm comes to them," he said.
In South Korea, the foreign ministry came under fire after it emerged its embassy in Vientiane was aware of the refugees' arrest but was unable to prevent their return to China. "The South Korean embassy in Laos should be held accountable for their tragic journey home," the said in an editorial.
"It seems the embassy simply watched them be repatriated."
President of the Seoul-based North Korea Refugees Human Rights Association, Kim Yong-Hwa, said: "This happened because of the South Korean foreign ministry's lack of care for North Korean refugees."
In a press briefing yesterday, South Korean Foreign Ministry spokesman Cho Tai-Young suggested Seoul was reluctant to comment for fear of worsening the situation for the repatriated refugees. "We're not trying to cover things up. We are doing this because the safety of these people is our top priority," Cho said.
He said the foreign ministry had conveyed its feelings on the matter to Laos and had raised the issue with the UN High Commissioner for Refugees. South Korea's newspaper yesterday quoted a diplomatic source as saying one of the repatriated refugees was the son of a Japanese woman abducted to North Korea in the 1970s. The report could not be confirmed.
North Korea's abduction of Japanese people decades ago to train its spies is a running sore in relations between the countries.
Human Rights Watch urged North Korea to reveal the whereabouts of the nine and to show they were not being ill-treated.
"North Korea has to come clean on where these nine refugees are and publicly guarantee that they will not be harmed or retaliated against for having fled the country," said Robertson.
This article appeared in the South China Morning Post print edition as: Repatriation row over 9 refugees