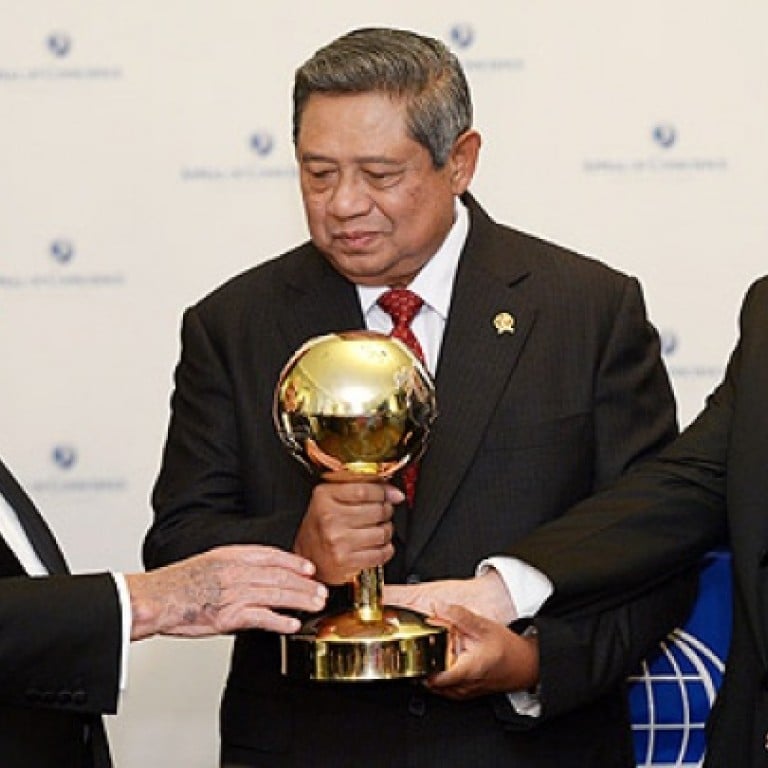 Indonesian leader Yudhoyono receives religious 'statesman' award
Indonesia's president has accepted a statesmanship award from a US interfaith foundation that says it hopes to encourage him to promote freedom of worship and tolerance in the world's most populous Muslim-majority nation.
Human rights groups and Indonesian religious organisations were appalled by Thursday's award, saying President Susilo Bambang Yudhoyono has done too little to suppress a rising tide of violence against minority faiths.
Rabbi Arthur Schneier with the Appeal of Conscience Foundation implicitly noted the controversy, saying, "You fully understand that the work is not complete. This is just a step in the right direction."
Yudhoyono, who did not mention religious rights, accepted the award in the name of all of Indonesia, saying "statesmanship can be collective." He said he hoped for "a harmonious society founded in peace and prosperity."
The foundation has handed out its "world statesman" award for decades, without controversy, to leaders such as British Prime Minister Margaret Thatcher and former US Secretary of State Henry Kissinger.
Kissinger handed the award to Yudhoyono. President Barack Obama sent him a letter praising his award, as did East Timor's former president, Jose Ramos-Horta, who guided the country to independence from Indonesian rule in 1999.
But Usman Hamid, a noted activist with the Indonesian human rights group Kontras, questioned the foundation's credibility in giving the award to the Indonesian president, who he said "is still far from protecting minorities from intolerance."
Indonesia is a secular country. The majority of its 210 million Muslims are Sunni, and most practice a moderate form of the faith. But the country's religious affairs minister, Suryadharma Ali, called for the Ahmadiyah to be banned in 2011 and proposed last year that Shia Muslims convert to Sunni Islam.
A researcher with Human Rights Watch, Andreas Harsono, said Yudhoyono's administration has basically laid down the legal infrastructure that discriminates among religious minorities. "He makes them second-class citizens," Harsono said.
Human Rights Watch has reported a steady increase in brutal attacks over the past few years due to the Indonesian government's failure to confront harassment of Christians, Shia Muslims and the Ahmadiyah, an Islamic sect. The group cited reports from the Jakarta-based nonprofit Setara Institute, which recorded 264 religious attacks last year, up from 244 the previous year and 216 in 2010.
A senior US State Department official, Dan Baer, last week expressed concern over such attacks and ineffective Indonesian government responses, saying it threatens to tarnish the nation's reputation for religious tolerance. He also referred to a "disturbing trend" in forcible closures of churches – including 50 last year alone – and of Ahmadiyah mosques.
Human Right Watch's Asia advocacy director, John Sifton, said the problem is Yudhoyono's "religious affairs minister and his home minister are pretty conservative Sunni Muslim politicians who were brought into the government as a political compromise."
Sifton added, "The problem is the attitude where a Sunni extremist group professes extremist interpretations and advocates persecution and hostility toward a religious minority. A lot of politicians don't have the spine or guts to stand up to them."