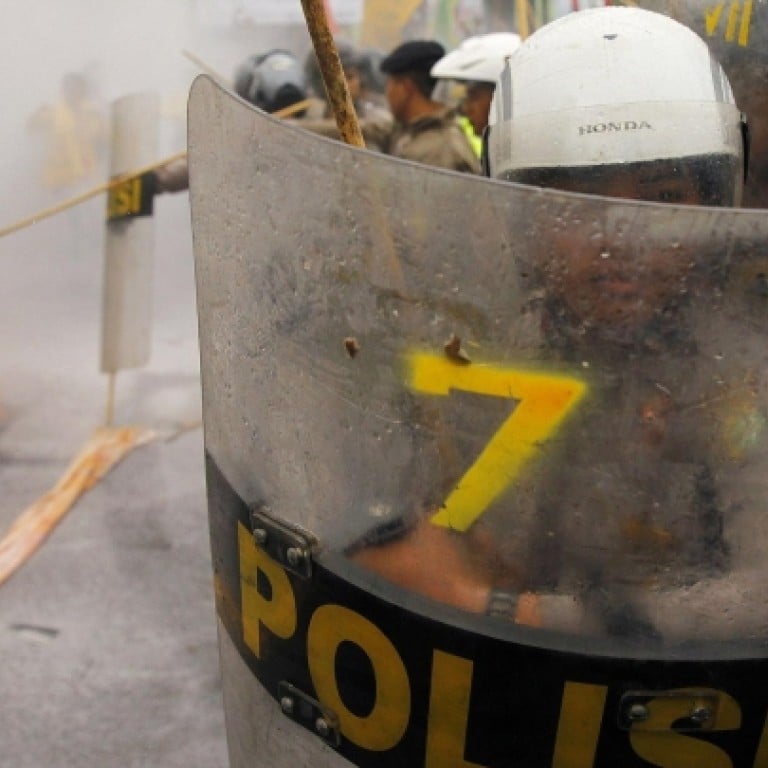 Indonesians up in arms over fuel price rise plan
Protests erupt across the archipelago as lawmakers prepare to vote on a budget that will raise fuel prices by up to 33 per cent
Thousands of protesters rallied across Indonesia yesterday against government plans to raise the price of fuel, with police in Jakarta firing tear gas to stop hundreds storming the national parliament.
Several people were injured in the clashes.
Lawmakers yesterday approved budget amendments that would pave the way for a rise of 33 per cent, the first such increase since 2008.
Fuel prices have long been a flashpoint issue in Indonesia, with economists arguing that huge government subsidies are damaging Southeast Asia's top economy. But millions are opposed to lowering the payouts, which keep down the cost of living, and huge protests have in the past forced the government to abandon such plans.
Outside the parliament complex yesterday, more than a thousand students burned tyres near the main gate. Elsewhere, protesters tried to block access to an airport and a main toll road.
In Gorontalo, in northern Sulawesi, police used tear gas to break up a demonstration, while in Bengkulu on Sumatra island and Yogyakarta in Central Java, they clashed after protesters burned pictures of President Susilo Bambang Yudhoyono. At least 14 people were injured nationwide.
About 19,000 police and military personnel were deployed across Jakarta.
The proposed plan would raise the price of petrol from around 50 US cents (HK$3.88) to 65 cents a litre and diesel fuel from 50 cents to 55 cents in the nation of 240 million.
While only a small percentage of Indonesians own cars, the rise is expected to push up the cost of everyday goods as they will be more expensive to transport.
In 2011, the subsidy cost about US$20 billion, the same amount the government aims to spend on infrastructure this year.
But the issue is highly sensitive - a fuel price rise in 1998 triggered rioting that helped topple former dictator Suharto. Last year, the parliament rejected a similar rise.
Even though the next presidential election is just a year away, a spokesman said Yudhoyono was determined to move forward with the plan.
Over the weekend, only four political parties expressed their opposition to the plan. But they fall far short of the number of votes that will be needed to stop its passage in the House of Representatives.
"If fuel prices are not raised, there will always be threats to Indonesia's fiscal strength, especially threats to the exchange rate, consumption and price of crude oil," economic analyst Said Didu said. "All three are difficult for the government to control."
Indonesia is the region's largest oil producer, but it has been forced to import due to decades of declining exploration and extraction while the demand for fuel has skyrocket as a million new cars and 8 million new motorbikes hit the streets every year, according to the Central Statistics Agency.
The government has set the 2013 fuel subsidy at US$20.2 billion - nearly 4 per cent of total economic output - in the revised budget with the proposed higher price as part of its effort to avoid a budget blowout. It said that without the rise the subsidies would jump to about US$29.7 billion this year.
This article appeared in the South China Morning Post print edition as: Parliament attacked in anger at fuel hike