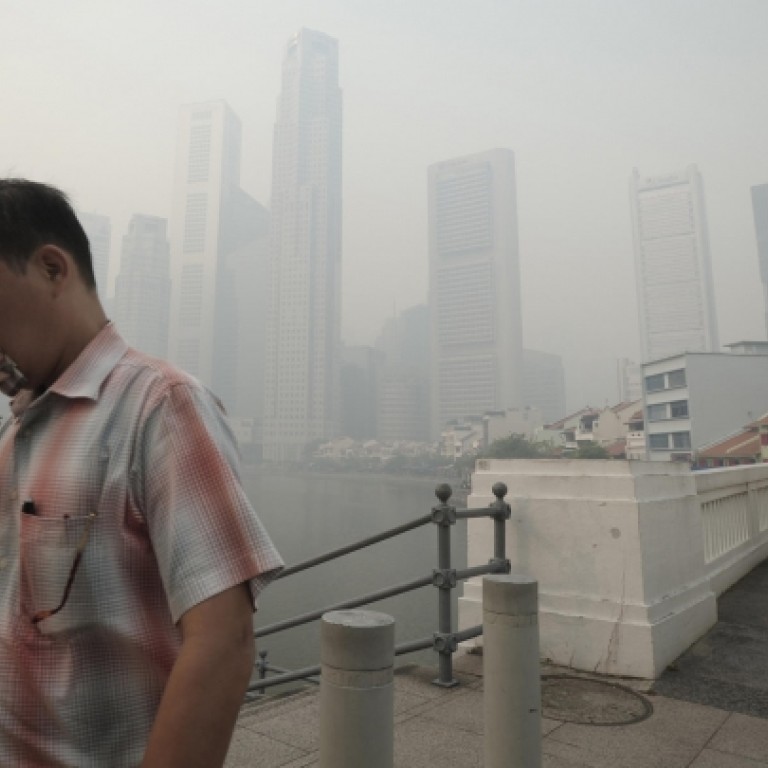 Jakarta tells Singapore to stop 'acting like a child' over forest fire smog
Jakarta tells Singapore to stop complaining about forest-fire smog as it's due to nature
Indonesia yesterday accused Singapore of acting "like a child" over choking smog from forest fires in Sumatra that has triggered the city-state's worst environmental crisis in more than a decade.
The escalation in tensions between tiny Singapore and its vast neighbour came as haze levels enveloping the island hit a record high, shrouding the whole city.
As the acrid smell crept into flats and medical masks sold out, Singapore Prime Minister Lee Hsien Loong said the crisis could last weeks and urged people to pull together.
The city-state ratcheted up pressure on Jakarta to take "definitive action" to extinguish the fires - but Indonesia, which insists that Singapore-owned plantations on Sumatra also share the blame, hit back.
"Singapore should not be behaving like a child and making all this noise," Agung Laksono, the minister co-ordinating Indonesia's response, said. "This is not what the Indonesian nation wants, it is because of nature."
His comments came as Indonesia's foreign ministry hosted an emergency meeting in Jakarta attended by Singapore's National Environment Agency chief executive Andrew Tan.
Singapore's air pollution index hit an all-time high yesterday, soaring to 371 at 1pm, well past the previous record of 321 set the night before. Any reading above 300 is "hazardous" while a reading above 400 is deemed "life-threatening to ill and elderly people," government guidelines say.
Lee declined to respond to Laksono's comments, saying he did not want to engage in "megaphone diplomacy".
He urged people to stay indoors and protect themselves from the haze which has hung over the island since Monday, asking citizens to "look out for one another". "We cannot tell how the haze problem will develop," Lee said. "It can easily last for several weeks and quite possibly longer until the dry season ends in Sumatra."
CBD pharmacies sold out of disposable masks and refused to take orders, as the strong odour seeped into homes.
Parks were empty of the usual morning joggers, but thousands of employees still trooped to offices and labourers continued to work on high-rise buildings.
"This is now the worst haze that Singapore has ever faced," Environment Minister Vivian Balakrishnan said on Facebook. "We need urgent and definitive action by Indonesia to tackle the problem at source. Singaporeans have lost patience, and are understandably angry, distressed and concerned."
Parts of Malaysia close to Singapore have also been affected.
Laksono said plans to use cloud-seeding to unleash rain over Sumatra were under way, and it was hoped helicopters could be dispatched today.
Smallholders and plantations in Sumatra - some of them with Singaporean investors - have been accused of using fire to clear land for cultivation .
This article appeared in the South China Morning Post print edition as: Polluted city 'acting like a child'