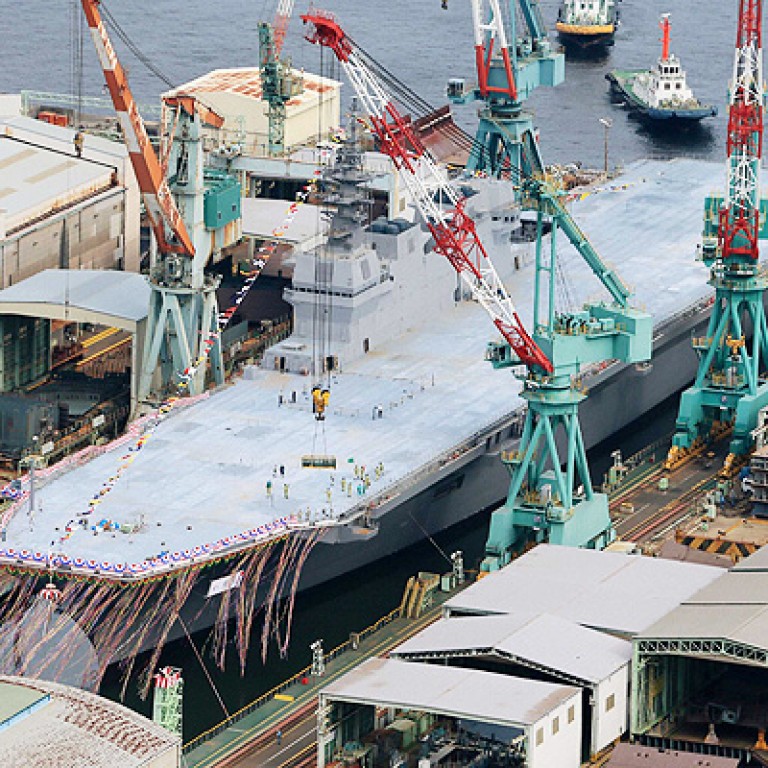 Tokyo, Manila beef up naval fleets amid China island rows
Japan unveils biggest naval vessel since war, as Philippines welcomes refurbished US cutter
Japan and the Philippines have unveiled major new additions to their warship fleets, amid escalating tensions with China over territorial claims to disputed islands and waters.
Tokyo showed off its biggest warship since the second world war at a ceremony in the port city of Yokohama yesterday, the 68th anniversary of the dropping of the atom bomb on Hiroshima.
The 248-metre helicopter carrier will be a centrepiece of its naval power.
The Japanese-built carrier can accommodate nine helicopters and is expected to play a big role in disaster and rescue missions, as well as defending sea lanes and Japanese territory. It is unclear when it will go into service.
Controversially for China, the ship has been dubbed "Izumo", the same name as the armoured cruiser that led naval operations in the Battle for Shanghai during second world war.
In Beijing yesterday, the defence ministry accused Tokyo of "constant" military expansion.
"We express our concern at Japan's constant expansion of its military equipment. This trend is worthy of high vigilance by Japan's Asian neighbours and the international community," the ministry said.
"Japan should learn from history, adhere to its policy of self-defence and abide by its promise of taking the road of peaceful development."
Meanwhile, the Philippines yesterday celebrated the arrival of a decommissioned US Coast Guard cutter as its second major warship to challenge China's territorial claims, which Philippine officials say have intruded into their country's potentially oil-rich offshore seas.
President Benigno Aquino saluted as the 3,250-tonne white cutter, renamed Philippine navy frigate BRP Ramon Alcaraz, docked at a wharf in Subic Bay Freeport, northwest of Manila.
A part of the former US naval base will soon be turned into a Philippine military hub after the government approved a plan to shift its assets closer to the disputed islands in the South China Sea.
"It will further intensify our patrolling of the Philippines' exclusive economic zone and our capability to quell any threat and bad elements, respond to search and rescue operations and take care of our marine resources," Aquino told a crowd of dignitaries that included US ambassador Harry Thomas.
The arrival of the ship, which was obtained under a US-Philippine military assistance programme, signals the Philippines' resolve to upgrade its antiquated equipment and move away from a reputation of having Asia's weakest military.
The acquisitions by Japan and the Philippines point at an arms race by China's neighbours, which have been alarmed by Beijing's assertiveness in claiming vast waters and backing that by deploying new maritime forces and refurbished vessels.
Last year, China commissioned its first aircraft carrier, the Liaoning, as part of its military build-up. The Liaoning went into service in September in a symbolic milestone for China's increasingly muscular military.
But the vessel still requires a carrier group including destroyers, frigates and submarines, while fighter jet pilots need more training before it is operational, according to navy officials.
Yesterday, a leading Chinese foreign-policy thinker warned Manila and Tokyo that they had been mistakenly emboldened by Washington in territorial disputes with his country.
Ruan Zongze, vice-president and senior fellow at the China Institute of International Studies, said: "No one in this world will try to contain China and no one in this world is capable of containing China.
"Since the US has adopted this new strategy of returning to the Asia-Pacific region, some countries have made the wrong judgment that the US will encourage them to challenge the sovereignty and territorial integrity of China. This is a misjudgment on their part."
This article appeared in the South China Morning Post print edition as: Tokyo, Manila flex naval muscles amid island rows