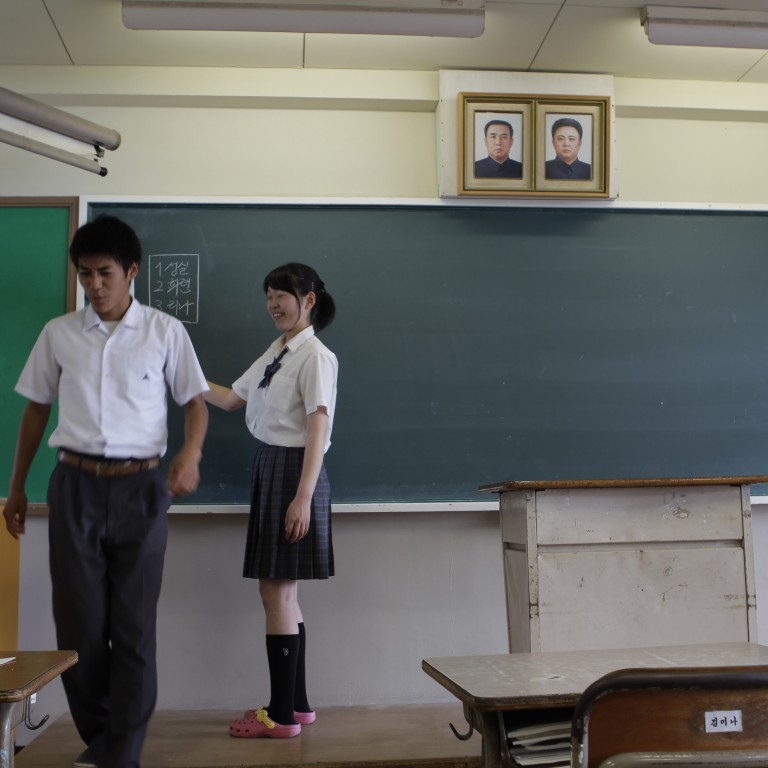 Japan turns up pressure on pro-Pyongyang schools
The high concrete walls of Hwang In Suk's school enclose a world different from the rest of Japan. Another language echoes through the halls. The classrooms, with their chalky blackboards and flimsy desks, look like they haven't been changed since the 1950s, when the school first opened.
The government has begun denying funds to schools like this, and the reason is most evident at the front of each classroom, where portraits hang of North Korea's first leader, Kim Il Sung, and his son, Kim Jong Il.
Nearly 10,000 ethnic Koreans in Japan go to schools, from kindergarten through college, closely affiliated with North Korea. The schools serve a community that is in many ways stateless, created by the movement of Koreans to Japan prior to the end of World War II, when the Korean Peninsula was a Japanese colony.
Hwang, who commutes four hours a day, six days a week, to attend this aging school with a dustbowl of a playground, considers it a haven. She and her classmates can speak Korean, study their own culture and call each other by their real names, not the Japanese pseudonyms most use to get by in the mainstream.
"This is the only place where we can be ourselves," the 18-year-old said.
In a nation where ethnic Koreans like Hwang have suffered intense discrimination for decades, the schools are a target of rightists and an enigma to the Japanese public. Some have no signs out front saying what lies inside. Their girls stopped wearing Korean-style school uniforms off campus years ago amid harassment and physical threats.
Now, Japan's government is moving to ostracize the schools even further by excluding them — and only them — from subsidies aimed at making a high school education affordable for every child. School officials say the impact of the exclusion, announced earlier this year, is still to be seen but will likely impact enrollment and deepen the stigma the schools already face.
Despite criticism from human rights groups that the government is bullying a vulnerable ethnic group, Japanese officials say they are acting out of concern over the schools' ties to a hostile nation. The solution, they say, is for the schools to become more Japanese.
That, school officials and students say, is exactly what they do not want to do.
It's a Saturday afternoon and classes have just let out at the Aichi Middle-Senior High Korean School, which sits atop a hill overlooking a suburb of Nagoya, a city in central Japan.
Teenagers dressed in black-and-white uniforms disperse for their after-school activities. Two girls sit by the playground tuning saxophones. Other students hang back in their homerooms, cluttered with books and backpacks, to kill time before they catch their trains home.
There is a lot of chatter. Though shy at first in the presence of a rare visitor from the outside, the students soon go back to their gossip and games, laughing and flashing peace signs whenever a camera is pointed in their direction.
"We're a community," Hwang said as she changed out of her indoor shoes and placed them neatly in a shoe rack. "We have our own history and our own roots. We support each other."
The schools — one university, 10 high schools and 73 grade schools with a total of about 9,000 students — survive primarily on tuition and donations from the community. They also receive funds from Pyongyang, but that income stream has largely dried up as North Korea struggles to meet its own domestic economic shortcomings. They received about $30 million a year in the 1970s but get only about $2 million now. That covers the cost of textbooks for younger students and is used to improve facilities and fund scholarships.
When students are about to finish high school, they go on school trips to North Korea. For many of the students, generally fourth- or fifth-generation Koreans in Japan, it is the first and only time they will experience North Korea firsthand.
Officially, most of the students are not North Korean. Some are naturalized Japanese, some have South Korean passports. Many, however, fall into a gray zone, with no passports at all because their families were registered in Japan before North and South Korea separated and declared themselves independent countries.
In the '50s and '60s, North Korea's seemingly bright economic prospects and promise of a socialist paradise prompted many Koreans in Japan to align with Pyongyang — which was quick to support their schools. That legacy continues to be a major factor behind why so many Koreans in Japan associate themselves with North Korea, despite Pyongyang's subsequent decline and isolation. There are only four schools for Koreans in Japan that are aligned with the South and they were not excluded from the government subsidies.
Despite their connections to North Korea, the schools generally use textbooks prepared by their own educators and do not follow the same curriculum as North Korean schools. In a departure that would be unthinkable in North Korea, all the Kim portraits were removed from the classrooms of elementary and middle schools more than a decade ago amid concerns within the community — including parents who do not support the North Korean leadership — that displaying them to small children was not appropriate.
"We receive support from North Korea, and we are grateful for that. But we are not controlled by North Korea," said Principal Woo Oh Byung, likening the "uri-hakkyo" schools like his to Catholic schools or other international schools in Japan.
That's not how Tokyo sees things.
Japan views North Korea as a belligerent and dangerous neighbour and officials say the schools are a legitimate target of concern. The two countries have never had diplomatic relations, and as North Korea has moved ahead with its development of nuclear weapons and missiles capable of hitting Japan's major cities, Tokyo has tightened sanctions aimed at isolating Pyongyang and forcing it into international negotiations.
The decision to cut the schools out of the subsidy program is in line with an increasingly tough stance toward North Korea spearheaded by Prime Minister Shinzo Abe, who has long held hawkish positions toward China and North Korea.
Two days after Abe took office late last year, his education minister said the schools would not qualify for the subsidies until North Korea agrees to stop developing its nuclear weapons and missiles and comes clean on what happened to dozens of Japanese citizens who were abducted by North Korean agents in the 1970s and 80s.
Japanese officials say they are also concerned about the schools' relationship with the General Association of Korean Residents in Japan, a strongly pro-Pyongyang group that provides practical services for the Korean community but has also been an important source of foreign currency remittances to North Korea. Japanese officials say that money helps prop up the North's economy and continue its nuclear weapons program.
"I don't think the Japanese public would support including these schools under the current circumstances," Education Minister Hakubun Shimomura said. He suggested that the schools change their curriculums to "become Japanese schools."
Kim Tong Hak, of the nonprofit Living and Legal Center for Korean Residents in Japan, which provides legal counseling to the Korean community but is not directly linked to the schools, said the government's position smacks of pre-1945 nationalism in which Japan forced Koreans there to learn Japanese, study in Japanese-sanctioned schools and use Japanese names.
"The Japanese have long held the belief that if you want to live in Japan, then you must become Japanese. They expected this of the people in the nations they colonized," he said. "This attitude hasn't changed much since the war."
Along with drawing criticism from several groups inside Japan, including the Japan Federation of Bar Associations, the move to exclude the Korean high schools has been questioned by the Human Rights Commission of the United Nations. Amnesty International slammed it as "a politically oriented decision to restrict the right to education among a minority group."
Several Korean schools, including the one in Aichi, are fighting the government in court. A verdict is expected to take more than two years. In the meantime, the schools are cut off from the funding, which ranges from 118,000-237,000 yen ($1,200-$2,400) a year, depending on household income.
Even without government pressure, the schools are struggling.
Enrollment has been steadily declining for years, in part because of the government-to-government tensions but also because going through the Japanese system is a much more secure path to a good job. Further, for members of the community whose roots in Japan go back several generations, emotional ties to the old country have weakened, despite the frustrations they may harbour with mainstream Japanese society.
In defending the decision to exclude the schools from the government subsidies, Education Minister Shimomura said it doesn't amount to discrimination against Koreans because only a small fraction of the more than 500,000 ethnic Koreans in Japan choose to put their children in the Korean schools to begin with.
Many of those who do, however, fear future generations won't have the option.
"I'm not ashamed to be Korean, and I don't want my kids to be, either," said Che Jonghe, who is the vice president of the Aichi school's mothers association. "I want my kids to have Korean friends. I want them to understand their roots. These schools are about our identity, not about politics."