Arcade brings Kowloon Walled City back from the dead … in Japan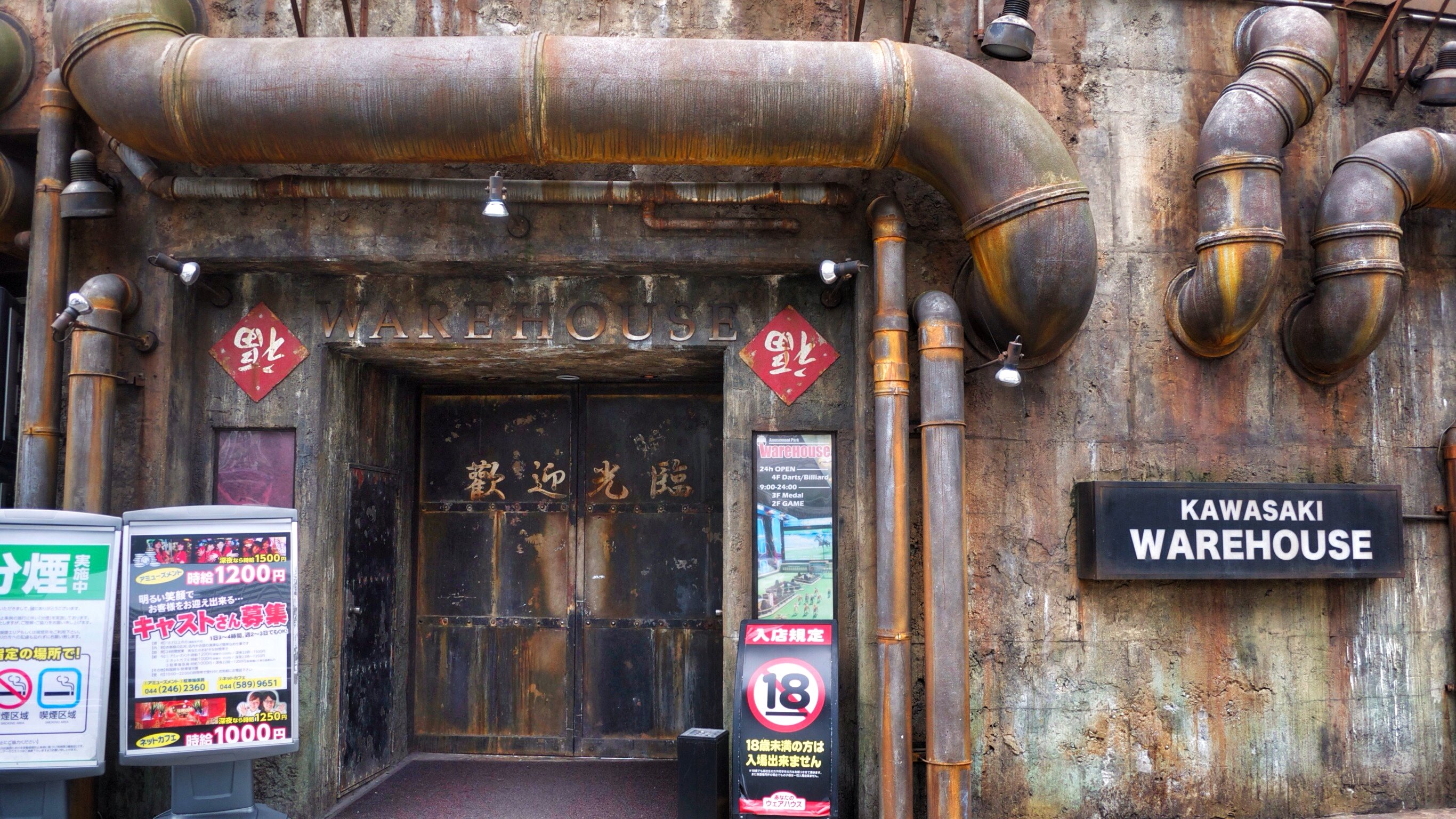 Kowloon's infamous slum is recreated in an amusement park in Kawasaki - from its eerie, narrow corridors right down to the rubbish
Day turns to night as one steps over the threshold of the Kowloon Walled City. And it's an uncomfortable, almost threatening kind of night, illuminated only by flickering neon bulbs beneath steel shades and the glow of a television set in a run-down apartment.
Hong Kong's Walled City may have fallen to the wrecking ball in the 1990s, but its spirit lives on in a curiously realistic recreation that serves as the facade of an amusement arcade in the unlikely surroundings of Kawasaki, the industrial suburb south of Tokyo.
These photographs by David Gilbert show how within the deliberately grimy and scarred exterior of the building, the designer's image of the Walled City has run a little wild - notably as visitors leave by crossing a pool of smoky-blue water on stepping stones. But the rest is eerily authentic.
Through the steel-plate double doors of the entrance, passing the conspicuous sign banning entry to under-18s, is a claustrophobically small and red-lit chamber, all rivets and rust.
Beyond, the visitor is in an alley with store shutters on one side, tattered corrugated iron and dim lights behind grimy windows. Advertising signs hang above the narrow passage.
Given the designer's desire to accurately reflect the lives of the inhabitants of Kowloon's infamous den of iniquity, it is perhaps appropriate that a glance in one of the first windows reveals a semi-clad young woman lying on a mattress. I'm fairly sure it was a mannequin.
By twists and turns in the narrow corridors, a visitor emerges into a courtyard with an open stall selling plucked ducks, chickens and chunks of meat. The plaster on the walls is peeling convincingly. Pipes, door frames and stairwells are coated in frayed posters. The postboxes that hang askew are just as real.
And then the visitor abruptly completes the starter course of the seedier side of Hong Kong and emerges into the bright lights of the arcade - air hockey, shoot-'em-up games, Formula One racers and people attempting to grab a furry toy from inside a case with a mechanical arm.
The Hong Kong-themed amusement arcade is just Japan's latest attempt to recreate the colours, cuisine and characteristics of foreign nations, for which Japanese have an intense and enduring interest. Millions of visitors crowd into Tokyo Disneyland and Disney Sea each year for a slice of Americana, while hundreds of thousands more who cannot afford the airfare to Europe visit theme parks such as the British Hills in Fukushima, the Spanish Village in Mie, and the sprawling Huis Ten Bosch, a Dutch-themed town with windmills and canals, in Nagasaki.
Video: Kowloon Walled City Arcade
Kawasaki's interpretation of the Walled City, which opened in 2009, is free to enter. The themed arcade is in large part the work of Taishiro Hoshino, a former backstage worker with Tokyo's kabuki theatre, who joined a company that made scale models of construction projects in 1994. In 2003, he set up his own company, Hoshinogumi Co. Commenting on the eight-storey project on his website, Hoshino said he quickly realised the importance of recreating the Walled City's atmosphere with small touches, such as the signs and countless posters that cover walls "without any spaces left between them".
"These things are not available in Tokyo, of course, therefore there was nothing else we could do but to make everything from scratch," he said.
Hoshino and his team scoured second-hand stores for authentic knick-knacks that could be incorporated into the scenery, such as battered television sets and fans, a traditional bird cage, teacups, and even a poster of Hong Kong action movie star Bruce Lee. Anything that looked the slightest bit new was given a few scratches and dents so that it fitted in.
The steel cages that cover the Walled City's cramped balconies were made to order by a Japanese iron foundry, but the tin mailboxes were sourced in Hong Kong and sent to Hoshino, along with a neon sign and the rubbish that fills a bucket at the side of the butcher's stall.
The completed work is deeply realistic - although there are some elements that were a fixture of the genuine Walled City that are missing from the themed arcade. The constant smell of refuse, cooking, decay and humans all in close proximity is absent, as well as rats.
Not that anyone here would mind those omissions.
This article appeared in the South China Morning Post print edition as: Japanese arcade brings walled city back to life