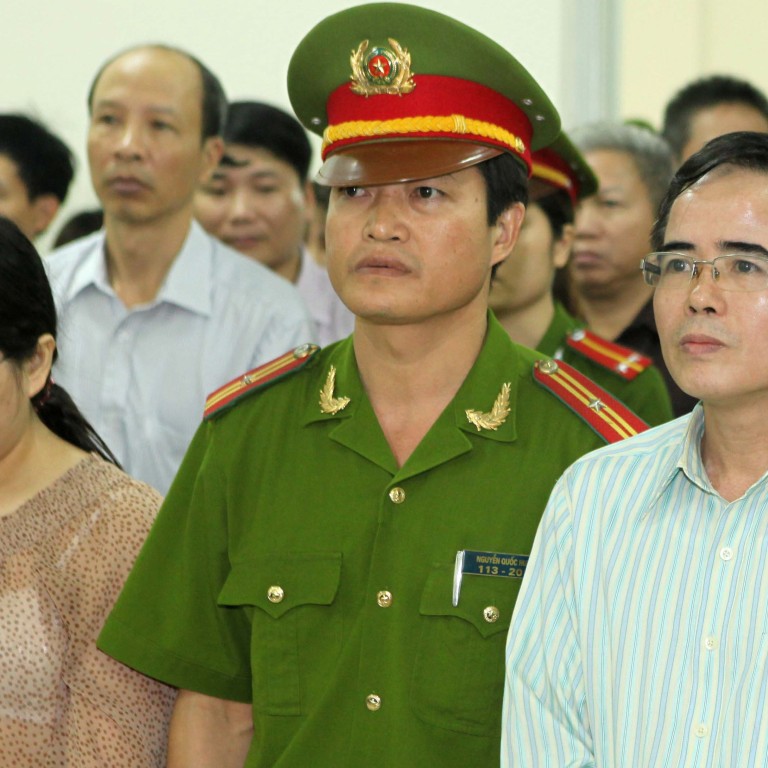 Jailing of Vietnamese dissident Le Quoc Quan was 'politically motivated'
Hundreds of supporters stage protest in Hanoi as prominent dissident Le Quoc Quan jailed for tax evasion
A Vietnamese court yesterday sentenced a US-trained lawyer and well-known dissident to 30 months in jail after finding him guilty on tax-evasion charges widely considered to be politically motivated.
The case against Le Quoc Quan had been followed closely by the US government, which is pressing Vietnam's Communist leaders to loosen their restrictions on those advocating democracy and human rights.
Quan, in his early 40s, maintained his innocence at the one-day trial in the capital of Hanoi.
"I have long been denouncing and fighting against corruption, bureaucracy and the stagnation that is doing harm to this country ... I'm the victim of political acts," Quan said after the sentence was handed down. He carried on speaking, but the audio feed into a room where a small number of reporters and diplomats were allowed to listen to proceedings was then cut off.
Presiding Judge Le Thi Hop said Quan was guilty of evading corporate income tax of US$30,000 in relation to a consultancy he had headed. Quan was arrested last December in Hanoi.
Hundreds of police and other security officers were stationed in the streets around the court preventing people from getting close. About 100 Quan supporters rallied at a church and in streets elsewhere in the city, shouting, "Justice for innocent people."
Quan was detained in 2007 for three months on his return from a US government-funded fellowship in Washington. He is one of Vietnam's better-known dissidents and maintained a popular blog that highlighted human rights abuses, religious freedom and other issues off-limits to the state media.
His lawyer, Ha Huy Son, said that there were "no grounds to prosecute" the blogger over tax evasion.
Rights groups estimate hundreds of activists are locked up in Vietnam for speaking out against communist rule, including at least 46 jailed this year.
This article appeared in the South China Morning Post print edition as: Jailing of dissident 'politically motivated'