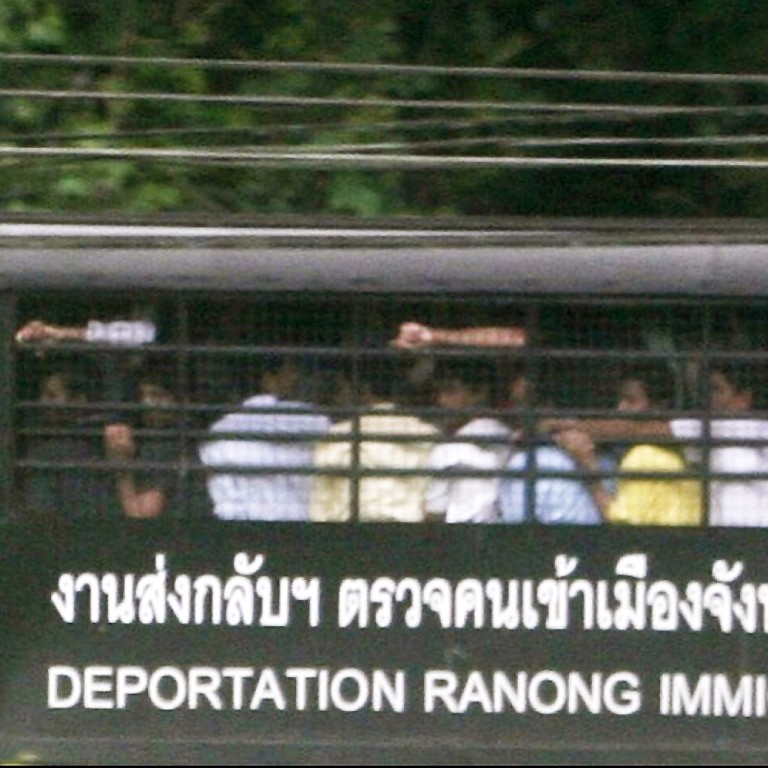 Thai immigration officials helping sell Rohingya refugees to traffickers
Immigration staff seen taking detainees in department truck to ship bound for Malaysia
Thai immigration officials were involved in the weekend sale of Rohingya detainees to people smugglers, according to sources, whose tips allowed the to witness part of the clandestine deal taking place.
The informants said a busload of Rohingya detainees was being sent 500 kilometres from a southern detention centre to the Thai-Myanmar border port of Ranong and provided the registration number. The saw a bus with the same number plate arrive at 2am on Saturday at Ranong, then saw an Immigration Department truck with the detainees aboard leave 12 hours later.
Sources said the truck offloaded them at a pier 12 kilometres away, from where long-tail boats moved them to a ship offshore.
The transfer could not have been a legitimate deportation of Rohingya back to Myanmar since that country refuses to acknowledge members of the Muslim ethnic minority as citizens and won't accept their repatriation.
Sources said immigration officials sold the Rohingya to Malaysian people smugglers.
Thai officials were evasive yesterday when asked about the fate of the Rohingya. Colonel Nattasit Maksuwan, the deputy chief of the Internal Security Operations Command in Satun province, referred the to immigration officials.
Two senior Songkhla province immigration officials, colonels Kan Thamakasem and Banpot Kittiveera, referred the to "Bangkok".
"Your question concern Immigration, so it's best to talk to them. I understand they are uncomfortable right now," Colonel Nattasit said
"The issue is, why do we have to keep the Rohingya in Thailand? Holding them costs nearly three million baht every month."
Fifty Rohingya were said to have been aboard the bus seen arriving at the Ranong immigration centre, while the sources said a second bus carrying 39 arrived on Saturday night. The bus seen by the was said to have departed from the southern Sadao Immigration Centre, while the later bus came from an immigration centre in Measod, Trak province.
A different source in the Phuket Rohingya community said he had received a phone call on Sunday afternoon from a Malaysian people smuggler. The smuggler had said he had his two nephews in his custody and offered to sell them to him for 65,000 baht (HK$16,000) each.
A Thai people smuggler said it was harder to buy family members back from Malaysian smugglers than if the families dealt with Thai middlemen.
"If immigration sells the people to us at 10,000 baht each, we can afford to pay that," the smuggler said.
"But with the officials selling the Rohingya to the Malaysian brokers at 10,000 baht each, the relatives of these people cannot afford to buy back their families."
The Malaysian traffickers asked for 40,000 baht to 65,000 baht per person, the source said.
Rohingya not bought by their relatives are beaten and forced to make tormented phone calls, pleading for the money to be paid. If this fails, the Rohingya are sometimes sold to trawler captains to work as virtual slaves in fishing fleets off the coast of Malaysia or Thailand.
A Thai people smuggler said recently trafficking and enslavement was escalating, with Indonesian vessels now offering to buy Rohingya in bulk.
"At least one Indonesian captain was offering to buy 20 workers," the broker said.
With boatloads of Rohingya arriving again off Thailand's coast, two big new trafficking camps have been set up in Narathiwat and Satun, according to the broker.
The cannot confirm the exact nature of the transactions and transfers at Ranong. But in January Thai authorities started an investigation into allegations that army officials were involved in trafficking Rohingya.
The Thai military is widely accused of being complicit. Unable to deport detained Rohingya to Myanmar, troops are suspected of handing them over to people smugglers at the border.
About 1,700 Rohingya are believed to remain in limbo in police cells and detention centres throughout Thailand, either "rescued" from traffickers' camps or plucked from boats that arrived in Thai waters.
Charged with no crimes other than illegal arrival but incapable of being deported, they remain in indefinite detention, their fates murky at best.
Thai Prime Minister Yingluck Shinawatra has appointed her deputy Phongthep Thepkanjana chairman of the government team responsible for preparing reports on the country's human trafficking response.
This article appeared in the South China Morning Post print edition as: Thai officials helping sell Rohingya to traffickers