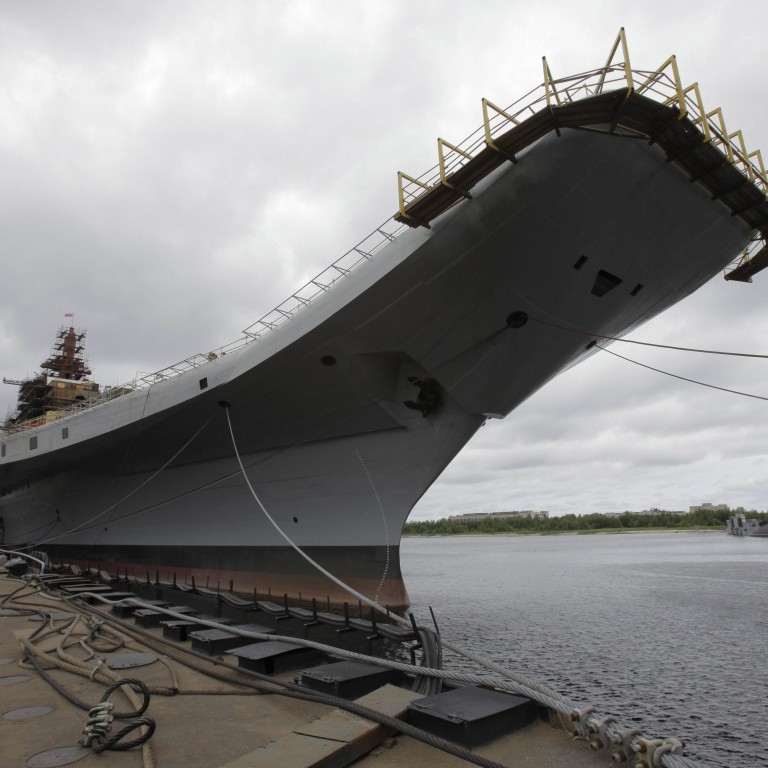 India to receive Russian-built aircraft carrier, five years late
Delhi to take possession of the INS Vikramaditya, an aircraft carrier built in Russia and purchased by India following a very expensive refit
Russia will on Saturday hand over a refurbished aircraft carrier to India, five years late and vastly over budget, ending a saga that has strained relations between Delhi and its main arms supplier, an official said.
The INS Vikramaditya will set sail from the Sevmash shipyard in the Russian city of Severodvinsk and is expected to pass through the Suez Canal and reach Indian waters early next year.
"Indian Defence Minister AK Antony will commission INS Vikramaditya on Saturday. There will be some ships that will escort the Vikramaditya back to its port in India," Navy spokesman PVS Satish told reporters.
The induction of the Vikramaditya, originally built as the Admiral Gorshkov and commissioned in 1987, is intended to shore-up India's defence capabilities as it seeks to counter a military build-up by an increasingly assertive China.
Currently, India has just one aircraft carrier in service – the INS Viraat, which was also commissioned in 1987 – but it unveiled an under-construction domestically produced carrier in August.
The refurbishment contract of the Vikramaditya was signed in 2004 and was initially valued at US$974 million with a stipulated delivery date in 2008.
But the price of modernising the ship later grew to a reported US$2.3 billion, while deadlines were extended time and again.
A five-ship escort was being planned for the Vikramaditya which would be under constant surveillance due to security issues as it passes through the Suez Canal and other sensitive routes, the Indian Express newspaper said.
The three-month trial of the ship was concluded in September during which it successfully demonstrated its "stealth mode by blinding incoming aircraft with its electronic warfare suite", the English-language daily said.
Russia has been a long-time military supplier to India and still provides about 70 per cent of its military equipment, although India has recently looked to other countries like Israel, the United States and France.
India's already depleted naval force received a major setback in August when a Russian-made submarine the INS Sindhurakshak exploded in a Mumbai dock, killing all 18 crewmen on board.
The vessel, which has still not been refloated due to administrative and technical problems, had been returned by Russia shortly before following a major refit.
A floating airfield, the INS Vikramaditya will also have a team of Russian experts on board who will monitor and assist their Indian counterparts during the home journey.
The Russian crew will remain in India for a year as part of the guarantee contract to ensure the carrier does not develop any problems, the Express daily said.
Ajit Kumar Singh, a research fellow with the New Delhi-based Institute of Conflict Management, was sceptical about the utility of the ship, calling it a "white elephant" that India would find tough to maintain.
"Instead of spending so much on its refurbishment, India should have focused on other more useful maritime equipment like small GPS-enabled boats which can help secure our coastline," Singh told reporters.
"These big ships are of use only during wars. And I don't see any conventional war happening in near future," he added.