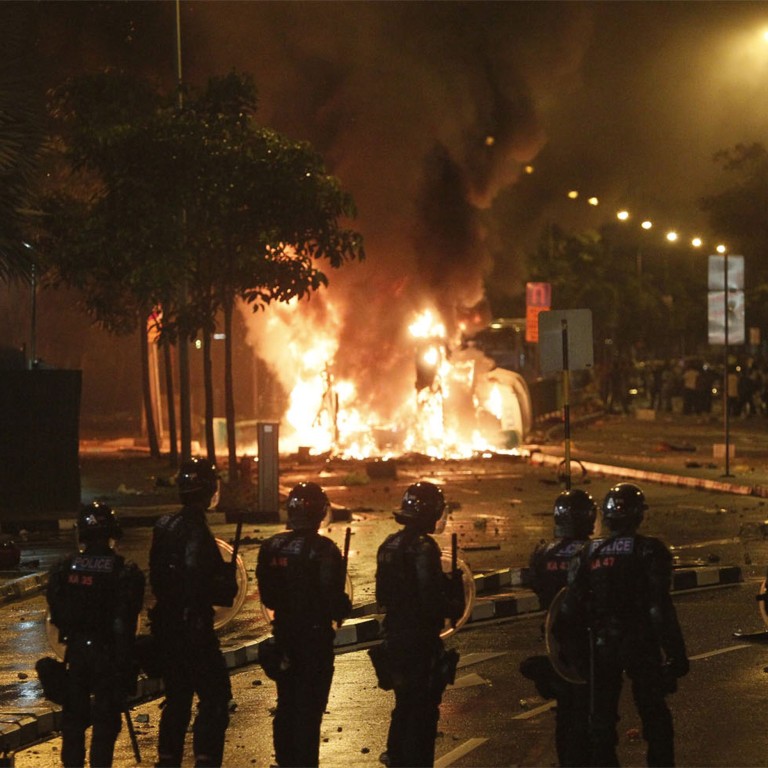 27 arrested after Little India riot in Singapore
Government says instigators will face 'full force of the law' as 400 people riot after Indian worker was hit by a bus
Police in Singapore have arrested 27 South Asian suspects after a riot broke out on Sunday evening in Little India, officials said in a dawn press conference.
About 400 people clashed with about 300 police officers, in a riot that was sparked by a fatal accident where a 33-year-old Indian worker was run over by a private bus.
At least 10 police officers were injured and several vehicles were damaged, including five police cars and one ambulance, during the riot, which happened at around 9.30pm. More arrests will be made, according to Commissioner of Police Ng Joo Hee.
"We treat this incident very seriously, and we have classified the chaos as one of rioting with dangerous weapons. We will spare no efforts to arrest who are involved," the police said.
Prime Minister Lee Hsien Loong said those responsible for the riot would face "the full force of the law".
"Whatever events may have sparked the rioting, there is no excuse for such violent, destructive and criminal behaviour," Lee wrote on his Facebook page. "We will spare no effort to identify the culprits and deal with them." He urged Singaporeans to "stay calm".
The bus accident happened at the junction of Race Course Road and Hampshire Road. The bus driver was injured and remained in hospital.
Ng said the ensuing riot was brought under control within an hour after the first call was received. Seven of the injured police officers are in hospital and most of them are said to be in a stable condition.
Deputy Prime Minister and Home Affairs Minister Teo Chee Hean said the government would "not tolerate such lawless behaviour", asking the public to stay calm and not to speculate on this incident.
He also emphasised that the government would deal with all persons involved "strictly, firmly and fairly, according to the law".
Singapore is currently hosting ministers from 12 nations such as the United States and Australia for the final round of talks this year on the Trans-Pacific Partnership trade accord.
Large-scale demonstrations have been almost unknown in Singapore since race riots in 1964 killed 36 people and contributed to the island's ouster from the federation with Malaysia.
Singapore and Malaysia were united from 1963 to 1965 in a federation that was marked by clashes between the Chinese and Malay communities. After the violence of the 1960s the Singapore government imposed curbs on public assembly.
Singapore is persisting with a four-year campaign to reduce its reliance on foreign workers, after years of open immigration policy led to voter discontent over increased competition for housing, jobs and education. The move has led to a labour shortage and pushed up wages, prompting some companies to seek cheaper locations.