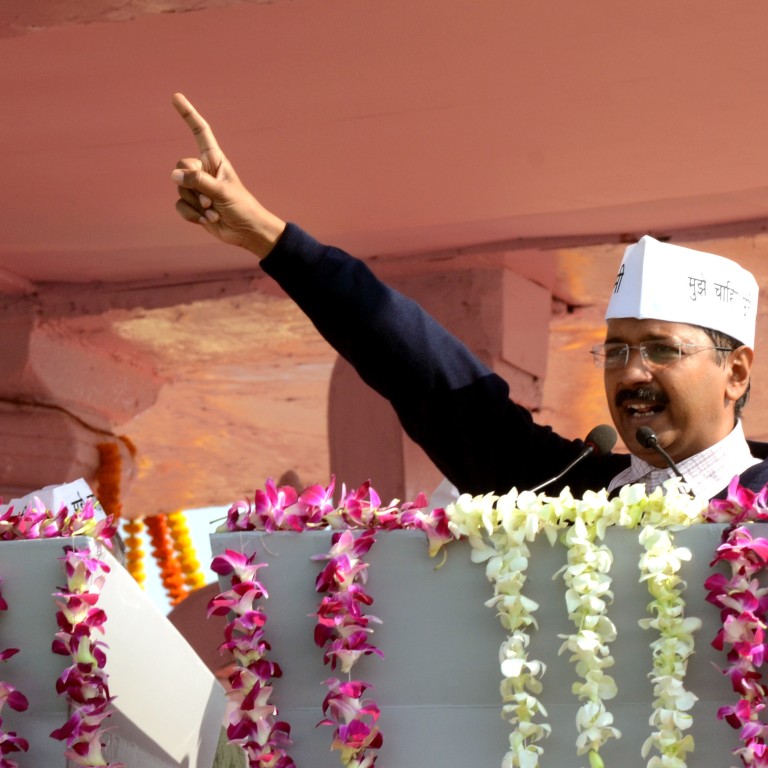 New
True to vow of transparency, India's anti-graft hero admits bowel trouble
Jokes and sympathy as popular New Delhi chief minister shares why he was not able to work on his first day
India's anti-corruption activist, Arvind Kejriwal, swept to power last month on a promise of greater transparency and he began office on Monday true to his word – admitting that Delhi belly had spoiled his first day.
New chief minister Kejriwal, whose pledge to fight for India's common man won over voters in New Delhi state polls, had been set to start governing the capital on Monday after being sworn in at the weekend.
But after weeks of rallies in a gruelling election campaign that pitted him against the two main political parties, Kejriwal said he had fallen ill with diarrhoea and a severe fever and could not come into the office.
"Running 102 fever since yesterday. Severe loose motions. Sad that I won't be able to attend office today," the former tax official said on his verified Twitter account.
"It was so imp[ortant] to attend office today. We had planned the water announcement. God, [you've had me sick at a very wrong time]."
Kejriwal, whose Aam Aadmi party was born out of an anti-corruption mass movement two years ago, has pledged to give free water to households in New Delhi and slash their electricity bills.
He has more than 961,000 followers on Twitter and regularly tweets to share his views.
His latest comments were an instant hit on Twitter, with plenty of offers of sympathy – but also some suggestions for a little tact.
"When the chief minister gives you a minute by minute update on his bowel movements … hail democracy," said Priyanka Chaturvedi, a Congress party spokeswoman.
"Will Arvind Kejriwal pass the motion? That is the question we are asking tonight," said television editor Ritupana Chatterjee.
"Wow [you're] such a wonderful Aam Aadmi [chief minister]. Talking publicly about loose motions. History is made!" said social worker Suryanarayan Ganesh.
Kejriwal's party also asked well-wishers and supporters in a tweet to stop flocking to his home, saying he needed to rest.
Kejriwal's party agreed to lead the Delhi government with outside support from the Congress party, which rules nationally but was pushed to a distant third place at the Delhi elections.
Kejriwal's stunning electoral debut at the December 4 polls jolted Congress and the main opposition party, Bharatiya Janata Party, just months before the general election due by May.